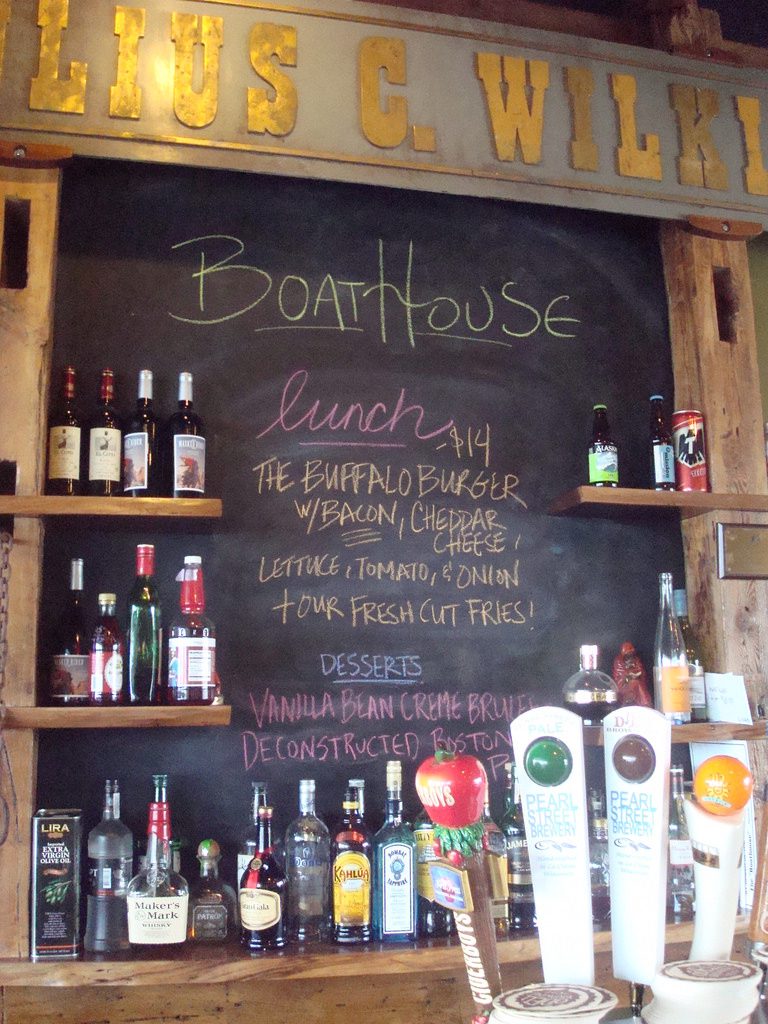 Intro by Benji Nichols • Photos by Emily Kurash
Winona, Minnesota is a town rich in river history (that's the mighty ol' Mississippi in case you were wondering.) One of the winding sidetracks of that history includes the boathouses of Latsch Island, a small community of residents who live in floating homes just across from downtown Winona. You could say they represent a mindset, as such, of river life – living a little more intentionally, and holding a true sense of place. If you take those ideals, add a couple of entrepreneurial business partners, an empty building in Levee Park on the banks of the Mississippi, and great food and drinks, you get Winona's Boat House.
With a rotating blackboard menu of whatever inspiration has hit daily, and a fun, worldly-yet-simple regular menu, the food can take you both around the world and right back home. The craft beer selection is great, and word on the street is that brunch – served Saturday and Sunday – is a total winner. Tip: Don't leave without ordering a mimosa…and/or a Bloody Mary! From their regular menu, check out a (according to photographer Emily) "damn good" buffalo burger (pictured) or the chef favorite, the Boat House Lucy, along with pommes frites (including all the amazing sauces possible), or (another Emily favorite) tasty panko fried crab cakes. And any of the delicious desserts, of course!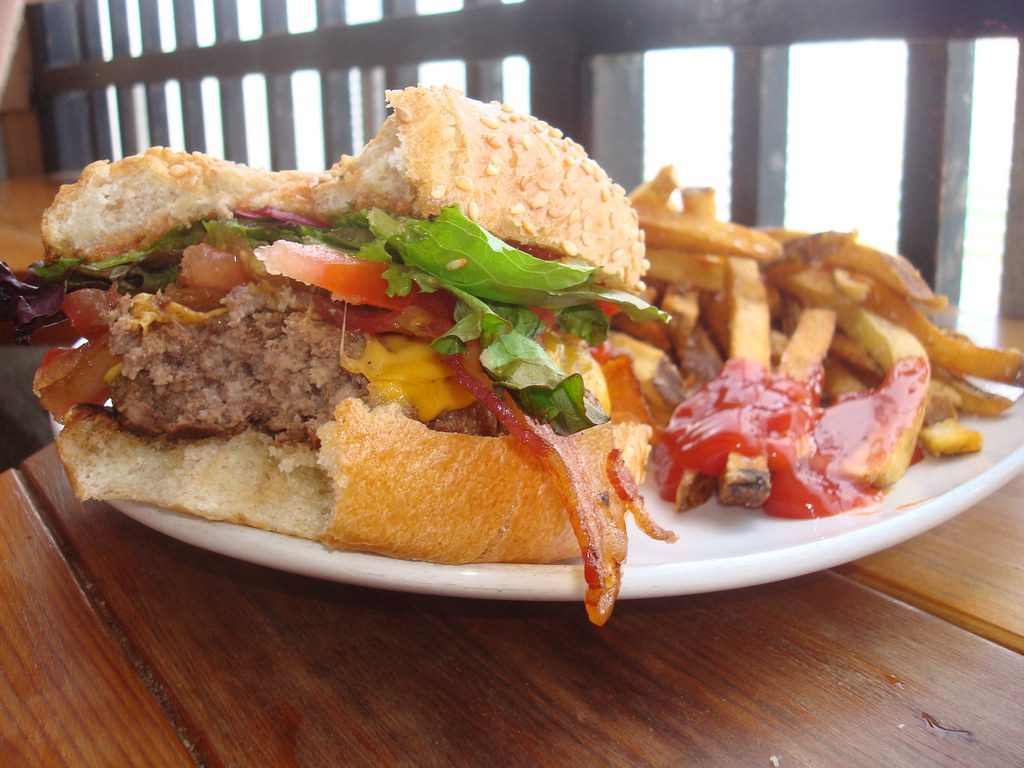 Second to the food, is the ambiance of the place. And they've got boatloads (groan)! The wrap-around patio facing the river equals summer night perfection. Amazingly, the Boat House crew has figured out how to enclose that same outdoor space, making it an almost year-round dining area, complete with a cozy stove and fun décor. But we don't have to think about that right now – it's summer! And it's finally nice! So get out there and enjoy the weather, grab a cold beverage and great food, and soak in scenic vistas of the mighty Mississippi.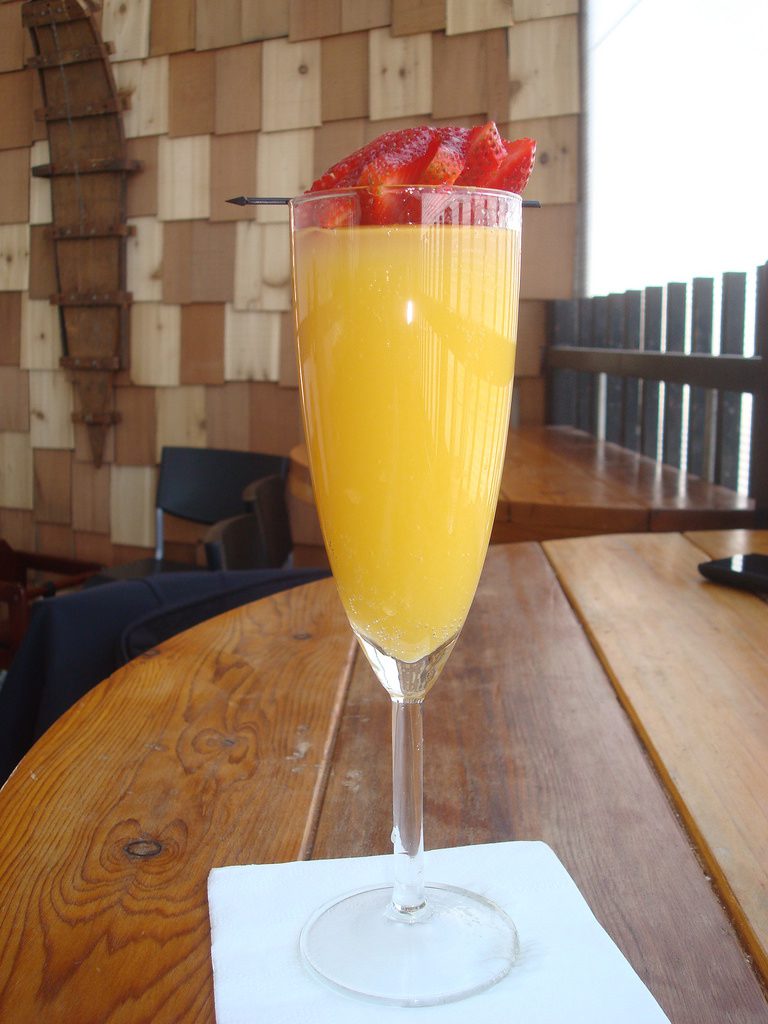 Name: Lyon Smith
Age (if you're willing): 42
Restaurant: Boat House
Number of Years Cooking: 30
Formal training or live-and-learn?
Live and learn, that's how we do it at the Boat House! We change with the seasons and always try and keep fresh, local ingredients and keep our menu interesting. Boat House would be considered rustic cuisine, with fresh, local ingredients, and beer of course. The kind of food you would expect if you were to visit a real boathouse on the Mississippi River.
What's your earliest or most significant memory of cooking or being cooked for?
Hiking through the Bluffs of the Mississippi River Valley and gathering Morel mushrooms and trout fishing in the streams. Frying them up in a cast iron skillet with butter, salt and pepper with asparagus when in season. We still use that recipe; of course we get our trout from a local trout farm for the restaurant.
Why did you decide to become a chef?
Out of necessity. We love to cook and create! We live in a rural area and try to create interests in different tastes. A fusion of cultures and styles of cooking is combined to create delicious, adventurous choices for our customers.  Naturally, we started experimenting and learning out of sheer curiosity too!
What's the best thing you've ever made?
The best thing I have ever made is probably the Boat House Lucy, which is a half-pound of ground beef with local Wisconsin cheese curds stuffed inside of the burger, caramelized onions, arugula, garlic aioli, and tomato on a Kaiser roll, topped off with truffle oil and served with fresh hand cut fries. People have told us it is the best burger they have ever eaten.
Do you have any monumental food fails you'd like to share with us?
Once, while making curry, I used cream de coco, instead of coconut milk, it ruined the curry, needless to say.
How about secret food indulgences you don't normally talk about? Will you tell us?
Authentic Japanese Ramen!
What's your favorite…
Ingredient: garlic
Dish: fish tacos with guacamole
Cookbook: "Daniel Bouley: East of Paris: The New Cuisines of Austria and the Danube"
Random (or not so random) kitchen tool: cast iron skillet
Vegetable: endives
Fruit: apple