November 2018! Winter is on its way, and so are the holidays! Gear up and start your planning with this handy-dandy Novmber 2018 calendar (you can download the pdf here). Happy holidays! XO, Inspire(d)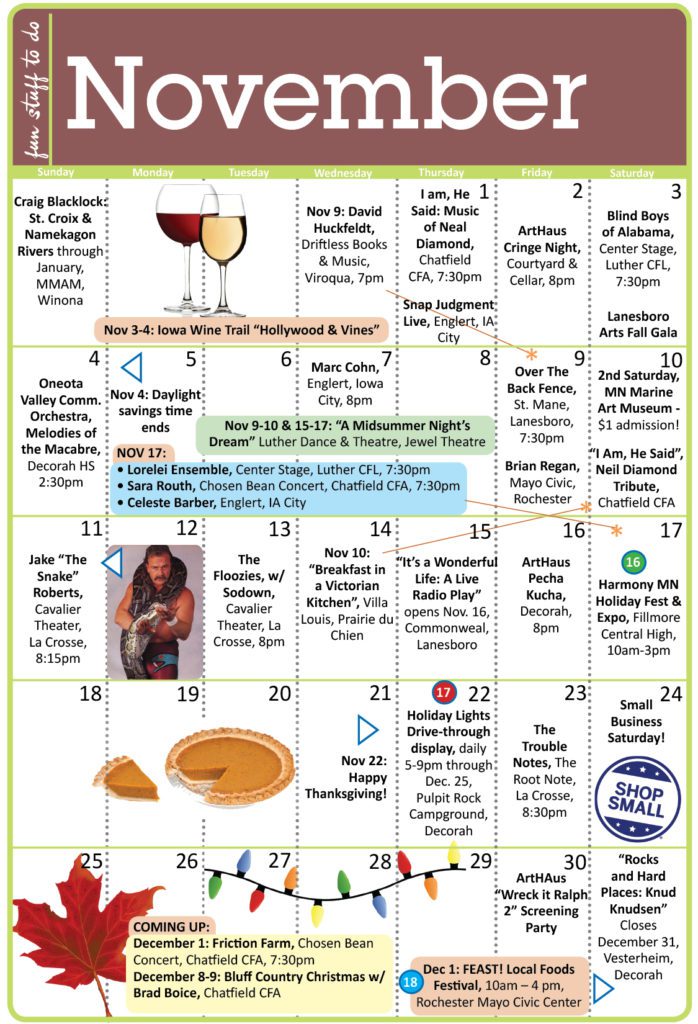 LOOKING FOR MORE DETAILS ABOUT EVENTS ON THE CALENDARS?
Check out these great November 2018 activities!  In chronological order, each event's number coincides with its number on the calendar!
16. November 17: Harmony Holiday Fest – Art, Craft & Gift Expo. 10am-3pm Start your holiday gift shopping at Fillmore Central High School! Over 50 vendors selling crafts, direct marketing items & more.
17. November 22: Holiday Lights Magical Nights Open through Dec. 25! 5 – 9 pm at Pulpit Rock Campground in Decorah for Northeast Iowa's largest drive-through holiday light display. Goodwill donations benefit Helping Services for Youth & Families. HelpingServices.org/holidaylights
18. December 1: FEAST! Local Foods Festival, featuring more than 100 food makers and growers from Iowa, Wisconsin, and Minnesota. 10am-4 pm, Rochester Mayo Civic Center. www.local-feast.org.