It's May! One of our favorite months! (Lots of birthdays around here…) There's lots of fun to be had for you all too – start your planning with this handy-dandy May 2019 calendar (you can download the pdf here).  XO, Inspire(d)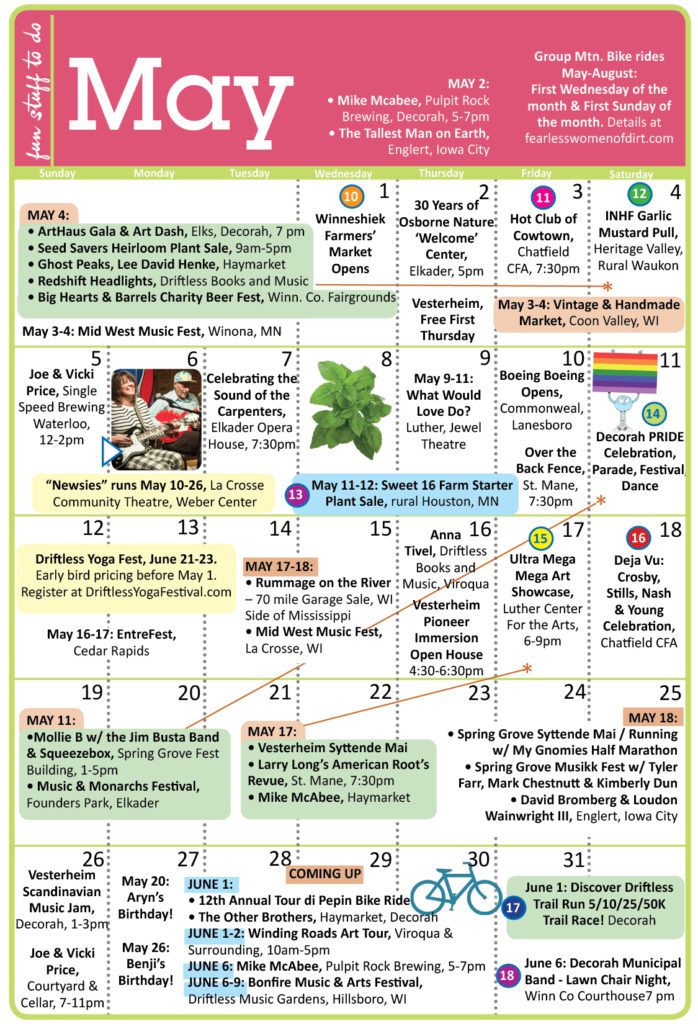 LOOKING FOR MORE DETAILS ABOUT EVENTS ON THE CALENDARS?
Check out these great May 2019 activities! In chronological order, each event's number coincides with its number on the calendar!
10.  May 1: Decorah Farmers Market (formerly known as Winneshiek Farmers Market) opens for the season! Every Saturday 8-11am, and Wednesday 3-6pm through October! Below the Oneota Coop / parking lot, Decorah. www.winneshiekfarmersmarket.com or Facebook for info
11. May 3: Western swing-gypsy jazz trio Hot Club of Cowtown at Potter Auditorium, Chatfield Center for the Arts. $20-25 in advance, +$5 at the door. 7:30pm. www.chatfieldarts.org
12. May 4: Garlic Mustard Pull: Join Iowa Natural Heritage Foundation to help restore the native woodland at Heritage Valley by removing invasive garlic mustard. All ages welcome. www.inhf.org
13. May 11: Decorah Pride is a celebration of our LGBTQ+ community. Parade! Festival! Dance! May 11, all day – more information at Decorahpride.com
14. May 11-12: Sweet 16 Farm's Starter Plant Sale! Get your vegetable garden off to an amazing start with our lovingly, locally grown starter plants. Beautiful Houston, MN. Details – sweet16farm.com
15. May 17: Ultra Mega Mega! Spring studio open house for the Visual and Performing Arts Department at Luther College. 6-9pm in the Center for the Arts. Info – luther.edu
16. May 18: Celebrate the music of Crosby, Stills, Nash and Young at Potter Auditorium, Chatfield Center for the Arts. $30 in advance, +$5 at door. 7:30pm. www.chatfieldarts.org
UPCOMING:
17. June 1: RUN the CRATER 50k, 25k, 10k, 5k, 1mi.,  Mental Toughness Required. Kids 1mi. Free for kids 13 & under. Register at www.DDTR.us
18. Decorah Municipal Band – Lawn Chair Night in front of the Winneshiek County Courthouse, 7 pm. New players welcome! E-mail decorahmunicipalband@gmail.com.