August! It doesn't seem possible, but here we are! There's still time to squeeze in some summer fun… start your planning with this handy-dandy August 2019 calendar (you can download the pdf here).  Have a blast! XO, Inspire(d)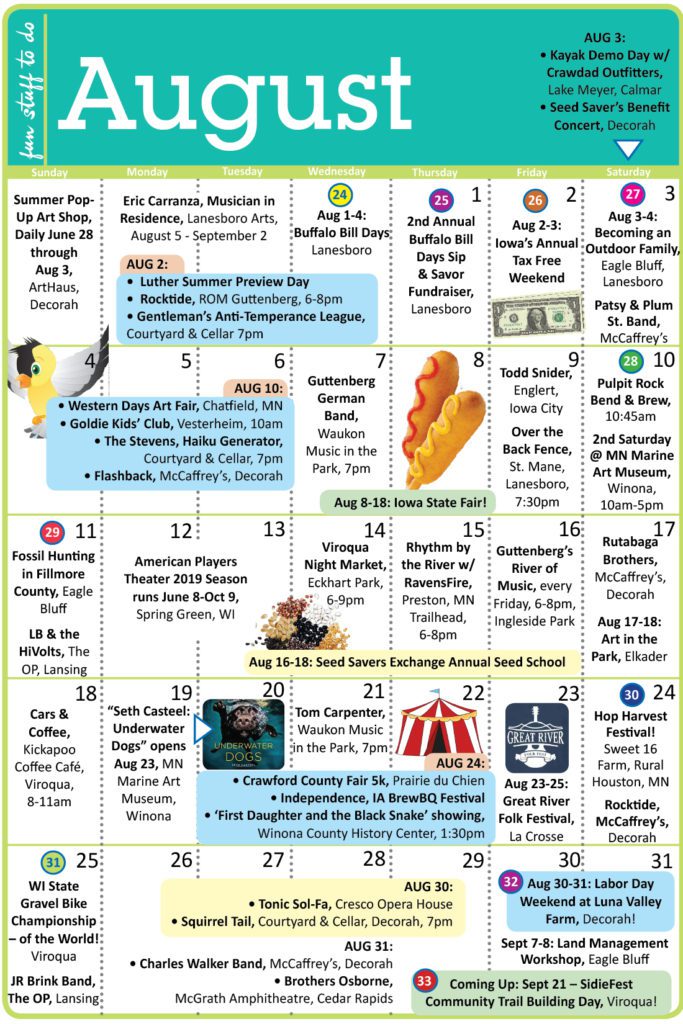 LOOKING FOR MORE DETAILS ABOUT EVENTS ON THE CALENDARS?
Check out these great August 2019 activities! In chronological order, each event's number coincides with its number on the calendar!
24. August 1-4: Lanesboro Buffalo Bill Days. Entertainment for the whole family.  Food, Beverages, Live Music, Parade, Fireworks, Sporting Tournaments, Free Kids Games & MORE!  www.lanesboro-mn.gov • FB-BuffaloBillDays
25. August 1: 2nd annual Buffalo Bill Days Sip & Savor Fundraiser. $25.00 15 vendors sampling wine, craft beer and spirits. Food, Door prizes, live music & more.
26. August 2-3: Iowa's annual Tax Free Weekend! Shop for apparel Friday and Saturday without the sales tax. Apparel priced under $100 is tax exempt for two days! www.decorahareachamber.com
27. August 3-4: Becoming an Outdoors Family Weekend at Eagle Bluff! A weekend camp of memories exploring the outdoors and learning hands-on skills. June 15-16. Register at eaglebluffmn.org
28. August 10: Pulpit Rock Bend & Brew! Come enjoy a Reefuel smoothie, an hour of yoga, and a delicious Pulpit Rock Beer when you're done. 10:45am-12pm, Sign up at PRB or online https://squareup.com/store/pulpitrockbrewing
29. August 11: Fossil Hunting in Fillmore County! Collect fossils older than dinosaurs! Located at Whispering Winds, Spring Valley. Sponsored by Eagle Bluff. Register under "Events" at eaglebluffmn.org.
30. August 24: Hop Harvest Festival, Sweet 16 Farm, rural Houston, MN  Music and family fun from 3-10pm, camping available on site. sweet16farm.com/hop-harvest/
31. August 25: Wisconsin State Gravel Bike Championship – of The World!!! Come grind Vernon County Wisconsin's finest gravels with a pack of like minded racers. Race HQ in Viroqua – info: www.bluedogcycles.com 
32. August 30-31: Labor Day weekend at Luna Valley Farm! We're open both Friday and Saturday night from 4-8pm for wood fired pizza, drinks and community. www.lunavalleyfarm.com
COMING UP!
33. September 21: Get your boots dirty at SidieFest Community Trail Building Day! Vernon Trails' trail crew will guide crews on various singletrack projects throughout Sidie Hollow near Viroqua. Fun. Community. Dirt. Trails. Revelry. Info: www.bluedogcycles.com