2016!!!! Get a head start on your fun-planning with this handy-dandy January 2016 calendar (and you can download the pdf here). Enjoy! XO, Inspire(d)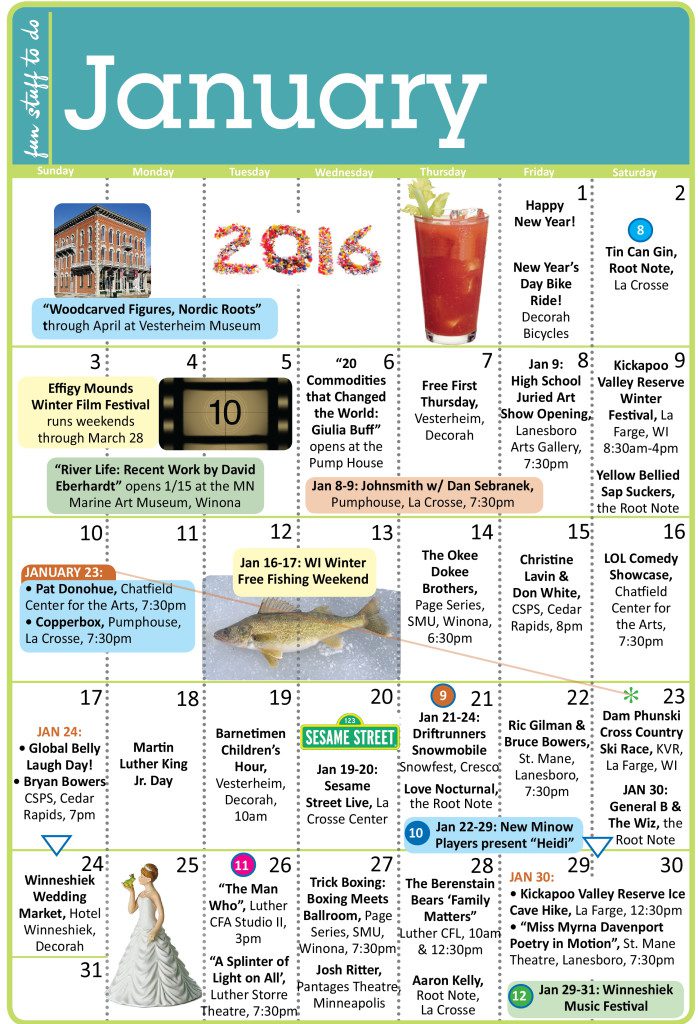 LOOKING FOR MORE DETAILS ABOUT EVENTS ON THE CALENDARS?
Check out these great winter activities!  In chronological order, each event's number coincides with its number on the calendar!
January 2: The Root Note presents Tin Can Gin with Dig Deeper, 8:45pm. Great taps, coffee, and crepes – 115 4th St South, La Crosse. www.facebook.com/theRootNote
January 21: Celebrate the 45th annual Snowfest in Cresco January 21-24. Trail Rides, Raffles, and events all weekend. Blue Ringers Band Saturdaynight. Facebook "Driftrunners-Snowmobile-Club" for details.
January 22: New Minowa Players presents Heidi, January 22-25 and 28-29. See newminowaplayers.org for tickets and other details. This play is based on the well-loved children's novel.
January 26: Luther J-term Theater and Dance Performances! "The Man Who" CFA Studio II- 3PM; "A Splinter of Light on All" Storre Theater – 7:30PM. Free! www.luther.edu/visual-performing-arts/current-productions
January 29-31: Winneshiek Music Festival! Great local and regional bands hit up the Hotel Winneshiek for three days of awesome music and winter fun. hotelwinn.com