September! Isn't fall the best? There are always so many fun things to do! Start your planning with this handy-dandy September 2019 calendar (you can download the pdf here).  Have a great fall! XO, Inspire(d)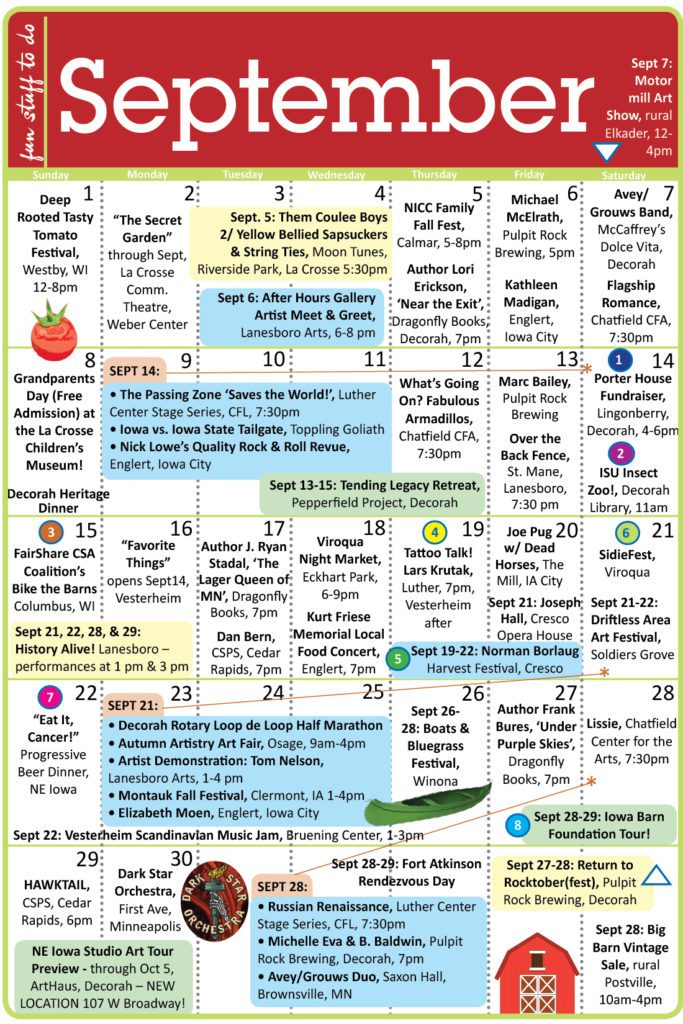 LOOKING FOR MORE DETAILS ABOUT EVENTS ON THE CALENDARS?
Check out these great September 2019 activities! In chronological order, each event's number coincides with its number on the calendar!
1. September 14: Join the Porter House Museum for their annual fundraiser – held at the Lingonberry, 218 W Water St., Decorah,  4-6pm. Come enjoy great company while supporting one of the region's most unique museums! www.porterhousemuseum.org
2. September 14: Are you brave enough to see all the creepy, crawly insects at the Insect Zoo? Families welcome for a fun and interactive display, Decorah Public Library, 11am-1pm. www.decorah.lib.ia.us
3. September 15: Bike (or Bus!) the Barns for FairShare CSA Coalition. Farm tours, local food, craft libations, live music. Tour begins at Columbus, WI Fireman's Park. (608) 226-0300, bikethebarns@csacoalition.org, www.csacoalition.org/bike-the-barns/
4. September 19: Tattoo Talk – "Tattooing in the Ancient World," Lars Krutak, Tattoo Anthropologist. 7:00 pm at Luther College, After Party at Vesterheim. www.vesterheim.org
5. September 19-22: Norman Borlaug Harvest Festival! Tour the Borlaug Farm, Quilt Auction, Cruise to Cresco, 5K, Steak Cook-Off, and end with the Northeast Iowa Food Packaging Event! www.crescochamber.com
6. September 21: Get your boots dirty at SidieFest Community Trail Building Day! Vernon Trails' trail crew will guide crews on various singletrack projects throughout Sidie Hollow. Fun. Community. Dirt. Trails. Revelry. info: www.bluedogcycles.com 
7. September  22: Eat It, Cancer! American Society of Cancer progressive dinner sponsored by PIVO Brewery, Pulpit Rock Brewery, Toppling Goliath Brewery, & Rubaiyat Restaurant. www.CrowdRise.com/Eat-It-Cancer
8. September 28-29: Iowa Barn Foundation 19th Annual Fall Barn Tour! Tour the countryside across Iowa to view some of Iowa's most incredible structures. iowabarnfoundation.org