September 2017! We think fall is one of the loveliest times of year! Start your planning now with this handy-dandy September 2017 calendar (and you can download the pdf here). Enjoy! XO, Inspire(d)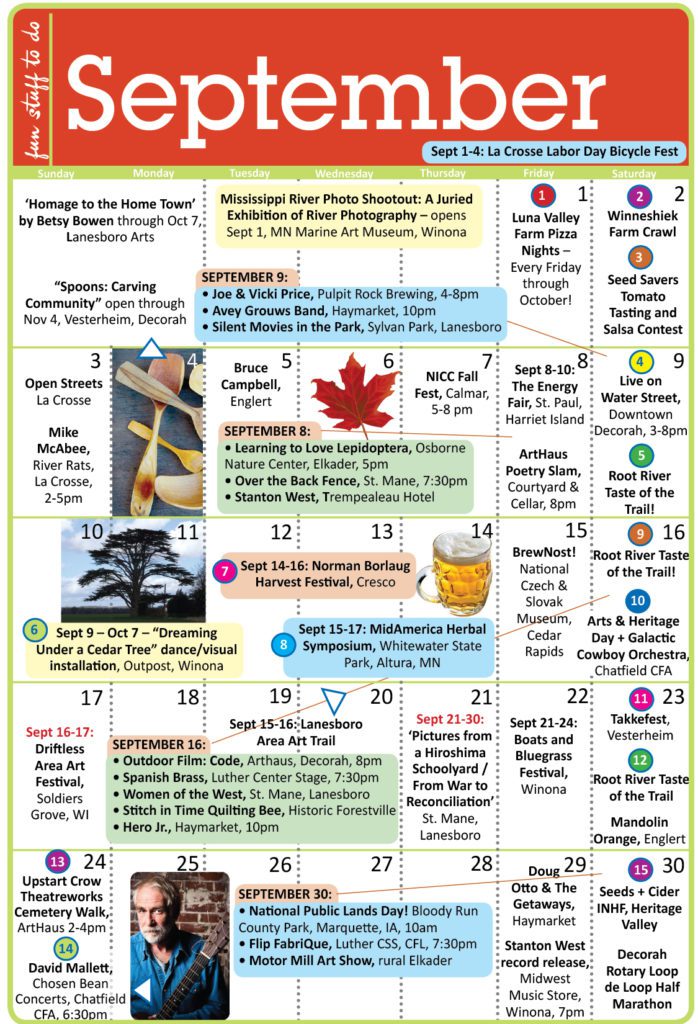 LOOKING FOR MORE DETAILS ABOUT EVENTS ON THE CALENDARS?
Check out these great September 2017 activities!  In chronological order, each event's number coincides with its number on the calendar!
1. September 1: At Luna Valley Farm we are growing wood fired pizza and community. Join us on Friday Pizza Nights in September and October from 4-8pm. www.lunavalleyfarm.com/pizza-nights
2. September 2: Winneshiek Farm Crawl! Family-friendly event includes farm tours and food sampling plus an evening concert at the Winneshiek County Fairgrounds. www.visitdecorah.com
3. September 2: Tomato Tasting (and Salsa Contest!) at Seed Savers Exchange: Sample dozens of open-pollinated heirloom tomatoes, judge a salsa contest, attend workshops, and hop on a hayride. www.seedsavers.org
4. September 9: Root River Trail Towns Taste of the Trail – 10am-3pm- Lanesboro, Peterson & Whalan– Join us for a taste of each of our Root River Trail Towns Communities- more info at www.rootrivertrail.org
5. September 9: Join in on "Live on Water Street" – a community celebration featuring music, food, beer, and fun for all ages! 300 Block, downtown Decorah, 3-8 pm. Info on Facebook.
6. September 9 – October 7: Dreaming Under a Cedar Tree. A free dance performance series and visual art installation with a Middle Eastern flavor, by Sharon Mansur. Outpost, 119 E. 3rd St., Winona www.outpostwinona.org/portfolio/cedar-tree/
7. September 14-16: Experience Cresco's Norman Borlaug Harvest Fest with Inspire Day at the Borlaug Farm. Take in the car show, 5K, Quilt Auction, live music and MORE! www.crescochamber.com
8. September 15-17: MidAmerica Herbal Symposium, herb conference with amazing Herbalists sharing their plant knowledge. A weekend filled with great classes, food, and beautiful surroundings. Whitewater State Park, Altura, MN Register today, www.midamericasymposium.com
9. September 16: Root River Trail Towns Taste of the Trail – 10am-3pm- Fountain, Harmony & Preston– Join us for a taste of each of our Root River Trail Towns Communities- more info at www.rootrivertrail.org
10. September 16: Arts & Heritage Day in Chatfield, MN. Art fair, kids activities, food, music all day culminating with the Galactic Cowboy Orchestra in Potter Auditorium. www.chatfieldarts.org
11. September 23: Takkefest! Join Vesterheim Museum for this free festival for everyone! Live Music, Dancing, Norwegian Fusion Cuisine and Beers, plus crafts and games for all ages. Vesterheim.org
12. September 23: Root River Trail Towns Taste of the Trail – 10am-3pm- Houston, Rushford, Rushford Village– Join us for a taste of each of our Root River Trail Towns Communities- more info at www.rootrivertrail.org
13. September 24: Chosen Bean Concert with David Mallett. Live folk music up close and personal. Limited seating, $20 in advance or at the door. 6:30pmconcert. www.chatfieldarts.org
14. September 24: Upstart Crow Theatreworks presents The Cemetery Walk, celebrating the Porter House's sesquicentennial. Tours leave every 15 minutes, 2-4pm, Phelps Cemetery, Decorah. $10/$5. www.arthausdecorah.org
15. September 30: Seeds + Cider Iowa Natural Heritage Foundation invites you to Heritage Valley, a 1,200-acre nature preserve, for a fall prairie seed harvest! RSVP at www.inhf.org/events