October 2017! Cooler temps are back and it's time to enjoy fall to its fullest! Start your planning now with this handy-dandy October 2017 calendar (and you can download the pdf here). Enjoy! XO, Inspire(d)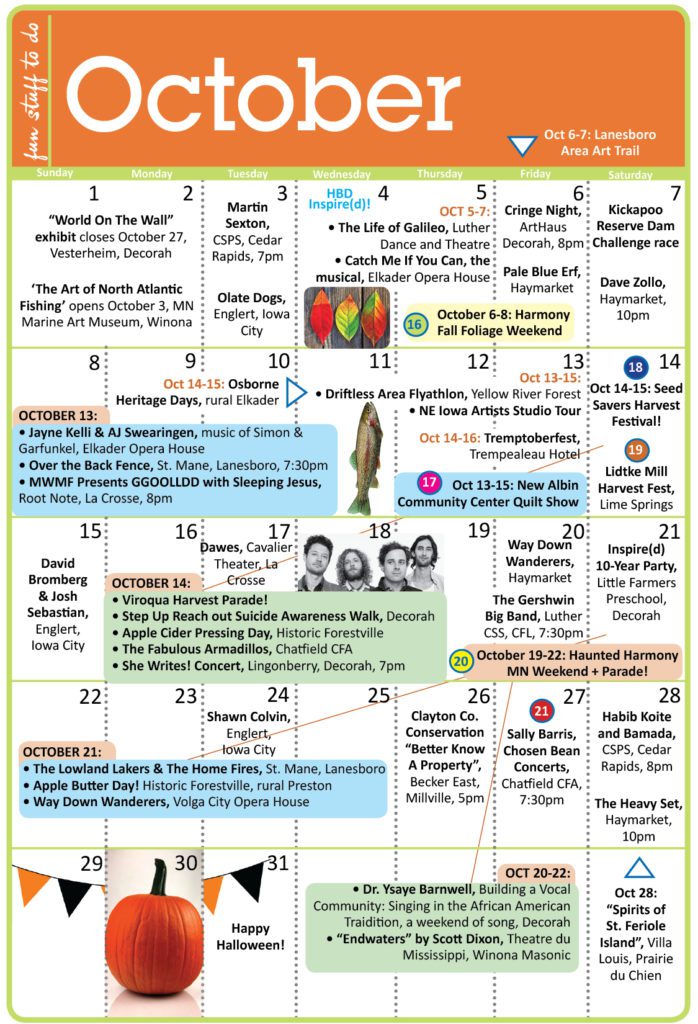 LOOKING FOR MORE DETAILS ABOUT EVENTS ON THE CALENDARS?
Check out these great October 2017 activities!  In chronological order, each event's number coincides with its number on the calendar!
16. October 6-8: Fall Foliage Weekend, Harmony, MN – Enjoy beautiful fall colors in bluff country, tours of Niagara Cave and Amish Tours www.exploreharmony.com
17. October 13-15: Take a beautiful drive to the New Albin Quilt Show, Fri 4-7, Sat 10-5, Sun 12-4, Community Center – 137 Railroad Ave, New Albin, IA!
18. October 14: Harvest Festival at Seed Savers Exchange: Soup cook-off, pumpkin carving, garlic workshop, cider pressing, hayrides, and kids activities. www.seedsavers.org
19. October 14: Enjoy a fall adventure at the Lidtke Mill Harvest Festival – Ghost Tours of Old town, Craft Show, Soup Supper! Lime Springs, IA Community Building. 4-8 pm. Adults $5/Children $3 – Best Town By A Dam Site!
20. October 19-22: Haunted Harmony Weekend – Join us for a weekend of Halloween themed fun! Grand Parade, Monster Bash Haunted House, Costume Contests, pumpkin decorating & more! More info at www.exploreharmony.com
21. October 27: Chosen Bean Concert with Sally Barris. Live folk music up close and personal. Limited seating, $20 in advance or at the door. 7:30pmconcert. www.chatfieldarts.org