October! Get a head start on your fun-planning with this handy-dandy October 2016 calendar (and you can download the pdf here). Enjoy! XO, Inspire(d)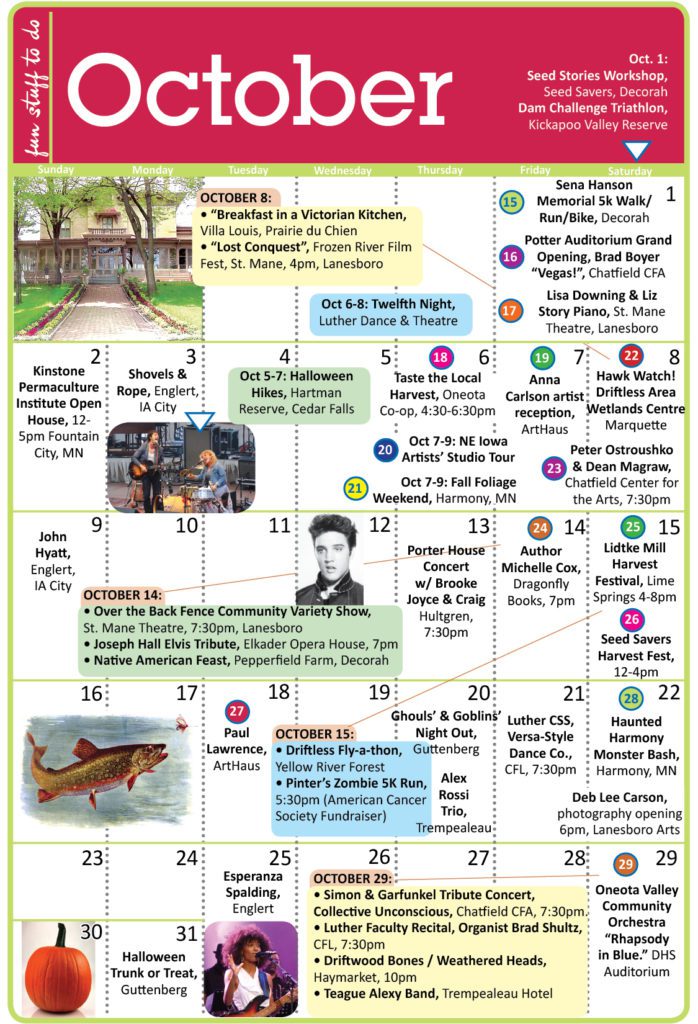 LOOKING FOR MORE DETAILS ABOUT EVENTS ON THE CALENDARS?
Check out these great fall activities!  In chronological order, each event's number coincides with its number on the calendar!
15. October 1: Sena Hanson Memorial 5k Walk/Run/Bike. Proceeds benefit Helping Services Domestic Abuse Resource Center. www.helpingservices.org 1-800-383-2988 10am-1pm $25 adults $10 children – Lunch included!
16. October 1: VEGAS! Elvis tribute concert with Brad Boice. Chatfield Art Center – Potter Auditorium Grand Reopening! Pre-concert Party 5:30. Food, drink, and fun! Concert 7:30 $25/$30/$35 chatfieldcfa.com
17. October 1: An evening of contemporary solo piano with Lisa Downing and Windham Hill recording artist Liz Story. Historic St. Mane Theatre in downtown Lanesboro, MN www.lanesboroarts.org
18. Octbober 6: Taste the Local Harvest at the Oneota Co-op. Meet local producers, sample local products: 4:30-6:30pm. Free. www.oneotacoop.com
19. October 7: Anna Carlson, 2015 Emerging Artist Exhibit Best of Show, takes over the ArtHaus gallery with her first ever solo show. Opening reception, 6-8 pm. On display through November 18. arthausdecorah.org
20. October 7-9: 19th Annual Northeast Iowa Artists' Studio Tour! 52 Artists at 40 locations – all within 40 miles of Decorah! Self-driving. Scenic. Free. Daily 10-5. www.iowaarttour.com
21. October 7-9: Fall Foliage Weekend, Harmony MN. Fall City Wide Garage Sales, Fall Foliage Tour maps, tours of Niagara Cave, Amish Tours, Amish Farmers Markets & more. www.exploreharmony.com
22. October 8: Hawk Watch! Celebrate migrating raptors found along the Mississippi Flyway. Free live raptor programs, activities, banding stations. Driftless Area Wetlands Centre, Marquette, IA www.driftlessareawetlandcentre.com
23. October 8: Peter Ostroushko and Dean McGraw perform at the Chatfield Center for the Arts Chosen Bean Concert Series. 7:30 PM. $20. Concessions, beer and wine. chosenbeanconcerts.org
24. October 14: Michelle Cox reads from "A Girl Like You," Dragonfly Books. 1930s Chicago with diverse neighborhoods, eclectic residents, and its seedy side. Friday, 7pm. www.dragonflybooks.com/events
25. October 15: Lidtke Mill Harvest Festival 4-8pm. Ghost Tours of Old Town Adults $5/Children $3 Craft Show & soup supper at the Lime Springs Community Building
26. October 15: Harvest Festival at Seed Savers Exchange, 12-4pm. Soup cook-off, pumpkin carving, garlic workshop, cider pressing, workshops on food preservation and seed saving +more. www.seedsavers.org
27. October 18: Live music with Paul Lawrence and special guests at ArtHaus. Doors open 6:30 pm, show at 7 pm. Tickets $8/$5 students, available in advance at arthausdecorah.org or night of.
28. October 22: Haunted Harmony. Visit Fillmore Central's Monster Bash Haunted House, 5K Zombie Crawl, costume contests, lantern tours at Niagara Cave & more! Follow Monster Bash on Facebook.
29. October 29: Oneota Valley Community Orchestra Season 3 Premier featuring Miko Kominami on piano in "Rhapsody in Blue." Also works by Bernstein, Copland. Deceorah HS Auditorium, 7:30pm www.ovcorchestra.org