May 2018! This is one of our favorite months around here! Birthday parties, pizza farms, outdoor fest, oh my! Start your planning now with this handy-dandy May 2018 calendar (and you can download the pdf here). Enjoy! XO, Inspire(d)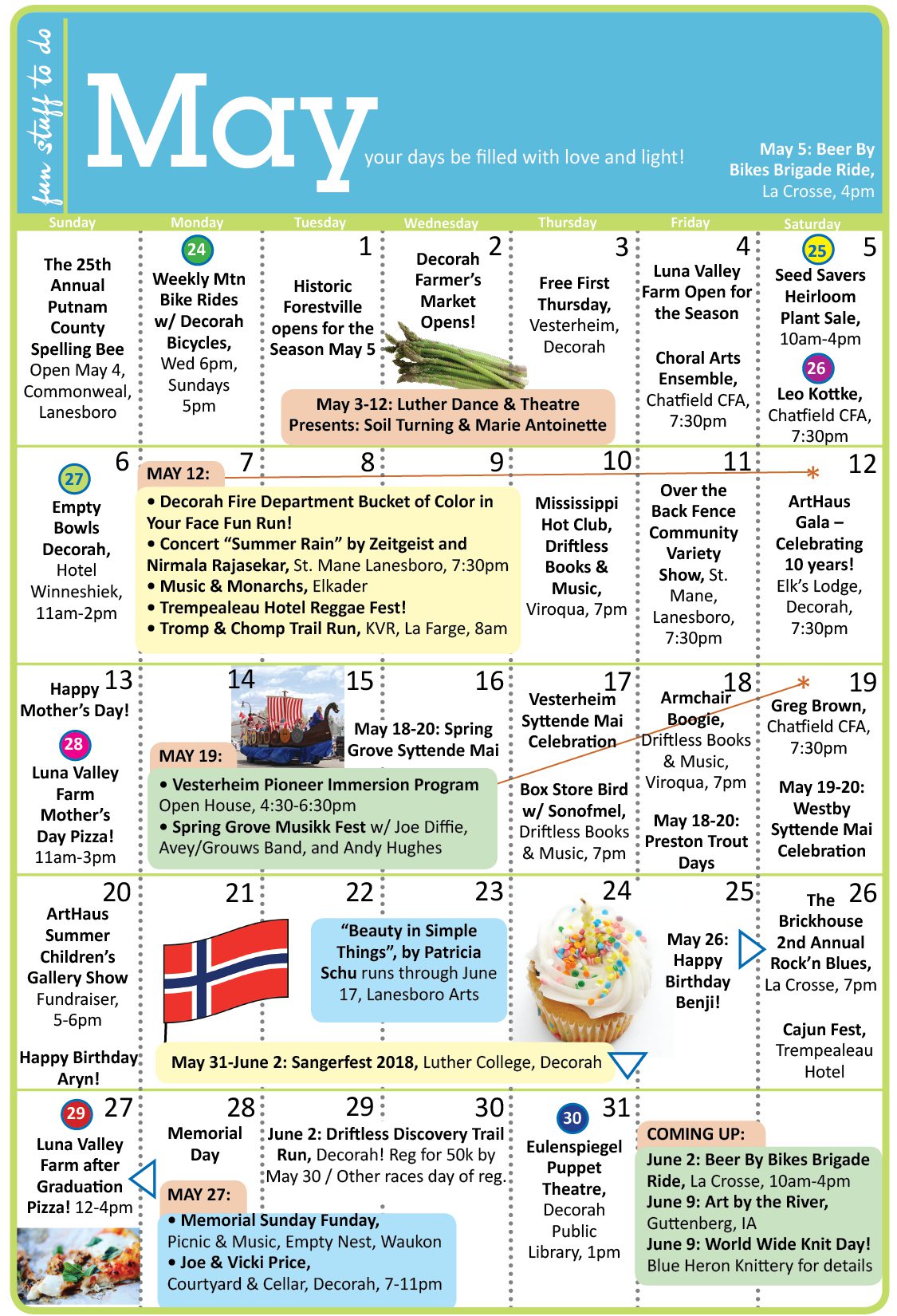 LOOKING FOR MORE DETAILS ABOUT EVENTS ON THE CALENDARS?
Check out these great May 2018 activities!  In chronological order, each event's number coincides with its number on the calendar!
24. May 2: Weekly Mountain Bike Rides with Decorah Bicycles. Wednesday evenings 6 pm, Sundays 5 pm, first Sunday of the month 7:30 am and 5 pm. More info fearlesswomenofdirt.com
25. May 5: Heirloom Plant Sale – Stop by the Seed Savers Exchange plant sale and prep for spring planting. Heirloom and historic vegetables, herbs, and flowers await! 10 am-5 pm seedsavers.org
26. May 5: Join Chatfield Center for the Arts in welcoming acoustic guitar folk legend Leo Kottke to Southeast Minnesota. Tickets $35-$45. Doors 6:30 pm (pre-show food & beverage options), show 7:30 pm. www.chatfieldarts.org
New: May 5 (previously 4/28): Into the Wild, Out with the Mustard! Join INHF at Heritage Valley on Apr. 28 for the annual garlic mustard pull. Details at inhf.org/events
27. May 6: Empty Bowls – Decorah fundraiser at Hotel Winneshiek from 11-2. A simple meal of soup & bread, and a bowl to take home, $20 donation. www.facebook.com/emptybowlsdecorah/
28. May 13: Celebrate the women in your life at Luna Valley Farm. Open Mother's Day from 11 am-3 pm. Come out and enjoy wood-fired pizza and community in rural Decorah! www.lunavalleyfarm.com
29. May 27: After graduation, come out to Luna Valley Farm for a relaxing afternoon of wood-fired pizza in the company of family and friends. Open Noon-4pm. Rural Decorah. wwwlunavalleyfarm.com
30. May 31: Eulenspiegel Puppet Theatre at Decorah Public Library! Bring the family to see a delightful tale of the lovable mammoths that roamed Iowa prairies 10,000 years ago. Featuring marionettes and live music – 1 pm. www.decorah.lib.ia.us