May 2017! Wow, there are lots of fun things going on! Start your planning now with this handy-dandy May 2017 calendar (and you can download the pdf here).
Enjoy! XO, Inspire(d)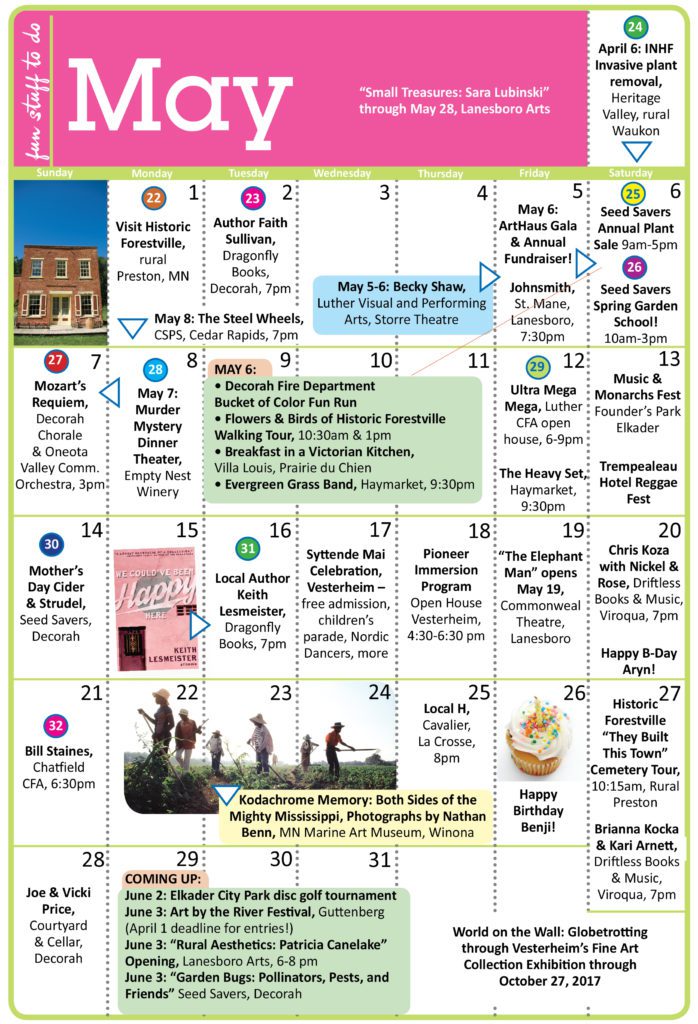 LOOKING FOR MORE DETAILS ABOUT EVENTS ON THE CALENDARS?
Check out these great May 2017 activities!  In chronological order, each event's number coincides with its number on the calendar!
22. May 1: Visit Historic Forestville – Saturdays only in May/Sept/Oct. Memorial Day Weekend-Labor Day: Thurs- Sun $6-8. Step back in time to 1899. Where real history happened! 507-765-2785 forestville@mnhs.org
23. May 2: Author Faith Sullivan (Goodnight Mr. Wodehouse, The Cape Ann, Gardenias, What a Woman Must Do) at Dragonfly Books!  Author talk / signing 7 pm. www.dragonflybooks.com/events.  Free!
24. May 6: You're invited! Help Iowa Natural Heritage Foundation hand-pull unwanted plants from outstanding 1,200-acre woodland near Waukon. No experience necessary. Lunch provided. Kids welcome. 515-288-1846 www.inhf.org
25. May 6: Annual Plant Sale, Seed Savers Exchange: Rare family heirlooms & historic commercial varieties of flowers, vegetables, fruit trees. New this year: hops & strawberries. 9am-5pm. seedsavers.org
26. May 6: Spring Garden School, Seed Savers Exchange: 10am-3pm workshop focusing seed starting, planning your garden for seed saving, and getting started with composting. Sign up: seedsavers.org/events 
27. May 7: Murder Mystery Dinner Theater at Empty Nest Winery. Advanced tickets only; $45/person includes 3 course dinner and Murder Mystery Comedy Production. Call 563-568-2758 for tickets. www.emptynestwinery.com
28. May 7: The Decorah Chorale and Oneota Valley Community Orchestra (OVCO) will hold a joint concert to perform Mozart's Requiem at 3 pm at Decorah High School. No charge for admission however a free-will offering will be accepted.
29. May 12: Ultra Mega Mega, Luther College CFA, Visual and Performing Arts Spring Open House, 6-9pm
30. May 14: Mother's Day Cider & Strudel, Seed Savers Exchange: Orchard in bloom, 20% off all purchases, cider, strudel, guided hike, apple history. More info: seedsavers.org/events
31. May 16: Help us launch local author Keith Lesmeister's first short story collection, We Could've Been Happy Here! Author talk / signing 7pm. Dragonfly Books. www.dragonflybooks.com/events. Free!
32. May 21: Original folk music matched with witty humor with songwriter/performer Bill Staines in the Legion Room, Chatfield Center for the Arts. 6:30pm. $20, limited seating. www.chatfieldcfa.com