March 2017! Lots of fun to be had! Start your planning now with this handy-dandy March 2017 calendar (and you can download the pdf here). Enjoy! XO, Inspire(d)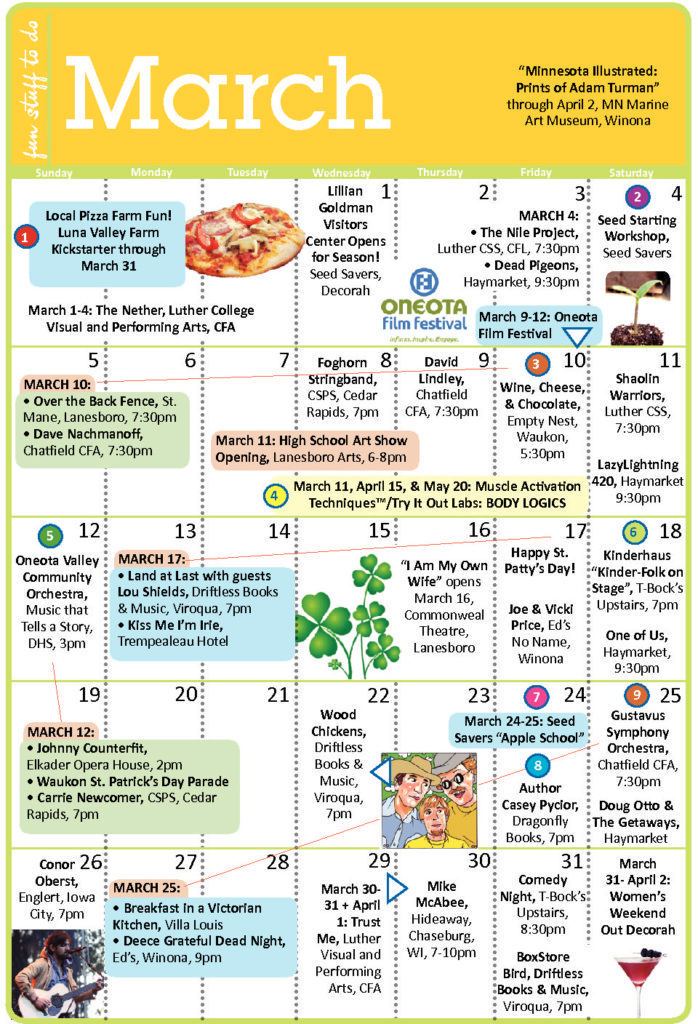 LOOKING FOR MORE DETAILS ABOUT EVENTS ON THE CALENDARS?
Check out these great March 2017 activities!  In chronological order, each event's number coincides with its number on the calendar!
1. March 1: Join us in bringing wood-fired pizza, craft brew and community to Luna Valley Farm through supporting our Kickstarter campaign (March 1-31). More info at lunavalleyfarm.com
2. March 4: Seed starting workshop, Seed Savers Exchange: basics of seed selection, seed starting, transplants, and tips for urban gardening + behind-the-scenes farm tour. $5 Register: seedsavers.org/events
3. March 10: Wine, Chocolate & Cheese Event at Empty Nest Winery; registration for prizes at 5:30, food and fun at 6:00. Grab your friends & come! www.emptynestwinery.com
4. March 11, April 15, & May 20: Muscle Activation Techniques™/Try It Out Labs: BODY LOGICS, inside Decorah's Anytime Fitness, 10 AM. Make Reservations w/ Scott Searcy @ 516.732.5751
5. March 12: The Oneota Valley Community Orchestra presents "Music That Tells a Story." Come hear Prokofiev's "Peter and the Wolf" narrated by Kristen Underwood & Beethoven's "Pastorale Symphony." 3pm DHS Auditorium. www.ovcorchestra.org
6. March 18: "Kinder-Folk on Stage." A celebration of spring, the arts, and Kinderhaus Preschool. Live music, spoken word, coloring, free appetizers, and cash bar. Free will donation. T-Bock's Upstairs, 7 pm. kinderhausdecorah.com
7. March 24: Apple Grafting / Apple School, Seed Savers Exchange. Choose your 1/2 day workshop March 24, 25, April 7, or 8. Learn more & register: seedsavers.org/events
8. March 24: Midwestern author Casey Pycior presents his short story collection The Spoils at Dragonfly Books.  Author talk/signing 7pm. Dragonfly Books. www.dragonflybooks.com/events. Free!
9. March 25: Free concert for all ages with the Gustavus Symphony Orchestra in the newly renovated, historic Potter Auditorium, Chatfield Center for the Arts, 7:30pm. www.chatfieldcfa.com