June 2018! Whew, it feels like summer already, so let's kick this thing off! There's lots of fun to be had. Start your planning with this handy-dandy June 2018 calendar (you can download the pdf here). Enjoy! XO, Inspire(d)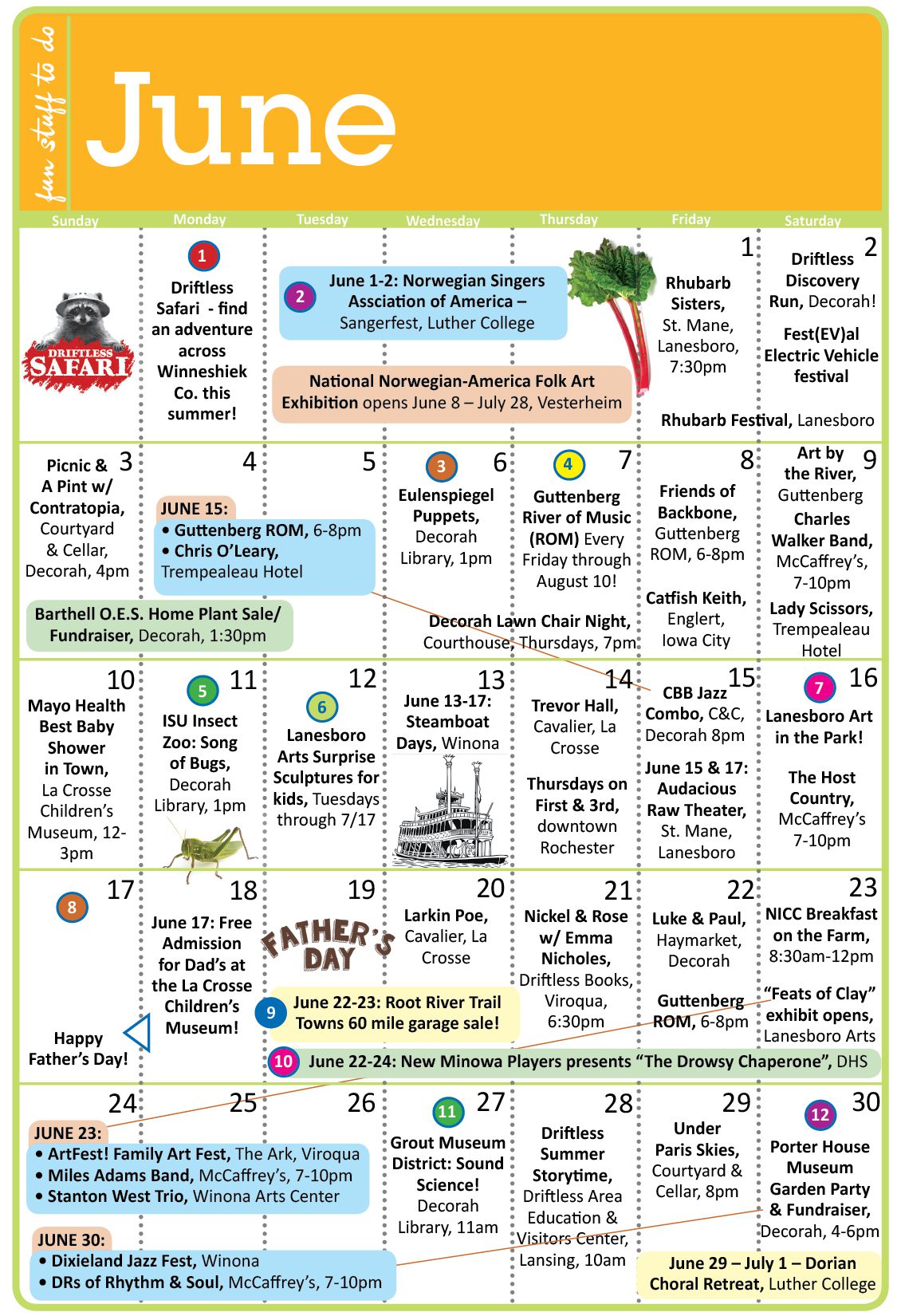 LOOKING FOR MORE DETAILS ABOUT EVENTS ON THE CALENDARS?
Check out these great June 2018 activities!  In chronological order, each event's number coincides with its number on the calendar!
1. All Summer: Driftless Safari offers free outdoor adventure and exploration in Winneshiek County all summer long! Visit www.driftless-safari.org or stop by any Winneshiek County library to join!
2. June 1: Velkommen to Sangerfest 2018, Norwegian Singers Association of America festival at Luther College. Grand Concert Saturday, June 1st, 7pm, Luther CFL. www.nsaaonline.org
3. June 6: Eulenspiegel Puppet Theatre: The Amazing Adventures of Willy the Woolly. Join us for delightful tale of the lovable mammoths who roamed the Iowa prairies 10,000 years ago! Decorah Public Library, 1pm www.decorah.lib.ia.us
4. June 7: Guttenberg's River of Music (ROM) EVERY Friday, June —August 10, 6-8 pm, in Ingleside Park Bandstand (along the Mississippi River). Rain location: City Hall.
5. June 11: ISU Insect Zoo: The Songs of Bugs. Come hear a story about Unia the cricket, who has lost his song, and see a Bugtastic Insect Zoo display! Decorah Public Library, 1pm  www.decorah.lib.ia.us
6. June 12: Lanesboro Arts invites kids 5-9 to create fun, large-scale "surprise" sculptures! Tuesdays 12-2pm from June 12 to July 17. Meet at St. Mane Theatre upstairs classroom. LanesboroArts.org
7. June 16: Art in the Park festival in Lanesboro! 90+ artists, live music, craft beer, food vendors & art activities. Saturday, June 16, 10am – 5pm LanesboroArts.org
8. June 17: Celebrate the fathers in your life at Luna Valley Farm. Open Father's Day from 11am-3pm. Come out and enjoy wood-fired pizza and community. Rural Decorah. wwwlunavalleyfarm.com
9. June 22-23: Root River Trail Towns 60-Mile Garage Sale – Join the communities of Fountain, Preston, Harmony, Lanesboro, Peterson, Whalan, Rushford, Rushford Village & Houston for community wide garage sales! More info at www.rootrivertrail.org
10. June 22-24: New Minowa Players presents "The Drowsy Chaperone", at the Decorah High School Auditorium. More information at newminowa.wixsite.com/new-minowa-players/summer or call Sheryl at 563-379-5738.
11. June 27: Grout Museum District: Sound Science. See the amazing science of sound with singing rods, singing pipes, and spouting bowls! Decorah Public Library, 11 am  www.decorah.lib.ia.us
12. June 30: Celebrate with the Porter House Museum Garden Party & Fundraiser, live music, food, and outdoor activities – all to support this fantastic local museum! 401 W Broadway, 4-6pm. www.porterhousemuseum.org