July is here! This is truly the thick of summer! County fairs, outdoor music, farmers markets… start your planning with this handy-dandy July 2019 calendar (you can download the pdf here).  Have a blast! XO, Inspire(d)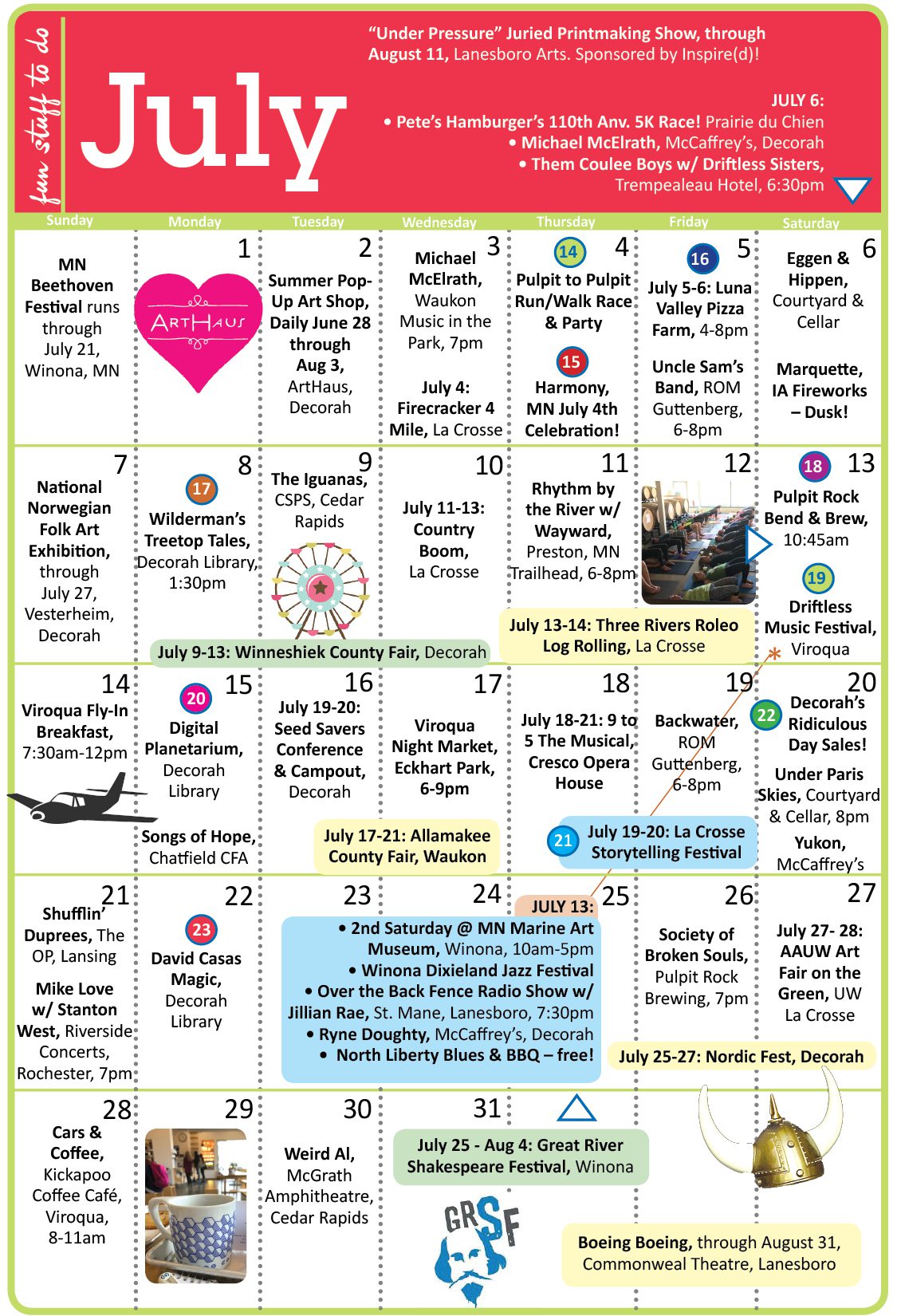 LOOKING FOR MORE DETAILS ABOUT EVENTS ON THE CALENDARS?
Check out these great July 2019 activities! In chronological order, each event's number coincides with its number on the calendar!
14: July 4: Come join in the Pulpit to Pulpit 5K & 1 Mile 4th of July run! 8:30am 5K & 1 mile start from Pulpit Rock Park in Decorah, festivities and refreshments at the brewery after! Pre-reg @ runsignup.com
15. July 4: Harmony's 4th of July Celebration – Join us for a full day of fun – Jim Busta Band featuring Mollie B., Games, Food, Grand Parade @ 3pm, and FIREWORKS! More info at www.exploreharmony.com
16. July 5-6: Luna Valley Farm is open Fourth of July weekend! Wood fired pizza, drinks, and community – Friday and Saturday night from 4-8pm. www.lunavalleyfarm.com
17. July 8: Wilderman's Treetop Tales with Chad Elliott @ DPL! Think Shel Silverstein with more color and a song album! Iowa singer, songwriter, artist, and author performs for the entire family. 1:30 pm – www.decorah.lib.ia.us
18. July 13: Pulpit Rock Bend & Brew! Come enjoy a Reefuel smoothie, an hour of yoga, and a delicious Pulpit Rock Beer when you're done. 10:45am-12pm, Sign up at PRB or online https://squareup.com/store/pulpitrockbrewing
19. July 13: Come to Viroqua for the Driftless Music Festival! Eclectic mix of music under the trees of Eckhart Park in Viroqua. 1pm-10pm FREE admission – driftlessmusicfestival.com
20. July 15: Digital Planetarium @ DPL! Bring the family to lie down under the stars and learn all about the constellations in the night sky with Lilly Jensen from Winneshiek County Conservation. 1:30 pm – 4 pm (5 seatings) www.decorah.lib.ia.us
21. July 19-20: La Crosse Storytelling Festival. New digs; new date. Join us for the STORIES at the Pump House. www.lacrossestoryfest.com
22. July 20: Decorah's Ridiculous Day! Enjoy downtown sidewalk sales! Many of your favorite retailers will be offering ridiculous savings on clothing, gifts, accessories, and more. www.decorahareachamber.com
23. July 22: David Casas Magic @ DPL! Prepare to be amazed by mind-blowing magic, hilarious family-friendly comedy, and plenty of audience interaction! 1:30 pm. www.decorah.lib.ia.us