February 2017! New month, new goals, new dreams, new fun. Start your planning now! Get going with this handy-dandy February 2017 calendar (and you can download the pdf here). Enjoy! XO, Inspire(d)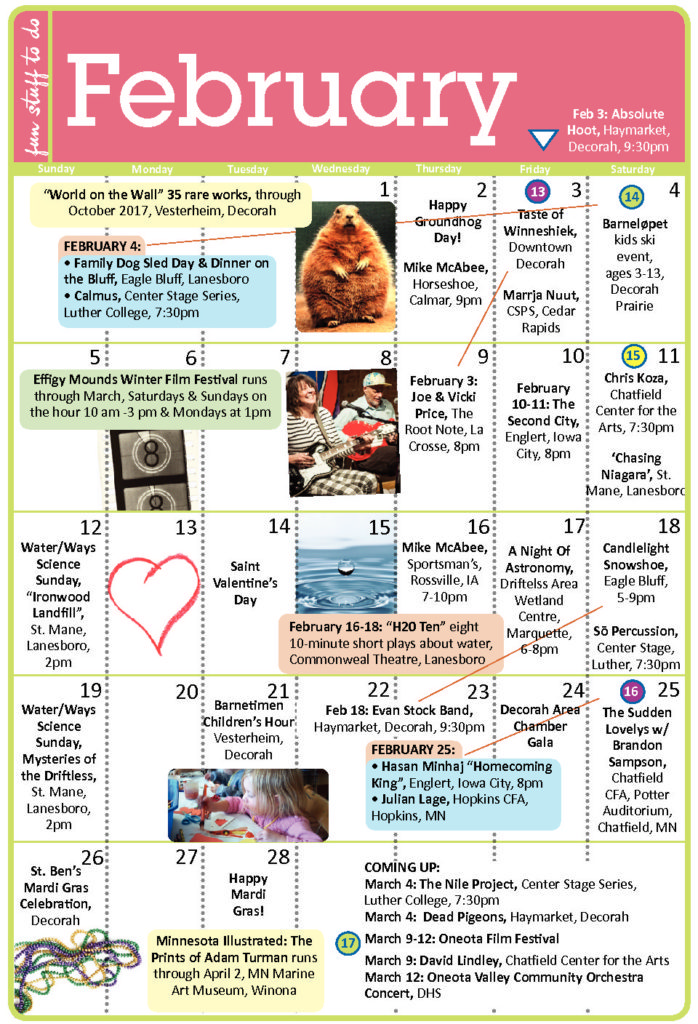 LOOKING FOR MORE DETAILS ABOUT EVENTS ON THE CALENDARS?
Check out these great February 2017 activities!  In chronological order, each event's number coincides with its number on the calendar!
13. February 3: Join the Taste of Winneshiek for a fun evening of food and beverage samples around downtown Decorah. Browse, shop, and sample from door to door as you meet friends and make new ones! 5 – 8 pm. more info www.visitdecorah.com
14. February 4: BARNELØPET! Get outside and enjoy the winter during this non-competitive ski or walk event for children ages 3-13, held at the Decorah Prairie. vesterheim.org (Free)
15. February 11: Chris Koza live at the Chatfield Center for the Arts presented by the Chosen Bean Concert Series. Tickets $20, available in advance. Show kicks off 7:30pm. Details www.chatfieldcfa.com
16. February 25: The Sudden Lovelys headline the historic Potter Auditorium (Chatfield, MN), with Six Mile Grove's Brandon Sampson to open. Tickets $19 in advance at www.chatfieldcfa.com, $23 at the door.
Coming up:
17. March 9-12: The Oneota Film Festival revs up late winter to Inform, Inspire, and Engage the Driftless Region through visual engagement. A full weekend of fun, as well as ways to support the festival can be found at www.oneotafilmfestival.org.