December! We hope you have a wonderful holiday season! There's lots of fun to be had! Start your planning with this handy-dandy December 2019 calendar (you can download the pdf here).  Enjoy! XO, Inspire(d)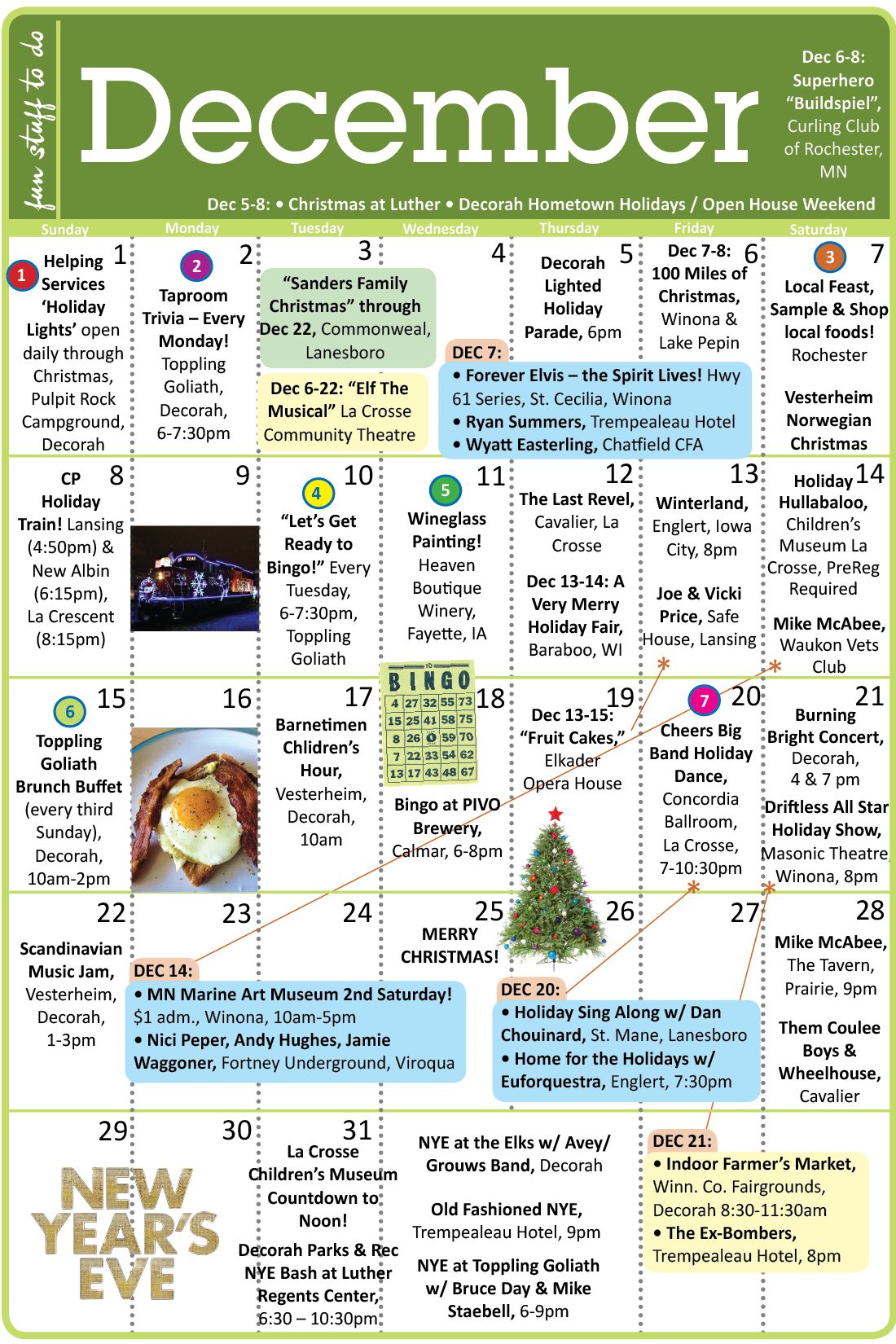 LOOKING FOR MORE DETAILS ABOUT EVENTS ON THE CALENDARS?
Check out these great December 2019 activities! In chronological order, each event's number coincides with its number on the calendar!
1. December 1: Helping Services Holiday Lights! Open every evening 5-9pm through Christmas night. Santa visits Thurs-Sun nights 5:30-8pm. www.helpingservices.org
2. December 2: If random facts are your thing, then Toppling Goliath Taproom Trivia is your gig! Every Monday night 6-7:30pm, Decorah. www.tgbrews.com Prizes to winning team!
3. December 7: Local Feast! Sample and shop local foods from IA, WI & MN while you enjoy kids' activities, cooking demos, interactive art, music and prizes. Rochester, MN; local-feast.org.
4. December 10: "Let's get ready to BINGO" every Tuesday night from 6-7:30pm at Toppling Goliath. Plus, wheel of fortune and mystery-wrapped prizes!  www.tgbrews.com
5. December 11: Wineglass Painting w/ Lisa Goodwin. Our seasonal wineglass painting series continues with a beautiful winter-themed creation at Heaven Boutique Winery near Fayette, IA. $25 includes all supplies and a glass of wine. Register: 563-362-2240 or heavenwinery.com
6. December 15: Toppling Goliath Brunch Buffet every third Sunday, through May. (Dec. 15, Jan. 19 & Feb. 17) Serving from 10am to 2 pm. Reservations encouraged at events@tgbrews.com. See FB for menu! www.tgbrews.com
7. December 20: Cheers Big Band Holiday Dance at the Concordia. Big band sound, great dance floor. 7-10:30 p.m. Sunday dances weekly, 1-5 p.m. Facebook-Concordia Ballroom La Crosse. www.concordiaballroom.com