December 2018! It's hard to believe this is the last month of 2018! There's lots of fun to be had before the year is done – start your planning with this handy-dandy December 2018 calendar (you can download the pdf here). Happy holidays! XO, Inspire(d)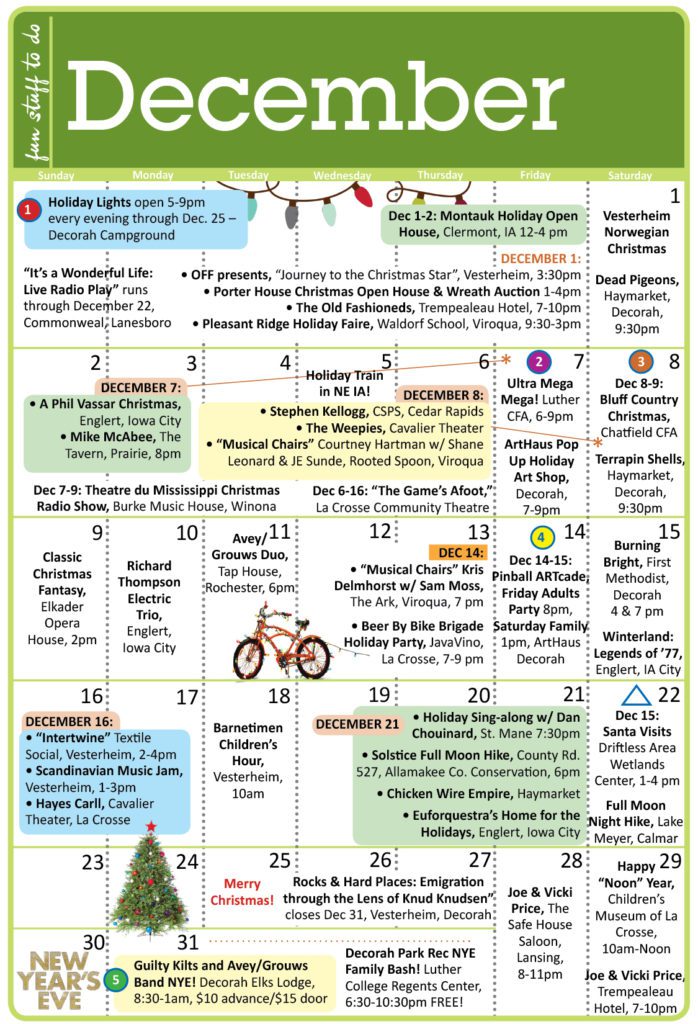 LOOKING FOR MORE DETAILS ABOUT EVENTS ON THE CALENDARS?
Check out these great December 2018 activities! In chronological order, each event's number coincides with its number on the calendar!
1. December 1: Helping Services Holiday Lights! The Lights are open for drive-through every night through December 25, 5:00 to 9:00pm. Pulpit Rock Campground, Decorah. Freewill donation. helpingservices.org
2. December 7: Ultra Mega Mega! Fall studio open house for Art, Dance, and Theatre for the Visual and Performing Arts Department Luther. 6-9pm in the CFA www.luther.edu
3. December 8-9: Bluff Country Christmas at the Chatfield Center for the Arts. Craft Fair, Cookies with Santa, Brad Boice, Brass Band Concert, HS Art Club Art Auction. www.chatfieldarts.org
4. December 14-15: Pinball ARTcade – 80s Party! Fall youth classes have built cardboard pinball machines Come celebrate! Friday Adults Only 80s Party, 8pm. Saturday Family party, 1pm. www.arthausdecorah.org
5. December 31: Decorah Elks NYE! Guilty Kilts (8:30-10) – Avey/Grouws Band (10pm-1am) $10 advance, $15 door. Tickets Venmo or Paypal aveygrouwsband@gmail.com or Oneota Coop beginning Dec 1. aveygrouwsband.com