December! Get a head start on your fun-planning with this handy-dandy December 2016 calendar (and you can download the pdf here). Enjoy! XO, Inspire(d)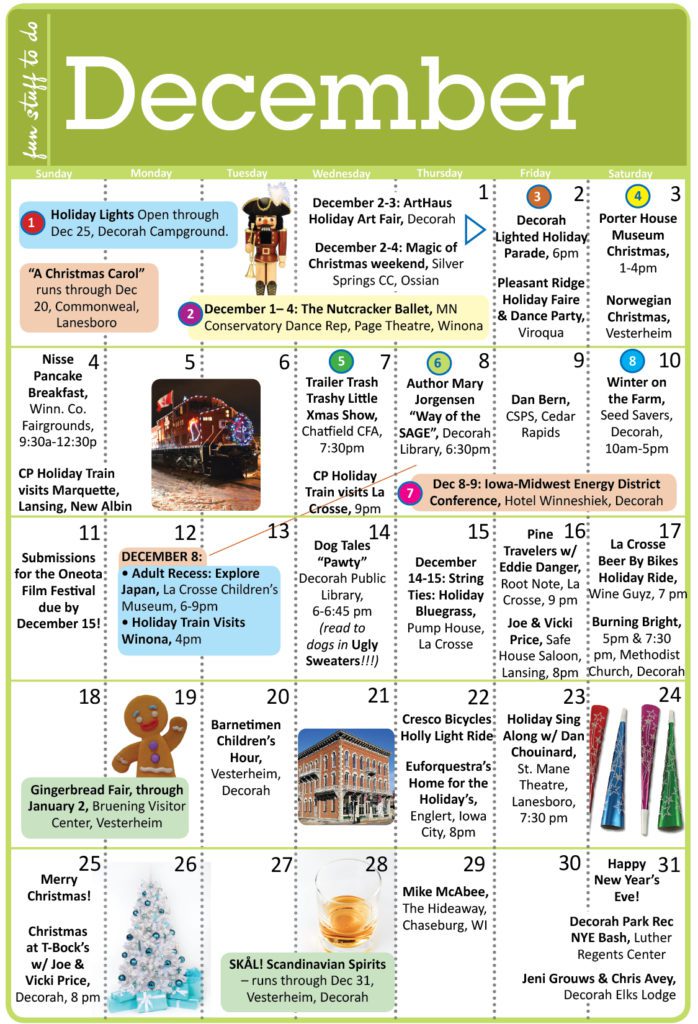 LOOKING FOR MORE DETAILS ABOUT EVENTS ON THE CALENDARS?
Check out these great December activities!  In chronological order, each event's number coincides with its number on the calendar!
1. Through December 25: Holiday Lights brings dazzling drive through displays to the Decorah Campground through December 25. Entry by free will donation to Helping Services. www.helpingservices.org
2. December 1-4: Don't miss holiday classic, The Nutcracker ballet performed by Minnesota Conservatory for the Arts' Dance Repertory Company at The Page Theatre in Winona. www.mnconservatoryforthearts.org
3. December 2: Decorah Lighted Holiday Parade! Parade begins at 6 pm on Water Street and kids can visit with Santa Claus after the parade! www.decorahareachamber.com
4. December 3: Porter House Museum annual Christmas Open House featuring live music, a special butterfly exhibit, refreshments, and festive holiday decor. 1-4pm, no admission fee. www.porterhousemuseum.org 
5. December 7: Trailer Trash brings A Trashy Little Xmas Show to the historic Potter Auditorium, Chatfield, MN. Tickets $20. Doors open 6:30pm, show starts 7:30pm. Details www.chatfieldcfa.com
6. December 8: Local author, educator, and life coach Mary Jorgensen talks about her book, Way of the SAGE: 4 Paths to Manage Stress and Build Resilience. Decorah Public Library, 6:30 pm. www.risingsunlifecoaching.com
7. December 8-9: The first ever Iowa-Midwest Energy District Conference will be held over two days to help universalize this innovative locally-led clean energy leadership model. Open to all interested parties from any location. Learn more www.energydistrict.org 
8. December 10: Winter on the Farm at Seed Savers Exchange. Holiday shopping, cookies, hot chocolate, sleigh rides. Visitors Center open 10 am – 5 pm, Sleigh rides from 11 am – 3 pm. Free event. seedsavers.org