August 2018! It is seriously hard to believe it's already back-to-school time. What?! But first, let's have a little more summer fun! Start your planning with this handy-dandy August 2018 calendar (you can download the pdf here). Enjoy! XO, Inspire(d)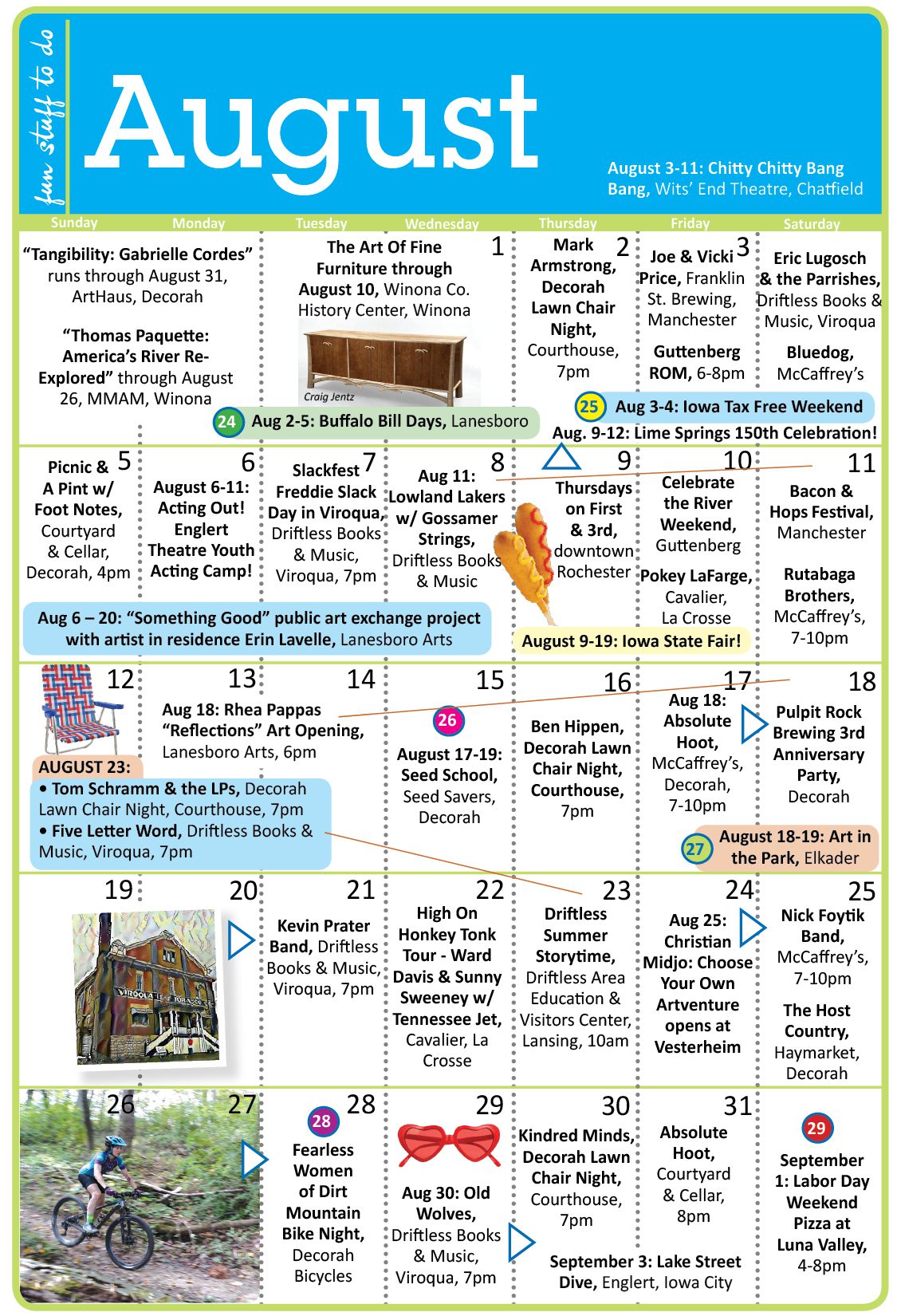 LOOKING FOR MORE DETAILS ABOUT EVENTS ON THE CALENDARS?
Check out these great August 2018 activities!  In chronological order, each event's number coincides with its number on the calendar!
24. August 3-4: Iowa Tax Free Weekend! Get your back-to-school shopping done or shop for yourself! Enjoy two days with no sales tax on clothing. www.decorahareachamber.com
25. August 2-5: Buffalo Bill Days, Lanesboro, MN: A celebration with food, music, games, marketplace vendors, sporting tournaments, 5K run, fireworks, parade. Fun for the whole family. www.lanesboro-mn.gov
26. August 17-19: Seed School at Seed Savers Exchange! Join for a weekend of seeds, stories, and great food while learning how to grow, harvest, store, and save seed. www.seedsavers.org/seed-school
27. August 18-19: Join your friends in Elkader for Art in the Park! Art, Kids activities, Live music, wine tasting, food, and fun for the whole family. Sat 10-5, Sun 10-4, www.artintheparkelkader.com
28. August 28: Fearless Women of Dirt Women's Mtn. Bike Night to end the season right. Ride from 5-6:30 p.m. – Social hour 7-9 p.m. at Decorah Bicycles, www.fearlesswomenofdirt.com
29. Sept 1: Labor Day Weekend at Luna Valley Farm! Take a true break Labor Day weekend and come out on Saturday night for pizza. Open 4-8pm. Rural Decorah. wwwlunavalleyfarm.com