August! Get a head start on your fun-planning with this handy-dandy August 2016 calendar (and you can download the pdf here). Enjoy! XO, Inspire(d)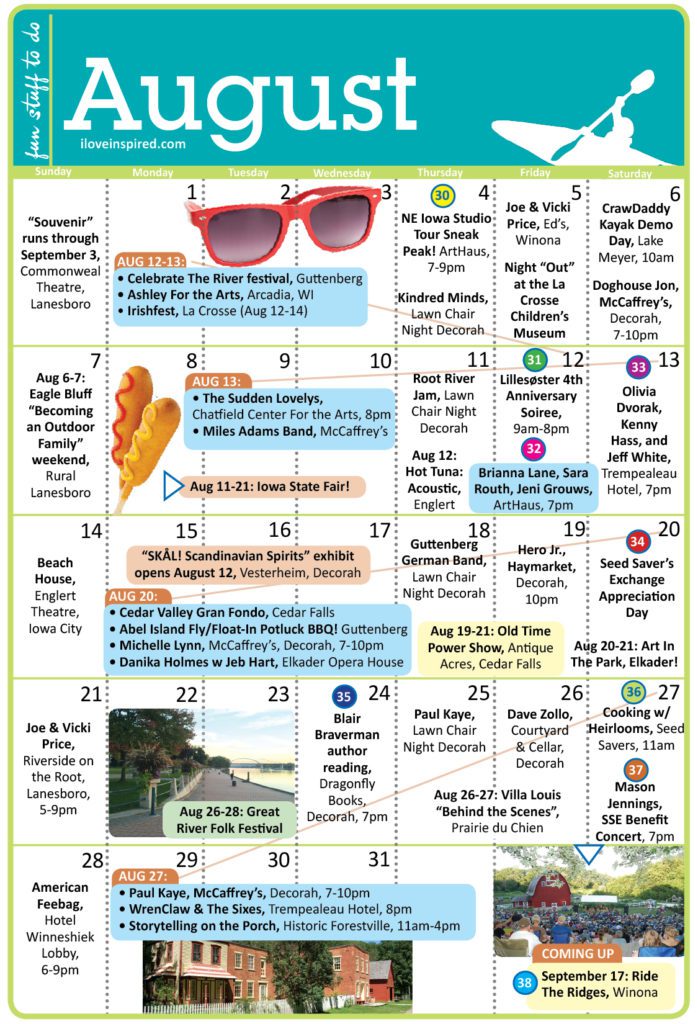 LOOKING FOR MORE DETAILS ABOUT EVENTS ON THE CALENDARS?
Check out these great summer activities!  In chronological order, each event's number coincides with its number on the calendar!
30. August 4: Get a sneak peek of the Northeast Iowa Studio Tour with the opening of Preview at ArtHaus,7-9pm. Sponsored by Thrivent Financial, Decorah Area Team. www.arthausdecorah.com
31. August 12: Lillesøster Butikken 4th Anniversary Sale & Soiree! 9am – 8pm. Storewide discounts, door prizes, free gift with $40 purchase, and more! Entertainment & refreshments from 6-8 pm.
32. August 12: Powerful lineup of female singer / songwriters, Brianna Lane, Sara Routh, and Jeni Grouws, in the ArtHaus Courtyard, 516 West Water Street, presented by ArtHaus. 7-10pm. www.arthausdecorah.org
33. August 13: Jeff White opens for national country artists Olivia Dvorak & Kenny Hass, Trempealeau Hotel, 7pm. Come on down, y'all, for a foot stomping good time. $10 www.trempealeauhotel.com
34. August 20: Free Event: Community Appreciation Day, Seed Savers Exchange, August 20. Farm tours throughout the day and old-time barn dance in the evening.  www.seedsavers.org/community-day
35. August 24: Wisconsin author Blair Braverman at Dragonfly Books, 7pm. "Welcome to the Goddamn IceCube," memoir about living in stark Northern landscapes. 112W Water, Downtown Decorah. www.dragonflybooks.com/event
36. August 27: Cooking w/Heirlooms, Seed Savers Exchange. August 27, 11am-12pm. (12:15 tour) $5/members free: Taste family heirloom recipes, make heritage vegetable salads w/vegetables fresh from SSE gardens.
37. August 27: Mason Jennings benefit concert under the stars at Seed Savers Exchange Heritage Farm. Gates open 5pm, concert begins 7pm. Tickets $25 online, $30 at gate.
COMING UP:
38. September 17: The fourth annual Winona Rotary RIDE THE RIDGES takes bicyclists through the most scenic areas in Southeastern Minnesota. Choose one of four routes. Each has spectacular views. www.ridetheridges.info