April 2017! Get ready for spring fun, friends! Start your planning now with this handy-dandy April 2017 calendar (and you can download the pdf here). Enjoy! XO, Inspire(d)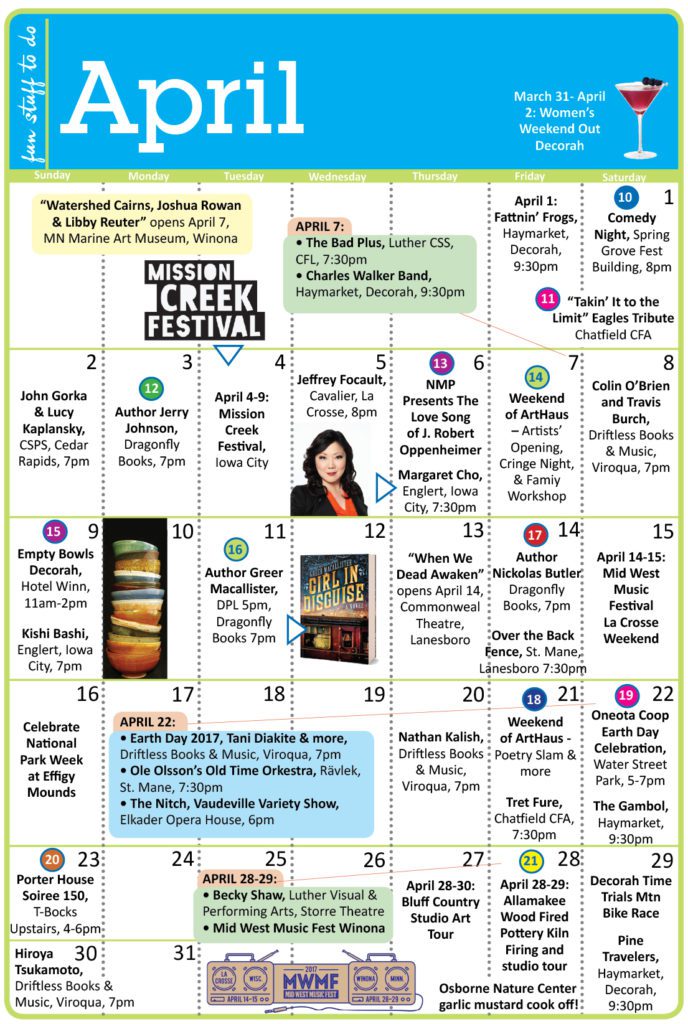 LOOKING FOR MORE DETAILS ABOUT EVENTS ON THE CALENDARS?
Check out these great April 2017 activities!  In chronological order, each event's number coincides with its number on the calendar!
10. April 1: Comedy Night in Spring Grove! Two headliner comedians performing live on stage! Fest Building, 8:00 pm. Search SGParks on Facebook or www.springgrovemn.com for info.
11. April 1: Takin' It to the Limit with an Eagles Tribute featuring the Fabulous Armadillos and Collective Unconscious. Potter Auditorium, Chatfield Center for the Arts, $30/$35. www.chatfieldcfa.com
12. April 3: Local author Jerry Johnson returns to Dragonfly Books with his latest book, A Limit of Coot.  Author talk/signing 7pm.  Dragonfly Books. www.dragonflybooks.com/events. Free!
13. April 6-9: New Minowa Players presents The Love Song of J. Robert Oppenheimer at NMP Theatre. More information at newminowaplayers.org or contact Sheryl Scheffert 563-379-5738, sherylscheffert@gmail.com
14. Weekend of ArtHaus: April 7 – Winter Weekend Emerging Artist Exhibition. April 8 – Local Artists Age 18-25 Cringe Night. Read your old diaries and CRINGE. April 9 – Second Sunday Family Workshop. arthausdecorah.org
15. April 9: Empty Bowls – Decorah fundraiser at Hotel Winneshiek from 11-2. A simple meal of soup & bread, and a bowl to take home, $20 donation. http://s.coop/emptybowlsdecorah
16. April 11: Bestselling author Greer Macallister (Girl in Disguise; Magician's Lie) returns to Dragonfly Books! Book discussion with Decorah Public Library, 5pm. Author talk/signing 7pm, Dragonfly Books. www.dragonflybooks.com/events. Free!
17. April 14: Nickolas Butler, bestselling author of Shotgun Lovesongs, at Dragonfly Books with his new book, The Hearts of Men. Author talk/signing 7pm. www.dragonflybooks.com/events. Free!
18. Weekend of ArtHaus: April 21 – Earth Day Weekend Poetry Slam, featuring David Wright & Marci Rae Johnson. April 22 –Arts Off Campus w/ Dr. Kate Elliott. April 22 & 23 – Tabletop Mosaics. www.arthausdecorah.org
19. April 22: Join the Oneota Co-op for their annual Earth Day Celebration from 5:00-7:00pm in Water Street Park. Including local music, local food, & local friends! www.oneotacoop.com
20. April 23: Porter House Museum's sesquicentennial (1867-2017) at T-Bocks upstairs. Program, music, refreshments and cash bar. Optional vintage/historic festive wear! 4-6pm www.porterhousemuseum.org
21. April 28-29: Wood-firing! Join Allamakee Wood Fired Pottery at the kiln as we fire during Bluff Country Studio Tour & watch flames rage though the pots! Rural New Albin. www.allamakeewoodfiredpottery.com