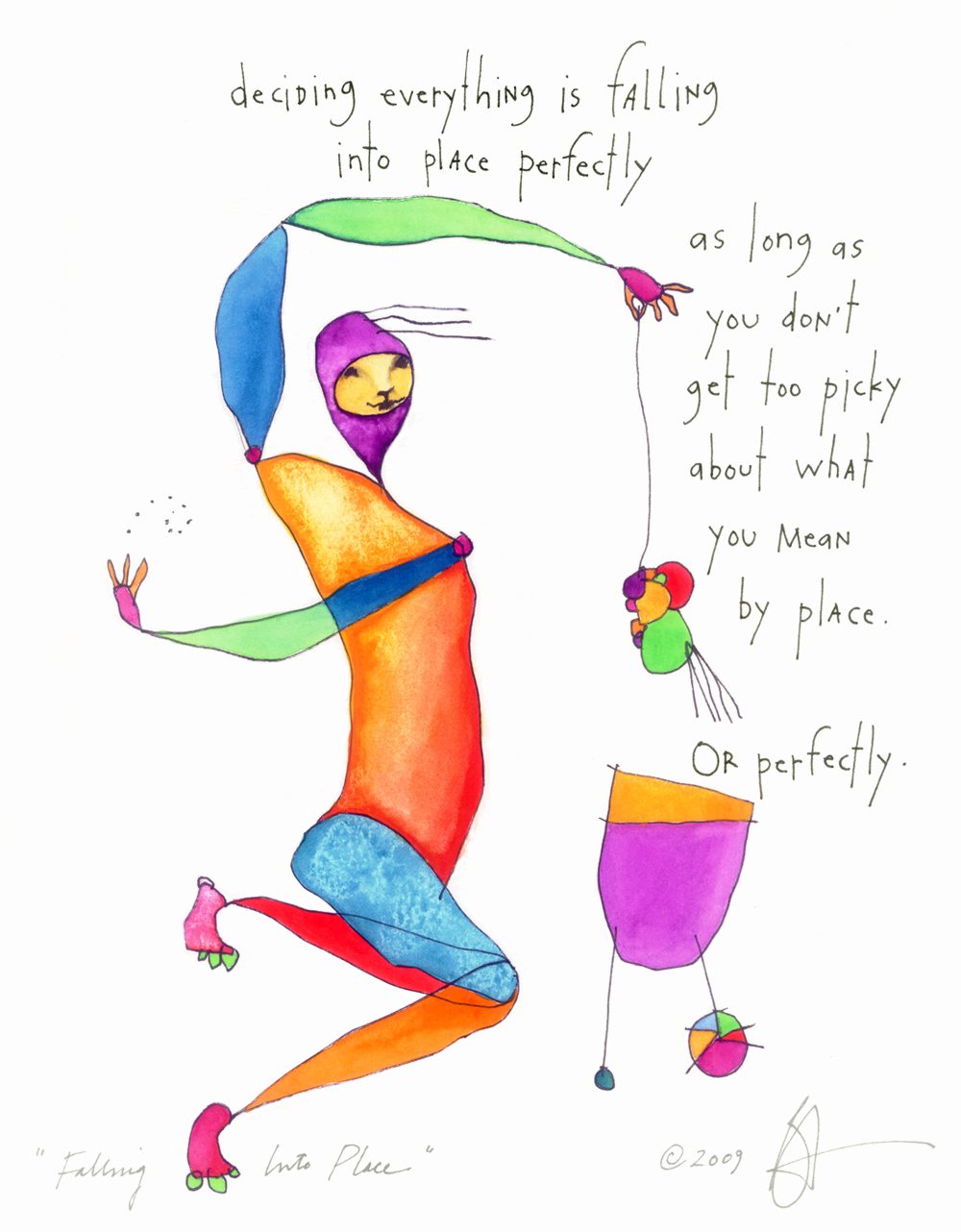 By Aryn Henning Nichols • Images courtesy StoryPeople
There's magic in that cup of coffee (tea, beer, water) you're drinking. Also in that stack of papers sitting right next to you. Definitely outside that window. Here's a little (big) secret: There's magic in everything.
"Finding magic is simple if you just let go of all the things. Just stop," says Brian Andreas, artist/writer/magician behind the internationally known art and publishing company, StoryPeople. "People forget the world is magical, so we need to be reminded. To remember. To enjoy the moment."
There is definitely magic to be found at the StoryPeople studio in downtown Decorah. Bright walls plus busy doers and makers create a scene filled with energy. Brian stands in orange pants and a tee shirt behind stacks upon stacks of the latest – his twelfth – StoryPeople book, Something Like Magic. He's in town from Santa Barbara signing copies – 2,500, to be exact – to be shipped out to the lucky folks who pre-ordered before the October release date. Also on the visit's agenda: Plan "all the things" with the StoryPeople crew. Everyone munches on raw cacao beans and dark chocolate as they happily tack "Yay! Actual signed copy – Woo-hoo" stickers on the books and wrap them up.
Brian takes a break when his hand stops working –"It just started moving by itself!" – and sits down to chat over a cup of tea.
"The past few years I've really started rethinking life and identity. What does love want from me? What lights me up? This carries through in the work I do. It's all about enjoying the moment. I want to tell everyone about it. It's the legacy of our future. It's a big f-ing deal!" he says, throwing his hands up in the air between sips of Earl Grey.
This exploration is prevalent in Something Like Magic. It's the first StoryPeople book that doesn't follow a he said/she said point of view. Instead, it's an I/you.
"The divine in you/the divine in me. Love with a capital L." And love, as Brian says: "It's the most important thing."
He continues, obviously passionate about his mission.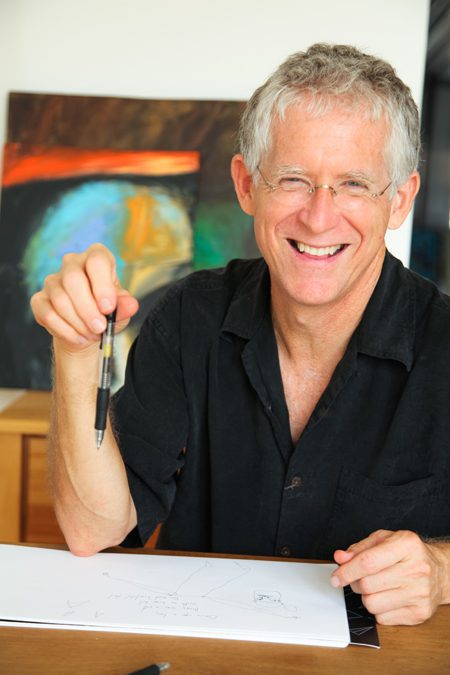 "How do I tell the world how much everyone's loved?" he asks. "It is so simple. Love is the most important thing."
It was this phrase "sometimes you just need to remember the most important thing" – uttered to him on a garden bench outside a party – that "cracked open," as Brian says, his consciousness. It was like a secret he just forgot for a bit – and he's not the only one.
"These are secrets because a lot of us know them and along the way, a lot of us forgot. That's exactly why I call them secrets," Brian writes in the Something Like Magic introduction. "Each one is something like magic, because all it takes is a moment of remembering them and suddenly the whole world sparkles again. The funny thing is it never stopped sparkling. We just stopped seeing it, because it was too simple and we were convinced it must be something different. We let ourselves be convinced the most important thing was something different than the love and magic that's been here all along."
Love and magic are, of course, no strangers to the whimsical StoryPeople tales. Since its inception in 1993, the stories and drawings have pondered, prodded, and delighted in life. Readers can find them adorning everything from wood sculptures to colorful prints to coffee mugs and more. They've also been collected in a series of books for adults and children, and have twice been nominated for the Pulitzer Prize.
Brian Andreas' own story, like most people's, has taken him on a zig-zagging journey. From Iowa City, Iowa – where he was born in 1956 – to Chicago to Luther College in Decorah – where he met his now former wife, Ellen Rockne, – to California – where he and Ellen founded StoryPeople – back to Decorah and finally back to California.
"Life isn't this linear path, even though when you look back, you can see, 'Oh yeah, that led to that, and so on,'" he says. "When you're dancing your way across a stream, you pick up the rocks that aren't wet."
While Brian currently resides in Santa Barbara, California, StoryPeople has kept its heart (and headquarters) in Downtown Decorah since 1994. Brian travels between the two states frequently to keep up on business, family, and friends.
The company technically began while Brian, Ellen, and their two boys, Gabe and Matthew, were living in Berkley, California in the early 90s. But Brian's stories started long before then – in college, he wrote lots of letters, and each contained a quote from his own fictional character, "John O'Keefe Beefheart." Nudged by Ellen to put some of that into his artwork, Brian made his first StoryPeople piece: A 4×4 block, covered in layers and layers of gesso, hand-stamped with a story. Well….a little story, anyway.
"My stories are really, really short. They have to be! Hand-stamping those letters takes a long time," he says with a laugh. This new style of work took off, and soon, so did the family – back to Iowa.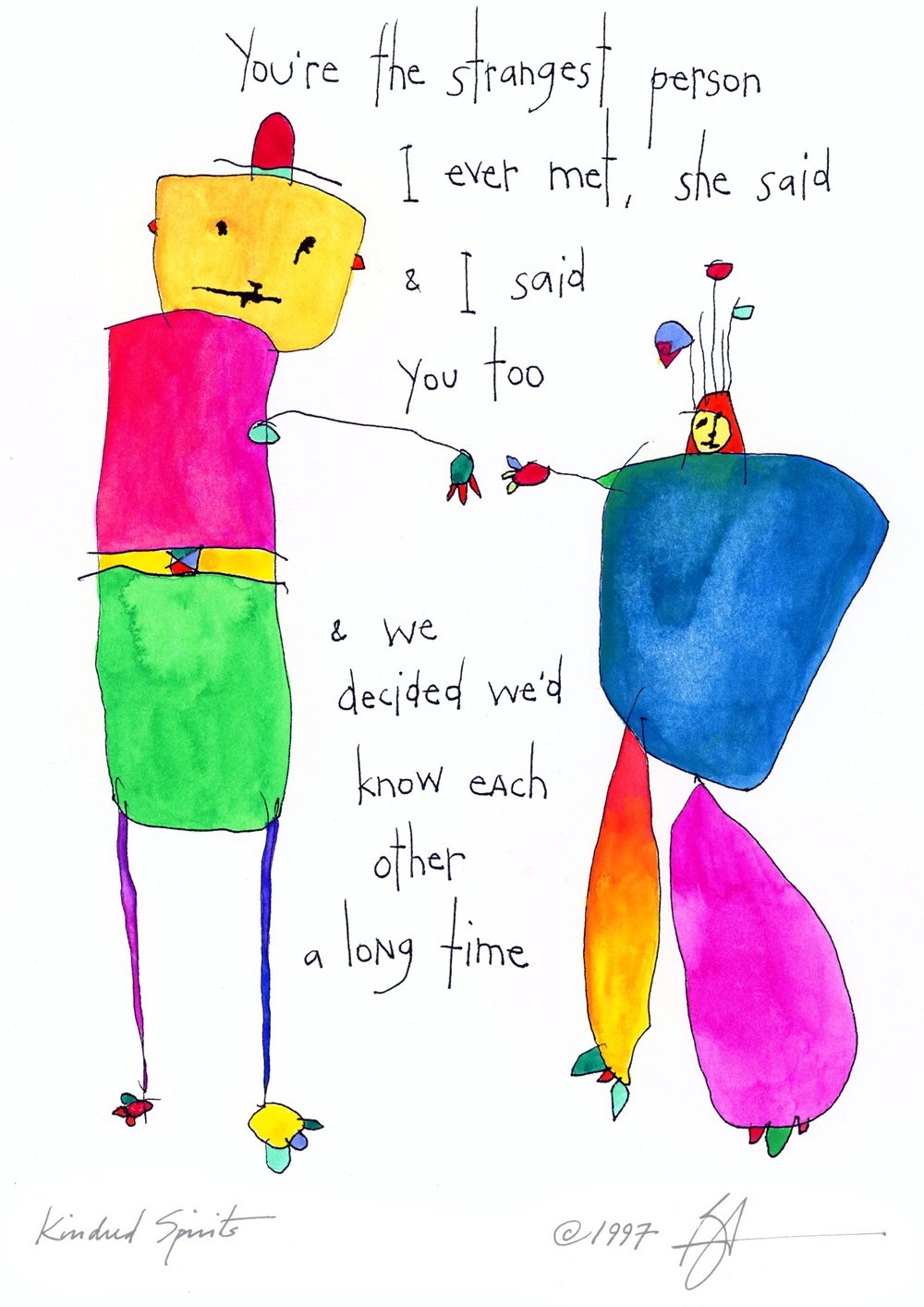 "We were in Berkeley, and got a call from a friend. 'Get down and away from the windows. There's an armed man outside.' We got down and pretended we were playing a game with the boys," he says. "Later, we found out they were robbing the bank a block away, and we thought, 'Oh good. No big deal.' Then we thought, 'What? No big deal?!' Three weeks later we were on our way to Decorah."
At that time, StoryPeople was at a massive growth point, expanding quickly from 50 galleries nationwide to more than 200. But Brian knew they could produce this art from anywhere…as long as they were willing to take the leap.
"It was either Decorah or Sonoma. But we had family in Iowa. And I'd experienced Berkeley studio assistants," Brian says with yet another laugh. "Working with people from Iowa sounded a lot more appealing."
Getting things off the ground in rural Iowa was definitely not without its trials, though.
"I wouldn't say any of it was hard – it was all interesting," Brian says. "I don't whine about something that doesn't exist. Creatives forget – you can create it! If you don't want to make it, quit whining about it."
A self-professed "practical Virgo" to a T, he knew if there was something he needed, he could make it happen.
"I came to town and said, 'Where's your [Internet] gateway?' I asked if I could use Luther's, but they said no. So I walked into our office and said, 'We're gonna have to start an ISP (internet service provider).'"
So they did. Brian launch the Salamander ISP shortly after they arrived in Decorah. And when they couldn't find the right printing options in town, they opened their own print shop, CopyLand (which still exists under different ownership on Water Street in Downtown Decorah).
"Once you've invented yourself, that 'not possible' doesn't exist," he says.
In addition to inventing himself (and businesses), inventing moments is a favorite.
"I have this thing where I invent past memories with people – we did it at a conference I spoke at recently. We start off telling a story – remember that day we all went to that lake in the mountains? The sky was so blue… – and one person continues on until it feels like we've all had this shared experience, even though it wasn't real. The mind can't discern between real and fantasy," he says. "It's so fun!"
This willingness to play, to make-believe, to always find the love and magic in the world – it's what keeps StoryPeople so popular. Followers world-wide find little pieces of their lives in the hundreds of artworks produced.
"The stories really do sneak in there – one that didn't made sense to someone one day might crack open for them another day," Brian says. "There are lots of people out there starry-eyed from StoryPeople stories."
Brian hopes – no, believes – that this positive energy indicates a change coming.
"I'm excited about this time in the world – there's this this new consciousness that's emerging. I feel like there is a cracking-open process happening all over. Ah!" he says, holding his hands out one more time. "I love living in this world! It's such a wonderful place to be."
——————————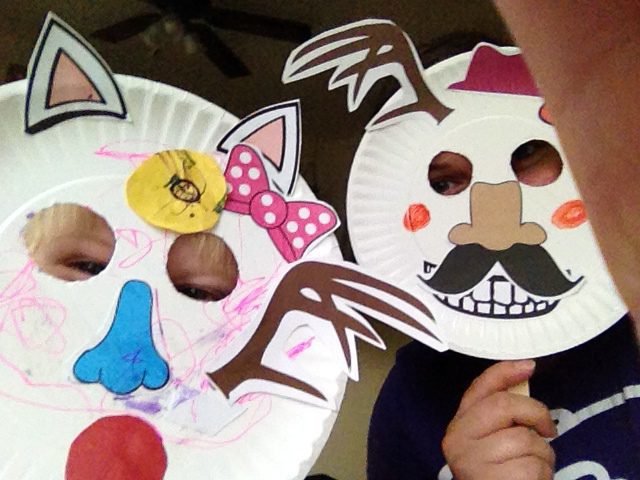 Aryn Henning Nichols has long thought Brian Andreas was inspiring – meeting him solidified that notion; he was so much fun to chat with! She especially enjoys the idea that things are shifting in the world – positivity will reign! Let's keep that moving forward, friends!
Connecting Stories:
Brian has literally written thousands of stories – on various napkins, scraps of envelopes, and in the pages of his journals. You can see many of his current stories almost instantly on instagram: instagram.com/brianandreas ("It's a blast!" Brian says of Instagram). You can also follow StoryPeople at facebook.com/storypeoplebybrianandreas and at twitter.com/storypeople.
The number of stories that have been made into prints is roughly 300, with hundreds more offered through products (cards, apparel, wooden sculptures, ornaments, calendars, etc).
They have galleries in the U.S. and U.K., and fulfill orders worldwide. Learn more at storypeople.com.