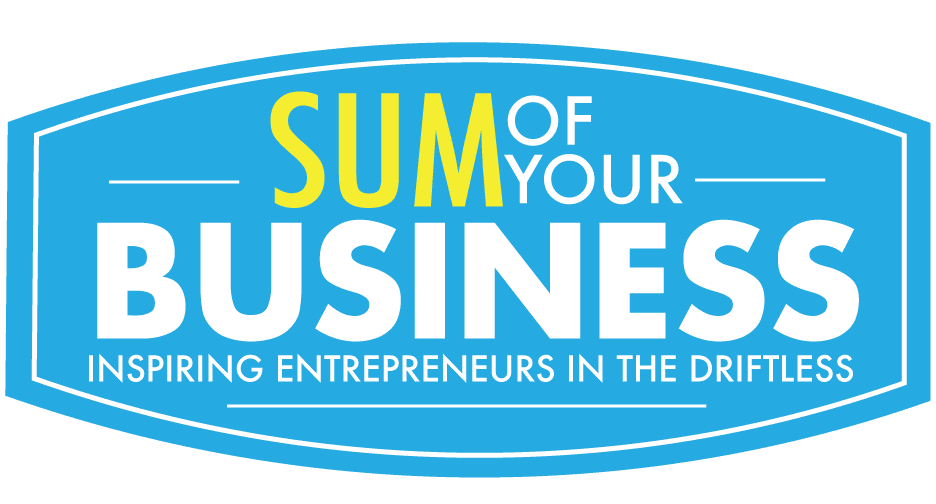 By Aryn Henning Nichols • All photos courtesy Brett Reese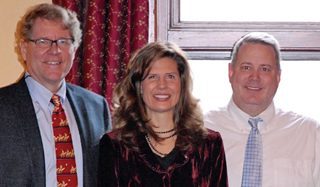 If ever a person were "born an entrepreneur", it would be Brett Reese. Reese is one most inspiring business professionals I've ever met. We recently chatted about business beginnings and parents' lessons in money over breakfast at Restauration in the Hotel Winneshiek – one the properties maintained by Rebound Hospitality, a Northfield, Minnesota, company owned by Reese (pictured, far left) and his business partners Jennifer Sawyer and Todd Byhre.
"I still remember the first dollar my brother and I saved. We pooled all our change together to get this one bill. But then we realized there was only one – who gets to keep it?!" he says with a laugh. "We agreed we'd have to share it." That was just the beginning of Reese's investment partnerships and doing nothing – business-wise – alone.
Born and raised in Castle Rock, Minnesota, Reese went to Luther College in Decorah. He graduated in 1981 with a B.A. in accounting and political science and passed the CPA exam as a senior. After graduation, he worked as an auditor with Grant Thornton in Minneapolis. While continuing this "day job", he made the leap into self-owned business ventures in 1982 with the purchase (with a partner) of a Northfield pub, where, coincidentally, Reese logged many an hour working in his younger years.
He currently calls Northfield home with daughters Meredith and Milly. It also serves as the birthplace and home office of Rebound. For many years, Reese ran Rebound as a consulting business that worked as a sort of "business doctor", helping mismanaged or financially troubled companies in a variety of industries rebound to success. It was 2008 when the investment and advisory side of the company – Rebound Enterprises – was founded with the help of business partner Jennifer Sawyer. Reese currently serves as Managing Principal of the Organization.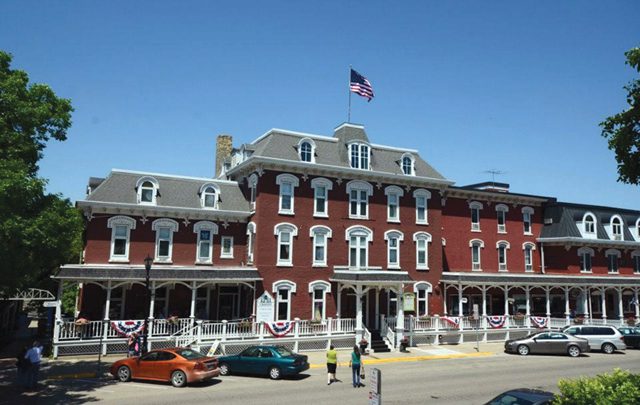 From Rebound Enterprises grew Rebound Hospitality. The Rebound partners had a passionate desire to preserve, maintain, and enhance the Archer House River Inn (circa 1877) in Northfield (pictured above). During its renovation, which began in 2008, Rebound Hospitality was then created to invest in and preserve historically significant properties – such as the Archer House – that are important assets to their communities. On January 1, 2010, a second property was added – the Hotel Winneshiek (circa 1905) in Decorah. The company – whose vision is "to create a portfolio of historic boutique inns and distinct properties" – currently has five properties on its roster – stretching from Des Moines, Iowa (Des Lux Hotel) to Lakeshore, Minnesota (Lost Lake Lodge) – pictured below.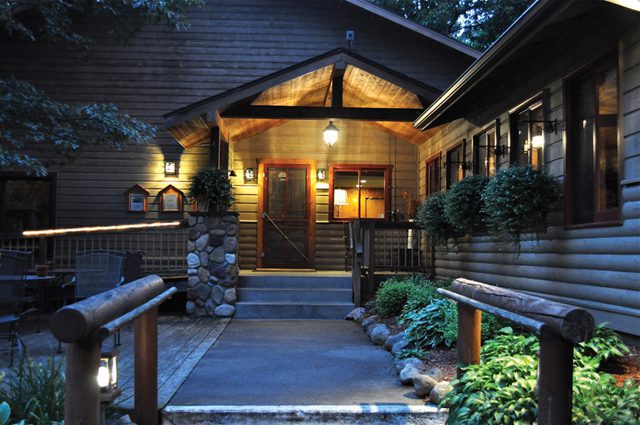 Rebound also encourages everyone on its team to give of their "time, talent, treasure, and thinking" in the communities where they live and work. It comes back to one of the biggest lessons Reese has learned along the way: "Don't work in a vacuum. Do nothing alone. Together, we can always achieve so much more."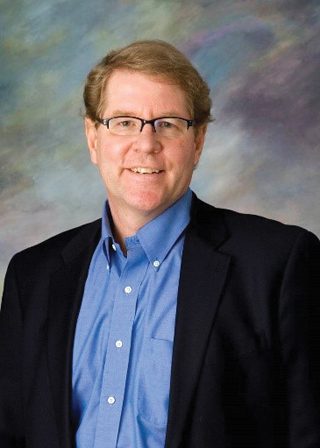 —————-
The Basics:
Name: Brett D. Reese
Age: 56
Business: Rebound Enterprises
Years in Business: 35
Tell us about the "leap" moment. When/how did you decide to jump in and become your own boss?
Being an entrepreneur was in my blood at young age. At age five I wanted to be a CPA – just like my dad – though I didn't know exactly what he did, just that he would "bang away" on a great big old adding machine that spit out numbers on paper.
I rode my bike at age 10 to my first job watering trees at Switzer's Castle Rock Nursery for $.50 per hour, and then "graduated" to baling hay for a local farmer at $1 per wagonload.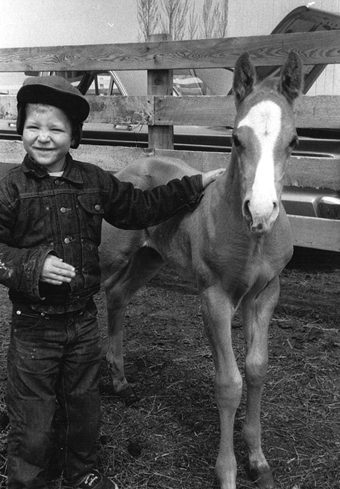 I grew up on a hobby farm, and at age 12, started my own cow/calf operation. To fund the business, I took out my first loan with the President of the Castle Rock Bank, Dan Nicolai, who, 44 years later, is still the President of the Bank and someone I still do business with!
I bought my first business at age 23 – one year out of college – with my first business partner Dave Delong. We had the opportunity to purchase the "Rueb-N-Stein," a bar and grill in Northfield, Minnesota, where I had worked from 9th grade through college. I had worked every position, knew it inside and out, and learned a great deal from the owner, Dan Freeman. My partner ran it while I worked along the sidelines and continued working as a CPA in the Twin Cities.
After 3 years as a CPA auditing companies, I followed my entrepreneur spirit in "taking the leap" by leaving public accounting to became my "own boss" as a "turnaround artist/business doctor." Playing basketball I was known as "Rebound Reese," and now found myself helping companies that were struggling by "Rebounding" them back to health. Over time Rebound Consulting became Rebound Enterprises with verticals in Hospitality/ Real Estate/ Manufacturing / Financial Services / Community and now recently Rebound Solutions – led by partner Jennifer Sawyer.
Also at a young age, I learned the value of delegating and surrounding oneself with partners and people smarter than you – helping them realize their dreams, while they're helping you realize yours.
What's the best thing about being your own boss?
• Independence, Flexibility, Freedom
• Controlling your own destiny
• The ability to take in and enjoy your kids' activities, and spend time with them when you want
• Creating wealth for your family and investors
• Being able to choose to work with others by partnering and collaborating
• Seeing value where others don't and being able to carry out a plan to realize it.
How about the worst?
• Lots of responsibility and at times being alone; Knowing that the buck stops with you
• Sometimes taking on too much risk; Payroll comes around and there is no money in
the bank!
• Long hours at times
• Going out on a limb and being criticized by others
Was there ever a hurdle where you just thought, "I can't do this?" How did you overcome it?
In 1990 I was on "top of the world, flying high" as the President of CCM, turning around this struggling local manufacturer located in my hometown of Northfield into a very successful company. Then the shareholders started fighting, and the minority owners bought out the majority owner, who then fired me. Never having been fired, it was difficult for me to get out of bed as I was so depressed. I would sleep till noon, getting up to play basketball over the noon hour at Carleton College, which helped keep me going. After a while (like months!) I picked myself up and decided that in the next turnaround project, I wasn't only going in as management, but was also getting a piece of the action by taking an ownership stake. From this strategy, over time I was able to take ownership positions in a variety of companies that helped form the foundation of Rebound Enterprises.
Any mentors/role models you look to/have looked to?
I owe a great deal to many individuals:
• My father Bert Reese, a great friend, mentor and rock (pictured with Reese below).
• Dan Freeman – bought my first business, the Rueb-N-Stein from him in 1983 with
$5,000 down; Great Marketer. Learned from him what to do, and what not to do.
• Bill Palmquist – helped me through my first major turnaround – Braco Manufacturing in Moses Lake, WA- where at age 25, I had to fire my first employee (I think I cried more than he did.)
• Bob Skluzacek – Helped me develop as a CEO / President of a manufacturing company: CCM – Computer Controlled Machines. $2m in sales to $18m over three years; 20 employees to 150 employees; from near bankruptcy to success.
• Curt Swenson – introduced me to MCG –Motion Control Group. A struggling company that was bankrupt that become a very profitable company. MCG built a relationship in China beginning in 1999. Owned from 1991 to 2008: sold just before the downturn of the Great Recession. A smart move!
• Bill Cowles – first met him in 1987 when he was a customer of CCM; He became an important mentor and a valuable sounding board for me and still is today.
What's the one thing you wish you had known before you started?
There were a lot of times I didn't realize that "I didn't know what I didn't know." Experience has taught me to really think about this. If I don't know, I learn from the experiences of others and surround myself with people who do know. To then go out and find the answers and solutions. By not working alone, but through teamwork and collaboration, together we can arrive at the very best decision.
How do you manage your life/work balance?
I have been very fortunate by living and working the best of both worlds! I have had the opportunity to work with companies both globally – traveling the world over on business with our manufacturing firms, and at the same time being a part of local communities with our hospitality businesses and real estate investments.
Also I am blessed to have Margaret Jacobson help manage my work as my administrative assistant, who keeps me organized and who says her work purpose is "I am here to serve you, to make your life better and easier." How lucky am I?
I have a passion for life, wanting to bring positive energy along with a good attitude. I try to be the best that I can – in my work, with my family, and in my faith. Here's what works for me:
Set aside time for faith, family, profession, working out / physical activity and good nutrition.
Lots of travel. Finding new, fun, and interesting life experiences.
To be able to work from anywhere, anytime. Pick and choose when to work and when to play, relax and enjoy life.
What keeps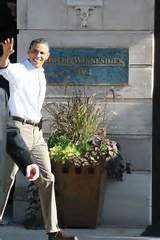 you inspired? Any quotes that keep you going?
I am inspired by challenges; A banker recently shared – "that is what Rebound and Brett do – they take on the unthinkable, the worst of conditions and have the ability to turn it around into success."
Also very inspiring is that "it is not every day that the President of the United States drops in to visit and stay at your home" – a quote by me (President Obama staying the night at the Hotel Winneshiek!).
Some additional quotes I live by:
Energy is Everything!
"Success is when Planning meets Opportunity" (by partner Jennifer Sawyer)
When the going gets tough, the tough get going
Never say never
You will never achieve your greatest success without failing
Treat others as you would want them to treat you
Do the Right Thing
In closing, I am very proud of the Hotel Winneshiek (pictured below), Restauration Restaurant, Tap Room, and the Steyer Opera House of Decorah. The management team of Dan, Tom, Tammy, Deb, Laura, and their staff have taken a beautiful hotel renovated by Helen Basler – "a gift to Decorah"– and made it into a sustainable, successful business. My appreciation and thanks to you all!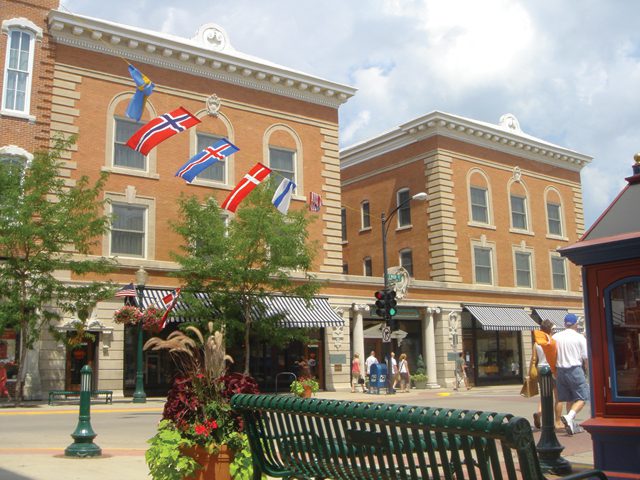 —————–
Reese has recently launched two more business ventures:
The Northfield Real Estate Fund – a local group investing in their backyard – it has both a community component (supporting the community) and also a return on investment. www.northfieldrealestatefund.com
Co-founded 3C Capital Partners – an angel investing group that invests in start-ups and small and emerging companies – both locally and regionally. www.3ccapital.weebly.com