By Aryn Henning Nichols
Originally published in the Spring 2012 Inspire(d) Magazine
Hundreds of years ago, to get through long, cold winters, Norwegians took paint to wood, forming intricate flowers and patterns in what is now known as rosemaling. Often, it would be the men in the house creating these detailed pieces of art.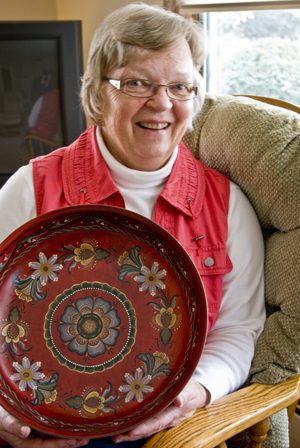 Today, though, there are "a lot of gray-haired ladies in my rosemaling classes," Spring Grove rosemaler Bonnie Solberg says with a laugh.
But Bonnie herself exudes youthful enthusiasm, her eyes shining as she shares stories of her favorite hobby, rosemaling. She is sweet and welcoming. An elementary ed teacher retired seven years, she lives with her husband in the house they built just blocks from the school. There is rosemaling art everywhere. Bowls, plates, coasters, tiny beautiful boxes – evidence of what Bonnie admits: she has a hard time parting with any rosemaling she creates.
"I gave away a bowl as a gift one year and I often think, 'That was a nice bowl. I wouldn't mind having that back!'" she says. "I work on them and then get really attached."
Bonnie first started rosemaling in January of 1991. She and fellow Spring Grove rosemaler Berthana Wirth decided it would be fun to take a community education class in town. It wasn't long before the teacher saw their potential and suggested they take a class at Decorah's Vesterheim Museum. Vesterhiem hosts a variety of classes in the Norwegian arts, and Bonnie has since become a regular in its classrooms. But the first day of Bonnie and Berthana's first class was another story.
"We were so nervous. We walked in and there were just two seats left. And everyone looked like they knew exactly what they were doing. We were so green at it!" Bonnie says with a laugh. "I have my first piece from that class hanging in my basement. I cringe when I look at it!"
The fact that she can proudly display her present-day pieces in her living room is, she feels, a testament to the art. "If I can do it, anyone can."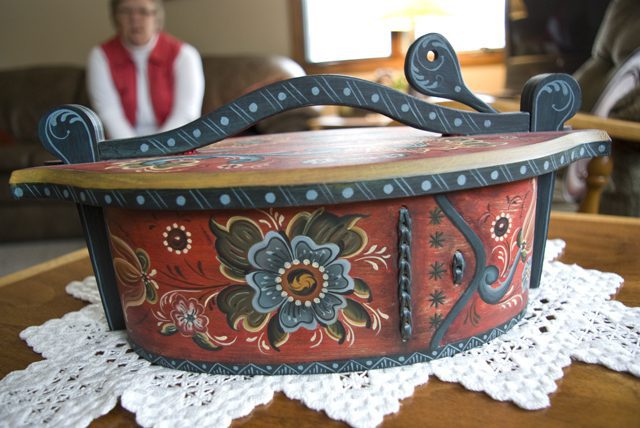 Really, that Bonnie was ever "green" at rosemaling is totally unrecognizable today. Her pieces are exquisite, and she seems to move effortlessly from one rosemaling style to another – at least among the styles she enjoys doing.
That's right: rosemaling is not just rosemaling. The art originated in the 1750s in Norway with different regions developing their own style. The styles Bonnie enjoys are Os and Rogaland – old and "American" style – and Telemark. There's also Hallingdal, Valdres, Gudbrandsdal, and Vest Adger.
What makes a great rosemaling pattern is good stroke work, thin lines, teardrops, cross hatching, and a nice, balanced color. Norwegians brought rosemaling with them when they emigrated to the United States in the 1800s, but it didn't become popular again in the US until the 1930s. Artist Per Lysne, born in Laerdal, Sogn, learned rosemaling from his father, Anders Olsen, and when he immigrated to Stoughton, Wisconsin, with his wife in 1907, he built a business around rosemaling and taught just a small handful of students the Norwegian art. It was Lysne who made the smorgasbord plate a regular rosemaling object!
While, as Bonnie says, her rosemaling classes are often filled with a slightly older generation, she believes – like knitting and sewing – that there will be a popularity surge again. "I think there are always going to be artists interested in carrying on the tradition." Folks interested in this folk art can usually find several of the styles being offered through classes at Vesterheim.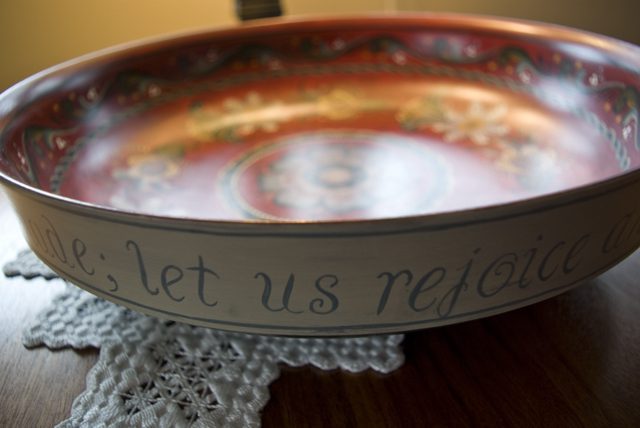 And no matter the style, the methods are usually the same. You start with a pattern that fits on your wooden piece, sketch it out, plan your colors, and go from there. Bonnie generally finishes a piece in about a week.
"I plan to start something during a week I know I'm not busy," she says. "I hate to remix colors – usually I just can't get it right even if I try – so I know I have to work pretty much constantly on whatever I start."
And even after all these years and many, many pieces, she has a hard time choosing one to call "best." "Whichever one I'm doing right now is the one that's my favorite!"
The only problem, it seems, it finding the space to put the next finished project.
"It's a great hobby. I have fun at it – you have to have fun!" she says with another one of her lovely laughs. "And once you start, you can't stop. It's like popcorn!"
—————-
Aryn Henning Nichols was charmed by Bonnie Solberg, and is intrigued by rosemaling. She'd like to take a contemporary stab at it with some grays and yellows…but doesn't know if it's allowed!