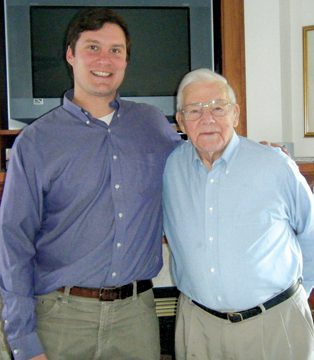 Interview by Dan Bellrichard (pictured here on the left) • Originally published in the Winter 2011-12 Inspire(d)
"Bob's Standard Services" in Decorah was a landmark since 1971,  – or perhaps more accurately, Bob Usgaard was the landmark. And although the station closed in May of 2014, it's Bob that the customers will remember best. With a friendly smile, an unforgettable voice, and a true sense of service, Bob provided much more to the community than just a fill up and auto service over the years. He was born in rural Winneshiek County near Hesper on his Grandparent's farm, and although you won't find him at the pumps anymore, you may run into him out and about around town. The list of alumni employees at Bob's reads like a "who's who" of interesting and colorful professionals, and the man himself is as entertaining as ever. Decorah resident and past Bob's employee Dan Bellrichard asks Bob a few questions for this probituary.
What's the best advice anyone ever gave you?
Do the best you can with what you got when you are doing it.
What did you want to be when you grew up and what did you do?
Well, when I was still home at the farm in high school I wanted to be a veteranarian. I loved animals and wanted to help those in stress. I went to service in '53 and came back in '55 and worked for Standard Oil in Independece. I ran the station (leased it from Standard Oil) for 13 years. It was on highway 20, in really a busy spot. I moved to Decorah in 1971 and bought Phil Johnson's station (ed.- Which Bob ran for 30+ years!). Norm Smith also worked out of the station fixing bikes and small engines until we opened Usgaard & Smith, and Lester Spilde worked with us full time for many years. Dave (Usgaard) & Jeff (Burke) started working in 73 or 74 as a part timers (and now run the station). I retired in 2004.
If you were stranded on a desert island, what three things would you want with you?
A good strong cell phone with good batteries and a solar charger, my wife Pat, and some good food.
Try to describe yourself in one sentence.
Easy going while trying to let the problems slide off the shoulders. Don't worry about things, have faith and they will work out.
If you could eat anything every day for the rest of your life, what would it be?
Squash soup
Name one thing you could not live without.
My family and grandchildren.
Multiple choice: tell us about: Your first job.
My first job was with Standard Oil. IN 1952 I ran an 800 gallon fuel tank wagon from Decorah all around the area North and West of town. It was right before I went into the service. It was an old international truck, and I can only recall one major break down – a broken axle in the spring from hitting a frost boil.
Your favorite memory.
Spending time in Decorah with my wife (Pat) and my brother (Curtis) and his wife. We were together a lot at Church dinners, visiting each others homes, volunteering, etc. Decorah has always been a viable, active, communitity. People are willing to do things. I also used to love to go to the Café Deluxe and miss that, but still make it out to the Cow Palace on Mondays whenever possible. It's fun now to reminisce about places like the Otto Anderson candy shop (he was blind but people didn't take advantage of him) – or the ET Haugen Tobacco store on the corner of Broadway and Water – where they sold malts and had a soda fountain. And of course all the year's and customer's at Bob's Standard.