As I age (turning 35 this year, whoop whoop), I glean certain bits of knowledge that I know will help me for the rest of my life.
One of those bits (or should I say bites?) is this brownie recipe.
Or perhaps it should be "knowing which types of desserts are totally worth it." These brownies are worth it (and don't usually make me feel like crap when I eat them)! My chocolate cake recipe falls into this wonderful category as well (lucky me!).
These brownies are ah-mazing. AMAZING! But you must promise me one thing: Don't over bake them! Promise! If they seem a little too gooey in the center but just right on the outside, TAKE THEM OUT! That's an order.
I usually bake these brownies in a metal 12×17 sheet pan (glass doesn't work as well for some reason, but it will work). Then we eat some warm with whipped cream and sprinkles right when they come out of the oven (do this), we eat some the next day (the flavors always seem a little more complex), and then we freeze the rest (and eat them over the course of the next month). This is the perfect way to live life, FYI. Always with brownie bites in the freezer.
Speaking of brownie bites, these also work really well in those cute little baby muffin cups. Bake them for only 15 minutes (watch those bites!) and then, of course, shake some sprinkles on there. Then gift them to all the people you love most in the world. Brownies for World Peace.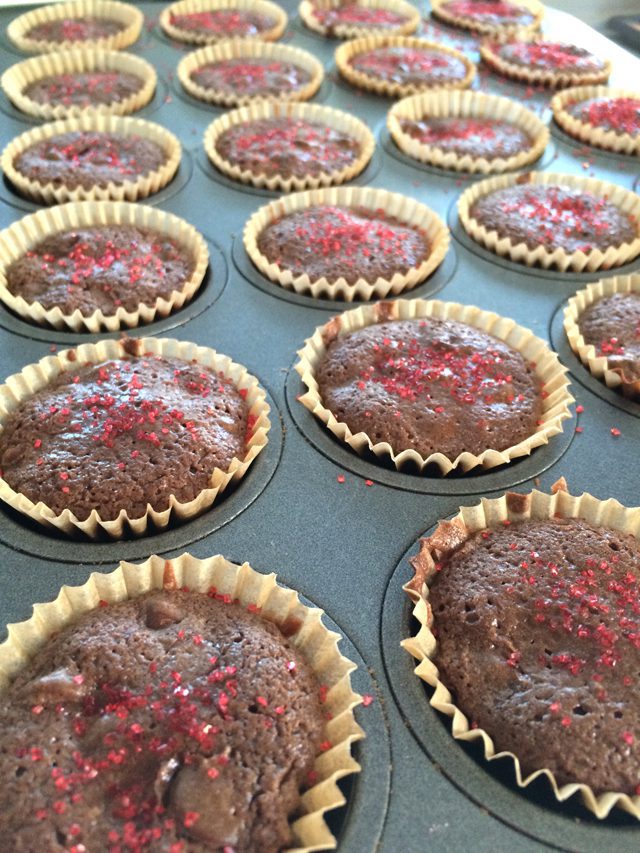 Anyway. Enjoy this recipe! XOX – Aryn
——————————
PRINT RECIPE HERE
——————————
Amazing Fudge-y Cake-y Brownies with Chocolate Chunks
Ingredients:
10 ounces semisweet chocolate chips
1 cup (2 sticks) unsalted butter, cut into pieces
4 tablespoons cocoa powder
2 cups granulated white sugar
1 tablespoon pure vanilla extract
6 large eggs
1 cup strong-brewed coffee (remember you're making these when you make your coffee!)
1 1/2 cup all-purpose flour
1/2 teaspoon salt
1 1/2 cup semi-sweet chocolate chips (optional) ((but do it))
To make:
Preheat oven to 350 degrees F and place the rack in the center of the oven. Butter (I always use the paper from the butter sticks) a 12×17 metal sheet pan.
Melt the chocolate and butter in a large stainless steel bowl placed over a saucepan of simmering water (I always use my KitchenAid mixer bowl nestled right in a pan of water). Stir, stir, stir until beautifully melted. Remove from heat and stir in the cocoa powder and sugar. Next, whisk in the vanilla extract and eggs, two at a time, beating well after each addition. Whisk in the coffee as well. Finally, stir (don't use the whisk, it doesn't like this part) in the flour, salt and chocolate chips (if using).
Pour batter into the prepared pan and bake for about 22 minutes, or until a toothpick inserted in the center comes out with a little batter clinging to it, and, inserted in the edges, comes out almost clean. DO NOT OVER BAKE. Remove from oven and let cool on a wire rack. Serve warm with whipped cream, room temp the next day, and then freeze the extra because they're amaaaazing!
——————————
PRINT RECIPE HERE
——————————