Fall is the loveliest season around here (we think). So we put together a little list of events to add to your calendar! Go ahead and hit the road this fall for some fun art trips in the Driftless Region! Next up: Northeast Iowa Artists' Studio Tour!
—————————————————-
Northeast Iowa Artists' Studio Tour
October 7-9, 2016
Decorah, Iowa, and 40-mile surrounding region
www.iowaarttour.com
As mentioned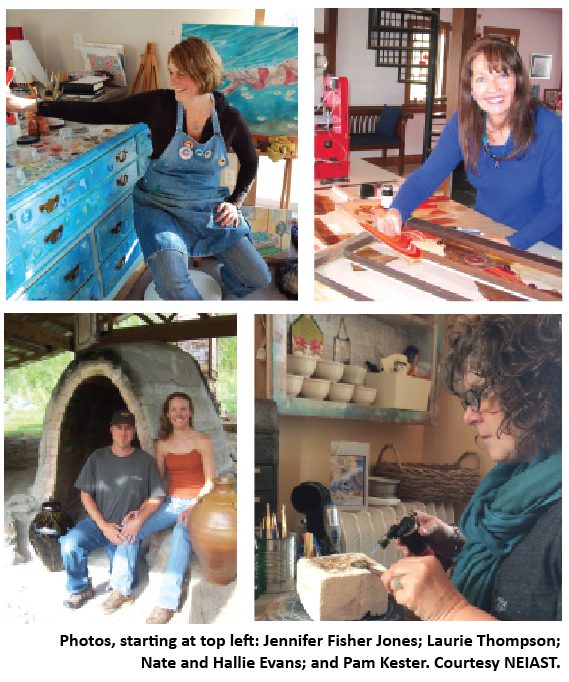 , we think studio tours are a pretty cool thing. Artists welcome you into their workspaces for fun, behind-the-scenes tours. If you're at all interested in art, road trips, or even just people in general, it's something you really should experience.
The Northeast Iowa Artists' Studio tour – in its 19th year – features 52 artists at 40 locations all within a 40-mile radius of small-town Decorah.
"There were so many artists doing high-caliber shows throughout the country, but people in and around Decorah didn't know that they were here," says Darla Ellickson of the main reason she and Margaret Davis of the Decorah Regional Arts Council (now Driftless Art Collective) decided to launch the first Northeast Iowa Artists' Studio Tour in 1998. "We honestly didn't know how that first tour was going to turn out, but it was well enough attended that we decided to keep on going."
Indeed. The Northeast Iowa Artists' Studio Tour is Iowa's first and longest running tour of artists' studios in the state.
Sculptors? Yep. Oil painters? They're on the tour too. So are jewelry-makers, ceramicists, potters, fiber artists, wood-workers, basket-makers, silk painters, photographers, quilters, and, yes, even kaleidoscope-makers.
Tour participants can set their own pace while driving from studio to studio. The full-color brochure features a map with GPS and lodging and dining along the route. Directions, maps, GPS coordinates and lodging/dining will be available as web downloads. Workspaces are open from 10 a.m. to 5 p.m. all three days and the tour is free of charge. Pick up your brochure at the Decorah Visitor's Center, around town, or online at iowaarttour.com.
Check out more Fall Art Trips here!
(Pssst: there's a great road trip packing list too!)