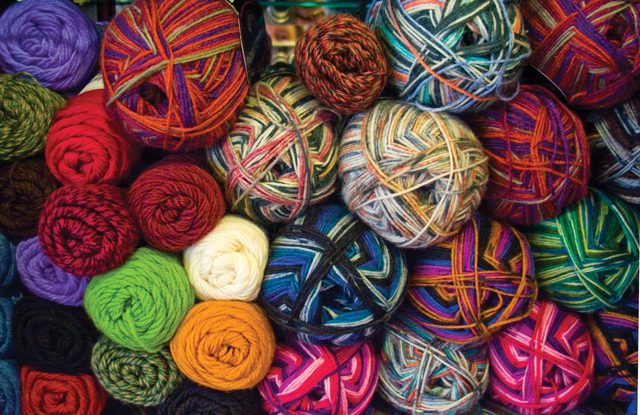 Purl Up and Get Cozy with local knitting expert Bev Bakkum
Story & photos by Kristine Jepsen • Originally published in the Winter 2011-12 Inspire(d)
"SOS! SOS! I've dropped a stitch and I can't move forward!"
It's a typical distress call, and Bev Bakkum is on it. She arranges the specimen gently under her scope, adjusts her 2.0 reading glasses, and peers at the problem, her eyes searching its tissuey edges.
"Ah, ha!" she says, laughing, both hands already at work, fingers delicately separating strands. Within another minute, she pulls the partially knitted sweater, made of a luxurious black wool yarn, from her examining table and pats it triumphantly. "You dropped a stitch when you started from the wrong side, but I found it," she tells her friend and sometime student Bonnie, who is making the sweater as a gift for her husband. "You're good to go again."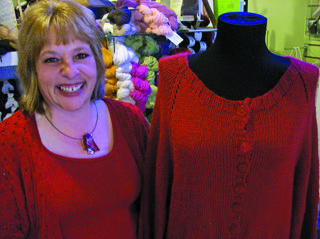 Bakkum is an "incurable" knitter herself (as in, knits with her first cup of coffee, on her lunch break, in the evenings while watching TV, maybe even in her sleep) and teaches a host of classes at Decorah's Blue Heron Knittery.
The teaching part weaves easily in and out of her work on her own projects, which usually (and concurrently) include at least one sweater, a throw or blanket, and several smaller whimsies like a Christmas stocking fringed in a pink "frou frou" yarn – mostly gifts for others. Several of her finished items go on display at Blue Heron, either on mannequins or in the windows – until the appointed recipient's birthday or anniversary rolls around, and the gift is given. Several have taken top prize at county fairs.
"I grew up where children were seen, not heard; so to keep me occupied when I was little and noisy, my Grandma Geraldine would hand me two needles with eight stitches on them and I would spend all afternoon in the window seat just sliding those stitches from one needle to the other. I never knitted anything, of course, but each time I came back, there'd be a couple more rows on the needle. Of course, she was doing it, but she'd congratulate me and pat me on the back, and it kept me fired up to keep going."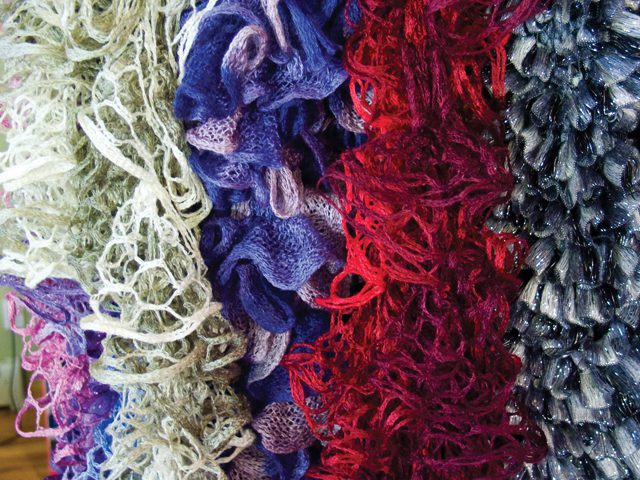 These days, Bakkum tries some of the most complicated patterns she can find, most recently including a square in the Great American Aran Afghan pattern that had 64 threads (or start/stop points) within just one of the 4-inch-by-4-inch cable-knit sections. "The fun part is all the skills and techniques," she says. "You either knit [v-shaped stitches] or you purl [bead-like stitches], but there are hundreds of variations to learn, and you're never so advanced that there's nothing left to learn."
Another of Bakkum's major talents is tailoring. In fact, she ran her own business, Sew Nuts, out of her rural Waukon home while raising her nine children, alternating cutting and fitting with cooking and bathtime and bedtime book reading.
"The sewing started when I was 10," she says, "and my mother gave me a sewing machine and a stack of fabric and told me 'I'm not buying any more clothes, you're going to make your own.' Well, let me tell you, I wore a lot of ugly clothes, and the sheer embarrassment of it all encouraged me to get better. Quick. Also, my mother was a perfectionist, and I can't tell you how many seams I had to take out to get them just right. I guess that's where I got a lot of my sense of what's 'good enough' to call finished."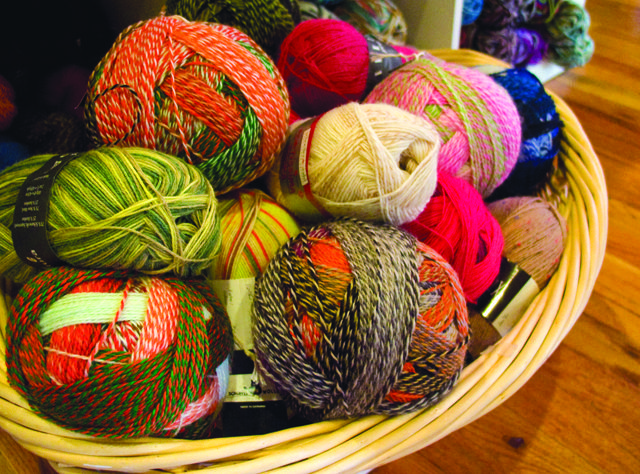 At Blue Heron, owned and managed by returned Decorah-ian Sarah Iversen, Bakkum indulges her multi-tasking by assisting others who are working at different rates on various sweaters, afghans, or other patterns. "Regulars" of Blue Heron's drop-in knitting sessions groan and roll their eyes when Bakkum's tailoring experience comes up.
"Beware: she'll make you do a swatch," Shelly says. "And if it doesn't come out right, she'll make you do it again ­­– with littler needles."
"Or larger needles," Bakkum interjects. "A swatch is a small sample of a garment pattern that allows you to test the weight of your yarn and size of your stitches. Then you can mathematically recalibrate the pattern to your target size for the finished sweater. If you're going to spend 300 to 500 hours and buy maybe 900 to 1600 yards of yarn for a project, you darn well want it to fit!"
"The trouble is, she'll make you do a swatch every time you start a project, even if you just finished one like it!" another member, Theresa, says.
"And that's because as you get better at knitting, the tension of your stitches changes," Bakkum soothes. "You won't even notice the improvement until you're another several hours in. I'm telling you, the swatch is absolutely necessary."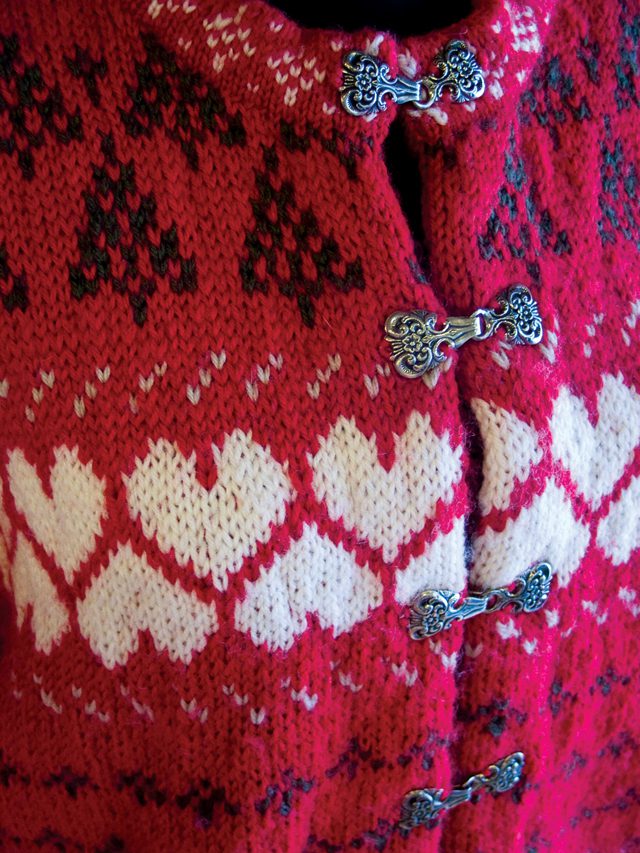 In addition to her natural proclivity to task-mastering, Bakkum helps other members unravel small mistakes and interpret cryptic pattern instructions. "There's no standard for knitting as there is for lace crochet, for example," Bakkum says. "I can pick up a book in Korean or German and accomplish that lace just by reading the charts, but with knitting, there's no established instruction. And some writers are better teachers than others."
When she gets fed up with a pattern's gibberish ­– or sees ways to improve the design – Bakkum simply writes her own and prints copies for class members. That's where this year's Christmas stocking pattern came from. "It's a big stocking – eight inches across at the top," she says, laughing, "because we want it to actually hold those stuffers, not just look pretty on the mantel."
The pattern is simple and encourages flourishes of frilly yarns, trinkets stitched onto the Christmas tree design, and bold contrast of color on the heel and toe. Throughout each class, Bakkum offers tidbits from her own leftover yarn bag and reminds the others to just have fun with the project.
"Yeah, don't let her fool you," Shelly mutters with a smirk, ribbing Bakkum without looking up from her stocking. "The reason she's got so many great remnants in her leftover bag is that she always buys up the coolest new yarns."
"That's true," says another member, Kris, whom the others say can't turn down anything sparkly or fluorescent. "You don't want Bev here the day they open a new shipment of yarn."
"I can't help it!" Bakkum retorts. "When I was kid, my only choice was Red Heart acrylic. Now, anything you can imagine, there's a beautiful yarn made from it – soy, bamboo, corn silk, angora, cashmere, alpaca, hand-dyed wools, etc… There are so many gorgeous yarns to choose from."
Blue Heron's core group of 10 or so knitters gathers each Monday night (a time designated for drop-ins) and/or Wednesday night (social knitting time) and Saturdays sometimes, too, depending on class scheduling. The group united a year ago when they all tackled a pattern now referred to as the "Lucy Shawl." At the time, the group included a Monona, Iowa, resident of Cuban descent named Lucy, who would drop in after her work as a translator at Decorah's hospital.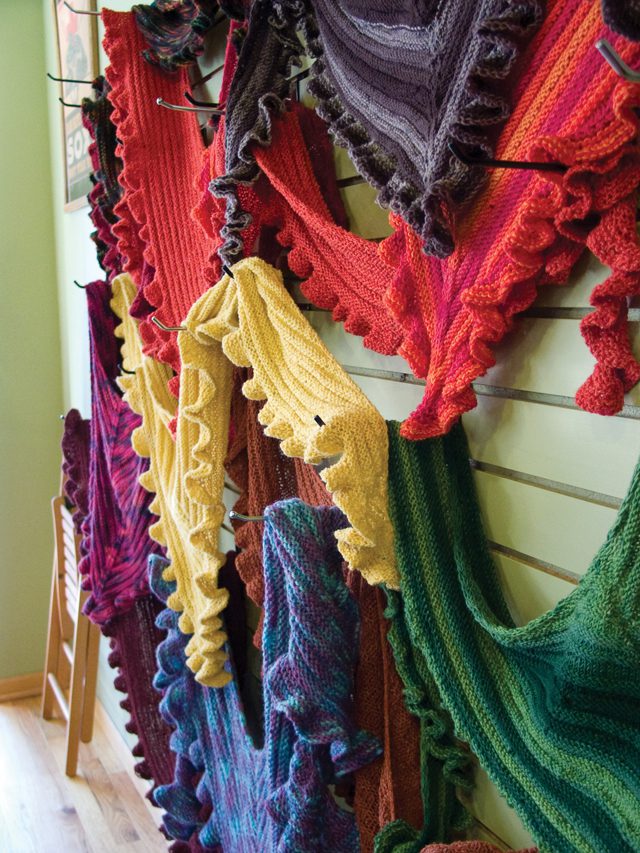 It quickly became Lucy's joke to complain about counting the pattern's 1095 starting stitches in English. "She'd say, 'Can't I just stop at 1,000? What do I need those others for?'" Bakkum recounts with a chuckle. Eventually, though, Lucy mastered the shawl and went on to make nine others from memory.
When Lucy was killed in a car accident in March 2011, the other members of Blue Heron's knitting classes made variations on the shawl in her memory. They are displayed on Blue Heron's west wall, an undulating tribute to creativity, knitting as meditation, and, of course, the unapologetic honesty and humor in their camaraderie. To illustrate for others why they spend their odd hours together, members are considering custom printing t-shirts that feature short-hand familiar to knitters:
(across the front)
"K2tog
Do you know the code?"
and
(across the back)
"Knit 2 together"
"We talk about all kinds of things," Theresa says. "World politics, husbands [or wives], yoga stretches that are good during our breaks, YouTube videos we found to explain some stitch we didn't understand, whatever is irking us that day…you know, the usual. This place is like a general store with an old-fashioned pot-bellied stove. You just want to be near the warmth of it."
——————————————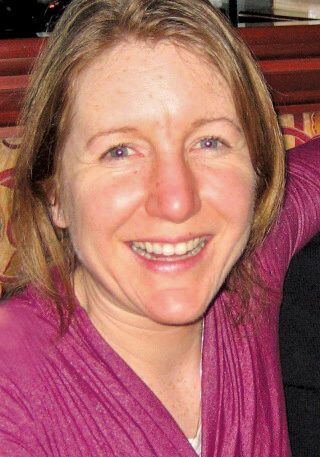 When she was little, Kristine Kopperud Jepsen made lots and lots of hideous clothes from old curtains. She has since sworn off polyester and prefers to buy more naturally occurring couture from talents like Bev Bakkum.
Blue Heron Knittery, 300 West Water Street, Decorah
blueheronknittery.com/classes.htm
Knitters of all levels of experience are welcome to drop in for company or assistance anytime the store is open, with scheduled gatherings weekly. The store offers two areas for work and conversation: one with tables and one arranged like a living room. "And there are comfortable chairs for spouses who must wait for their shopper," Bakkum adds.