By Susie Clark • Photos courtesy Elisabeth Maurland
Originally published in the Summer 2011 Inspire(d)
Some things are better left unsaid; others speak for themselves.
"It seems cliché," artist Elisabeth Maurland says with a smile, "but if I could put my work into words, I wouldn't have to do what I do."
Maurland's pottery is certainly not in need of many descriptive words. Her signature bright colors, animal motifs, and unique Scandinavian style is well-known and recognizable in this region and beyond. The now-Decorah resident has made art her life and her life-long career.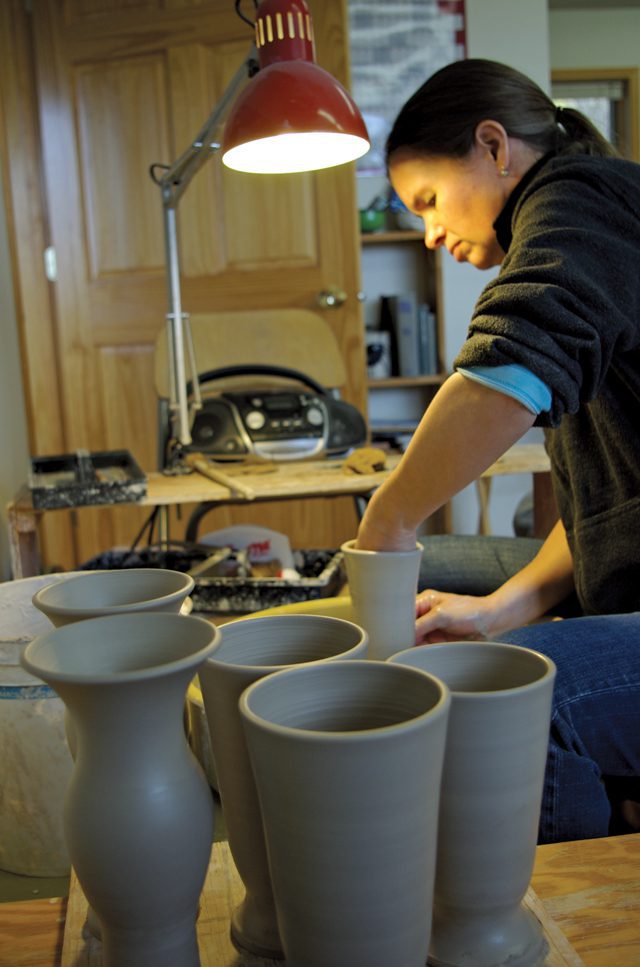 Born and raised in Oslo, Norway, Maurland attended Luther College then went on to graduate school at Illinois State University and finally did a five-year apprenticeship at Genszler Stoneware Designs in Wisconsin… before she found herself right back in Decorah. She now has a sweet little pottery studio built behind her home (pictured at right, photo by Aryn Henning Nichols).
But how did she get from Olso to Decorah? "Growing up I wanted to travel. I was very interested in languages." After high school, Maurland lived in Germany for a year, where she learned about an opportunity to study in the United States. She applied to Luther, and transitioned from Norway to "Little Norway".
The intention was to study at Luther for a year. But plans change and life paths are altered. "Halfway through my first year I decided I wanted to stay, " she says. By then she had also discovered the wheel and clay. While picking classes at Luther, on a whim she signed up for pottery. "I thought, 'hey, this could be fun,'" she says. She never looked back.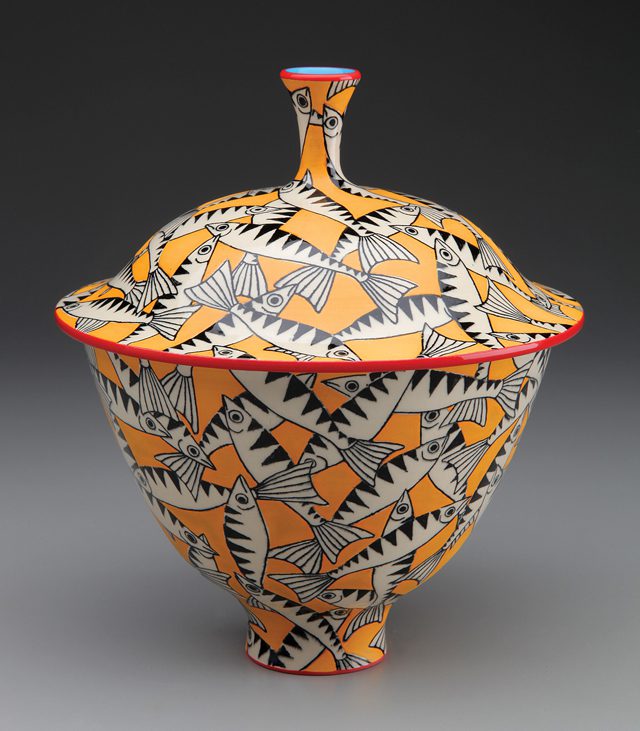 But it wasn't as though the artist had never been exposed to such things before. Maurland's father was an architect, and she remembers always enjoying art and design.
"One of Norway's most famous modern art museums was close to my home growing up," says Maurland. "I liked to look at art books, and took as many art classes as I could. I was exposed mostly to Norweigian art, Edvard Munch being one of them, but I loved the rococo styles from Renissance paintings."
The swirls and ornate flourishes of her pots display this early affection.
"It's unintended, but undoubtedly inspired," she adds referencing the design on a greeting card called "Phoenix" (pictured below).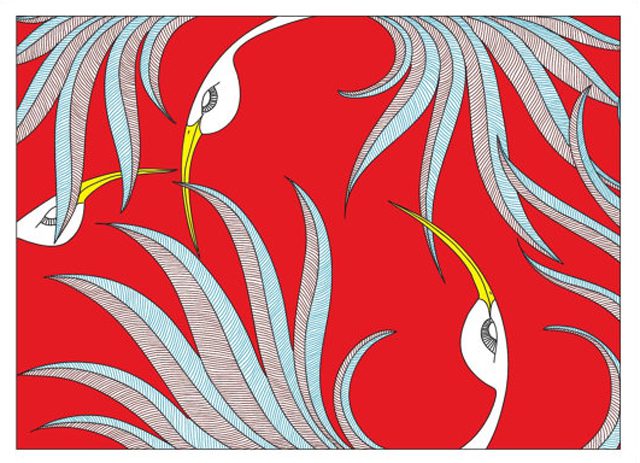 "It took me a long time to find my own style. What I was exposed to in Norway was very different from the art I saw here," she says. "I was confused as to what I liked. It took me years to discover what that was."
And, interestingly, sometimes making something you don't like helps direct you to what you do.
"In graduate school, I had a teacher who told us one day in class to draw the ugliest picture we could. And I couldn't do it! This experience was important to me. As an artist, I had always tried so hard to make everything perfect – to please somebody else. That moment sticks with me to this day," she says.
The residency at Gelzner Stoneware Designs further encouraged Maurland to think independently and develop her own style, although finding that niche didn't come overnight.
"I didn't really make anything artistically for about two years," she said of to her time at Gelzner. "But then one day, I threw a few pots, and painted them – just with a few black flourishes and strokes of a paint brush. And it evolved from there."
Incorporating animals into her designs also happened during her time in Wisconsin. "I lived in the middle of nowhere, and there were animals all around me. It came to me naturally. Animals are good vehicles to express emotion," she says, pointing to a pot adorned with rabbits. "You can arrange them in different shapes, patterns, and designs, but when you're done, they really still do look like rabbits. This gives me the opportunity to express really complex things."
And just as all Maurland's pottery pieces are unique, all artist's methods – or venues – of inspiration are different. "It doesn't just come from one time or place." An artist's inspirations cannot be manufactured, she says, and don't necessarily come with maturity.
"I have a six year old daughter [2011] who has a lot ideas [when it comes to art]. Sometimes I ask her if it's hard to come up with new ideas. She tells me 'sometimes'. Other times I ask her where here ideas come from. She tells me she gets her ideas for her new designs from her old designs. And that is exactly how I work."
No matter what, Maurland tries to approach her pieces with an open mind and attempts to simply "do". She continues to create pottery, selling at art shows and through her studio, and has extended her designs into greeting cards and with plans for textiles in the future.
"New ideas come from creating and creating and creating. When I come up with a new design, I repeat it. Each time, it gets better."
To learn more about Maurland and her pottery, cards, and process, visit www.elisabethmaurland.com or visit her during the Northeast Iowa Artist Studio Tour.
—————————–
Susie Clark (most commonly known as Suz) is a 2010 graduate of Luther College, (Majors: Music, Communication studies, Flamenco dancing). When asked of her favorite animal, she promptly responds, "Oh, that's easy: a Snipe"… (yes, they do exist).