Alfred was interviewed by his daughter, Heidi & two granddaughters, Kate & Andie
Alfred Ludeking was born in 1933 and raised in Waukon, Iowa. He was known in town by his middle name, Bervene. After time in the Air Force, multiple jobs and his education at Palmer College of Chiropractic, he and wife Shirley settled in Decorah to raise their three daughters. Alfred purchased the old railroad depot, converted it to his chiropractic office, and started his practice.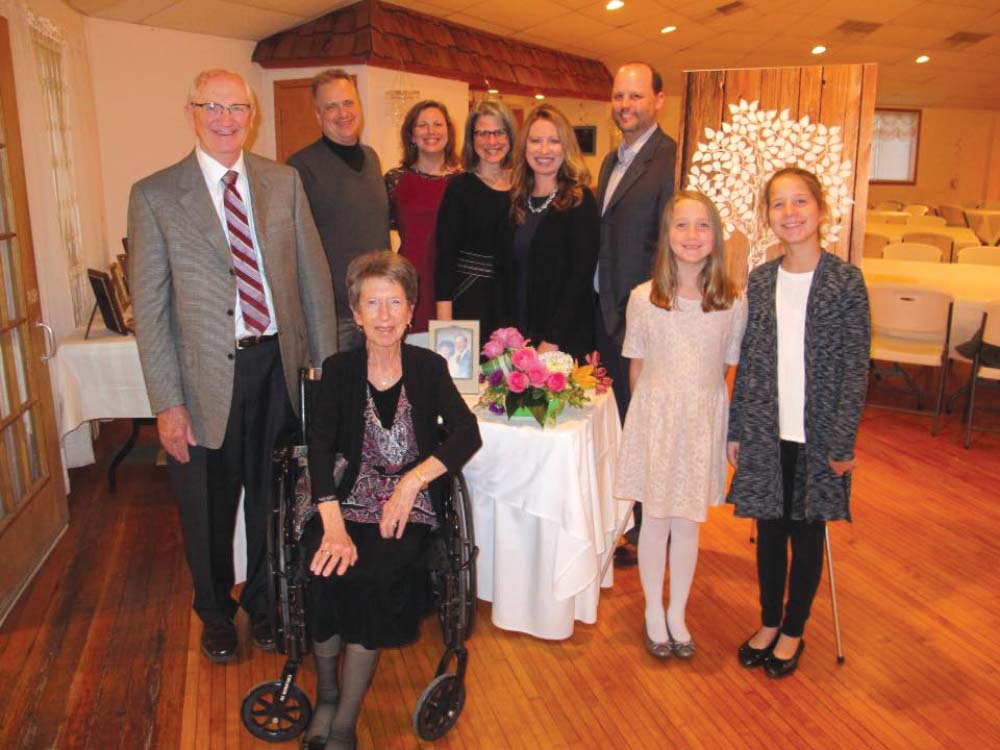 Alfred's work ethic and desire to earn money started young. At the age of nine, he was setting up bowling pins. At 11, he became a paperboy for the Des Moines Register – you weren't supposed to be a paperboy until age 12, but he impressed them. And by the time he was 13, he was holding three or four part time jobs at once. He would arrive at S&D Cafe in Waukon at 6:15 am to light the wood cook stove so they could start cooking by 6:30. He would start the fire, do his paper route, then go back to the S&D to fill the pop and beer coolers, empty the trash, do clean up chores, and eat breakfast. If he had time, he would help with dishes, otherwise he went off to school.
The local hotel got to know him through his paper delivery job, and hired him as the weekend clerk. On Friday and Saturday nights he would arrive at 4 pm, have supper, and then help out until 10 pm. He was also working at the repair shop, sharpening lawn mower blades and fixing bicycles. By then, he was so well known as a good worker that the owners of the cowboy theater drove out to Alfred's house in order to hire him to take tickets on Saturday and Sunday nights.
Alfred is turning 89 in November. His family loves hearing his stories, as it reminds them about his perseverance, independence, and determination.
What did you want to be when you grew up?
I wanted to go to college and that's all I knew. People who went to college seemed to have a better life. I ended up going into the Air Force so that I could get the GI Bill, which would help me tend to four years of college. Once I got done with the Air Force, I went into the feed and milling business for two years and found out what it was like to have pains and discomforts, and the farmers who had pains and discomforts went to the chiropractor, so I went to Palmer College to be a chiropractor.
What's the best advice anyone has ever given you?
I worked at a repair shop that Carl Berg owned fixing bikes and sharpening lawn mowers and such. He was a real good guy and taught me how to work hard and stay away from trouble and drinking.
If you were stranded on a desert island, what three things would you want with you?
Coconut trees for the milk and coconut, a shady tree, and a fishing pole.
Try to describe yourself in one sentence:
Be kind to everybody, be conservative and cautious.
If you could eat anything every day for the rest of your life what would it be?
Vegetables
A story from Alfred's newspaper days:
In 1947, as a Des Moines Register carrier, Alfred was given the opportunity to travel to Chicago with the other carriers, all around age 14. They took 90 cents per week out of his weekly $3.25 paycheck, which he noted was a pretty big hit for 36 weeks. There were 80 paperboys that went and the district representatives were their chaperones. They took a whole floor of the Stevens Hotel in downtown Chicago.
They kept them busy! There was an informal restaurant for the help up the stairs where they would be served meals three times per day. Four days of entertainment included a Cubs game, the zoo and many museums.
When he got back to Waukon, he brought out the towel that he had taken from the hotel (as all the carriers had done), and his mother promptly cut off the Stevens Hotel logo. His family didn't have a lot, but his mother would not have this type of souvenir in their house!
The carriers also received gifts every year, including a bike and a nice radio. He was a paperboy for 5 years from age 11 to 15 and that job gave him the money he needed as well as experiences he would not have had.