By Aryn Henning Nichols • Originally published in the Spring 2011 Inspire(d)
All Photos Courtesy of the Jensen Family
Families are bound together – whether it's by the blood that flows through our veins or the tangled threads of fate. Sometimes it's both.
Decorah's Dave and Jane Jensen began creating their family "traditionally" with the birth of their first daughter, Erica, in 1989. In the six years following, three more beautiful baby girls – Dana, Kari, and Kiersten – were brought into the world. And while most would consider this a large family already, the Jensens felt their clan wasn't quite complete.
"We didn't think we needed to produce another human being for this earth," Jane says. "But adoption – it was something we always wanted to do."
They began to research different adoption agencies, and sent away for information from Holt International, an agency that has been finding orphaned children permanent families for more than five decades. Then, that very week, they saw a notice in the newspaper: Holt International was coming to Decorah to educate and inform the community about their mission and how adoption works.
It was the first of many twists of fate that have led Dave and Jane to the eight children they've adopted since 2002.
"Each of these adoptions – they've opened up so many doors," Jane says, amazement in her voice. "In China they're called 'Red Threads'."

The "red thread of destiny" is a Chinese legend that says there's a god who ties a red thread around the ankles of two people, binding them together forever, regardless of time, place, or circumstance. Although commonly tying male and females together as soul mates, the phase may be applied to any two people.
For the Jensens, it was a look on their future child's face, the amazing chance that they were the only ones writing to adopt a certain orphan, or a "spoken for" child suddenly being "available," that made them certain a higher force was at work.
"Once we traveled to China and became personally aware of the plight of the orphan, those sweet innocent children left behind, who all deserve their own family to love them, we were changed forever. There was no turning back," Jane says. "We knew God had a plan for our family from that first moment we met Claire."
Claire, now 10 years old, was adopted from the Fujian Province when she was just 11 months. The experience was one of excitement and surrealism for the Jensens.
"I remember when we found out we got her," Jane says. "We were getting ready to go to Christmas at Luther and got the email from the agency. Everyone gathered around the computer and just screamed! We couldn't believe it!"
Within six weeks Dave, Jane, and Erica were on a plane to China. They traveled with several other families that were also adopting, and they all stayed in the same hotel, waiting for the new children about to come into their lives.
"They told us to stay in the hotel room," Dave says. "Then they call you on the phone and say, 'The babies are on the way.' You know they're gonna hand you this baby, so of course, everyone came running out of their rooms. Kids were screaming, laughing…"
"Then they hand you this beautiful child," Jane continues. "I remember thinking, 'I'm so glad we did this.' It's just as miraculous as birth – you know this is the child you're supposed to have."
Since then, they've adopted five more children from China, and two (twins) from Ethiopia. Their ages at the time of adoption ranged from 11 months to three years, although for many – probably most – orphans, there's no real certainty on age or birthdates.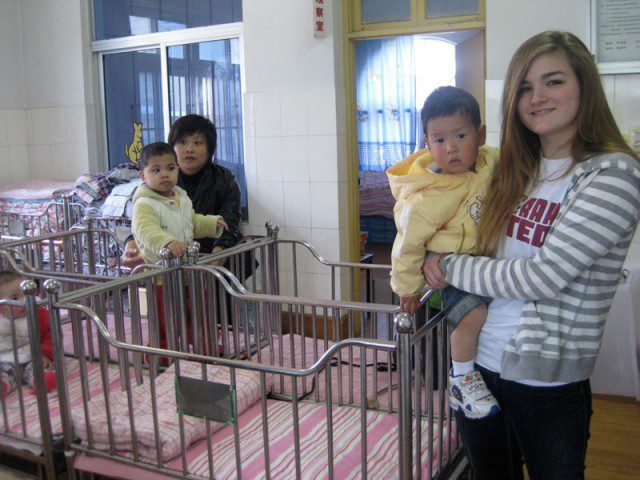 "A lot of orphans are just left somewhere for someone to find them," Dave says. "Supermarkets, hospitals, the side of the road – Matthew's unique because he was left at a hospital with a letter from his birth father."
The letter gives details on Matthew's birth – his father was a migrant worker with no money, but he tried to take care of him. He kept him by his side for a year, until he realized he could no longer manage it.
Matthew had clubfeet that needed attention. In fact, all of the children the Jensens have adopted except one have had special medical needs. With their new family they were able to get the medical treatment necessary to happily continue their lives.
The Jensens – always Jane, sometimes other members of the family as well – have traveled to China several times now, and Ethiopia once, the summer of 2010. Kari and Dana – then 18 and 19 – joined Jane on the Africa trip. It was very different from China, she says. There was so much poverty, yet the people were so nice, open, and happy. Similarly, though, the orphanages were full.
"The big problem in Ethiopian orphanages is that usually either one or both of the parents have died of AIDS," Dave says. "People say, 'You can't change the world.' But once you experience the situation there, you're changed. You're never the same."
"You want to adopt them all," Jane adds. Dave finishes the thought on both their minds, "You realize the children left behind are just like our children we've brought home. Every one is special and all they need is a family to love them and to give them a chance.   People have so many excuses about why they can't adopt as well. But you must be willing to take that leap of faith."
It's hard to not want adopt every orphan out there. Not only are there young children with special medical needs, there are the older kids who are much less likely to find a permanent family. And at age 14 – at least in China – orphans "age out": they are no longer eligible for adoption. It's heartbreaking to look through photos online – posted through organizations like Love Without Boundaries and Ordinary Hero – and know that a good portion of those children will live their entire young lives in an orphanage.
It's obvious it gets to the Jensens. But will they adopt more?
Dave and Jane's eyes meet. "The timing's not right," Jane says, with a look on her face that says she'd love to adopt a hundred more at least. And while Dave appears to agree with the timing, it doesn't look like he'd need much convincing to bring home Jensen number eight. "We never say never any more."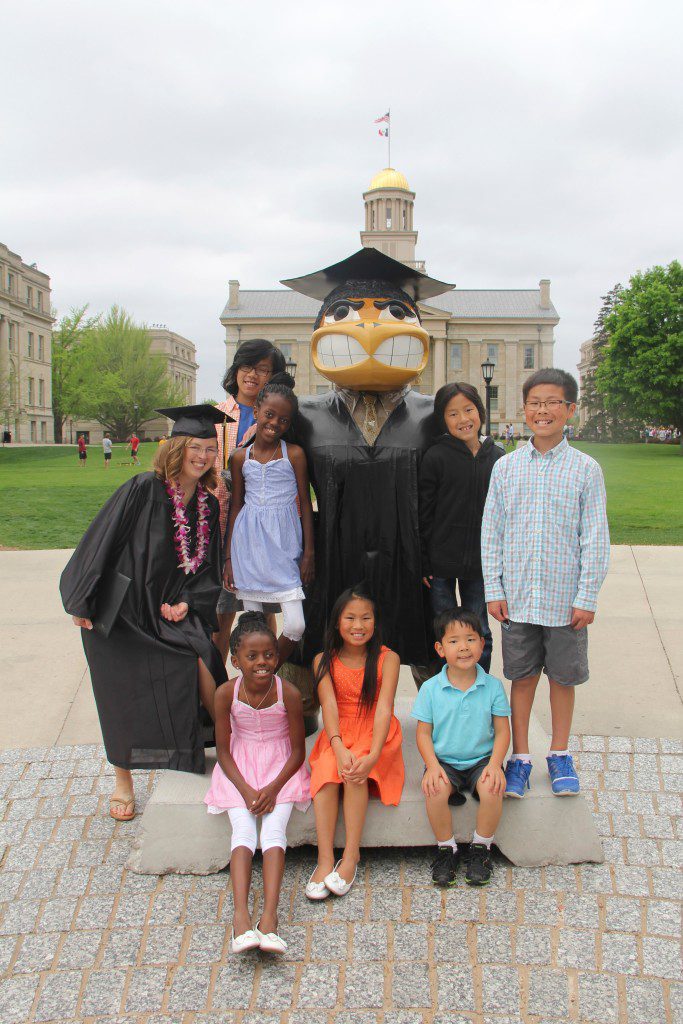 "People say, 'These kids are so lucky,'" he says. "But we're the ones who are lucky."
Jane agrees. The rewards of adoption are many; the challenges few. "Everyone just transitioned so seamlessly. And everyone always has someone to play with. It's kind of the more the merrier!" she says with a laugh. "It's just like they've always been here."
This more the merrier attitude lends a certain amount of excitement to the household, but everyone seems to enjoy – or at least adapt – to it.
"It's good entertainment," says Erica. Then Dave jokes, "The volume has definitely intensified. And there's more food – massive grocery store bills."
Yes, with a household of 14, meals are an adventure. The question Jane is most often asked is: how do you feed everyone?
"Just like every family, you can't please everyone," she says. "We just make it work."
If that means the house doesn't always get picked up, so be it. And if it means they have to drive on a vacation instead of flying, that's okay too.
"We've lost every kid at some point during different trips," Jane says, laughing. "We're like, 'We got her all the way from China, and now we've lost her!'"
"So we said, 'Fine. Next time we're gonna drive," Dave goes on. "So we did. To Florida. The floor was this deep in wrappers, food, and underwear," he says, gesturing to about a foot above the ground.
It was for that trip that they got the big family Sprinter that hauls the crew around. When they go out to dinner, people always want to hear more about their family, their story. Indeed, it is amazing. They embrace what they call the chaos, and wouldn't have it any other way.
"Most things in life that are worth doing and worth having require sacrifice and hard work and we can't think of anything we would rather be doing!" Jane says. "We are truly the lucky ones!"
——————————
Aryn Henning Nichols has been inspired over and over again as she was writing this story. From a family of six, two of Aryn's siblings are adopted as well. She hopes someday she, too, can provide a home to a child in need.
Thinking about adoption?
"My advice: Look into it. Go to an adoption meeting. It's been the best thing we've done," Dave says. Interested in learning more? Check out these Jensen-recommended adoption and orphanage websites:
www.lwbcommunity.org
www.ordinaryhero.org
www.147millionorphans.com
The Jensen Family Timeline:
Erica – 25
Dana – 23
Kari – 22
Kiersten – 20
Claire  – 14 years old   from Fujian China  Adopted at 11 mos old in Jan. 2002
David – 13 years old from Guangxi China   Adopted at 22 mos in Jan. 2004
Matthew – 12 years old from Xinjiang China  Adopted at 33 mos in August 2005
Amy – 10 years old from Guangdong China  Adopted at 20 months in August 2006
Luke – 9 years old from Jiangsu China Adopted at 24 months in March 2008
Asmere and Abbeke 8 years old from Ethiopia adopted in August 2010
Jay – 5 years old, adopted from China.
The Jensen family totals 14 people. Their rural Decorah home has seven bedrooms. And there are still 147 million orphans in the world.