Community Builder: Adam Wiltgen: Program Director, Lanesboro Arts
By Sara Friedl-Putnam • Originally published in the Fall 2017 Inspire(d)
There's some serious pep in Adam Wiltgen's step as he leads an impromptu tour of the arts campus in Lanesboro, a small, but vibrant, community in Southeast Minnesota.
A quick stop at Gateway Park (decorated with colorful string "surprise sculptures" made by local kids) is followed by a pop-in tour of the historic St. Mane Theatre and, finally, the Lanesboro Arts Gallery, which showcases the work of talented local artists.
Adam, program director of Lanesboro Arts, a multidisciplinary arts organization engaged in community development, is clearly proud of the prominent role that art plays in Lanesboro, and is thrilled to talk about the community's local arts program and his role in shaping it.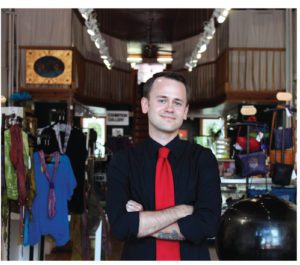 "I always wanted to work in public and community-based art and make an impact on the culture of a town, to use the arts as a way to bring people together and build community," says Adam during a brief stop at his neatly organized office above the gallery. "And as a Southeast Minnesota native, Lanesboro has always been on my radar."
It just took a while for him to find his way back to the area. After earning a bachelor's degree in music business and entrepreneurship at St. Mary's University of Minnesota in 2008, Adam held a variety of arts-related positions. Stints as station manager at 89.1 KPVL out of Postville and Decorah, Iowa, and store manager of the Winona Mister Groovys store were followed by a few other positions, including box office manager and then assistant managing director at his alma mater's Performance Center. In June 2015 – on the day of the organization's popular Art in the Park festival, no less – Adam joined the staff of Lanesboro Arts.
"What excites and energizes me about my job is the community engagement," he says. "Each day I have many opportunities to work with business owners and other community members to improve our community. Collaboration is essential in a small town, and honestly that's where the real fun lies as well."
The Smithsonian's acclaimed Water/Ways traveling exhibit, displayed in Lanesboro last winter, exemplifies the collaborative effort that has put (and kept) Lanesboro on the map regionally and nationally. The town was one of only six across Minnesota picked for the exhibit, and, with a population of 750, it was by far the smallest. "When you work on something so long, it's almost magical to see it actually happen," says Adam, who, as project lead, collaborated with numerous nonprofits to bring the exhibit to town. "That project was very impactful for Lanesboro – in addition to bringing the town lots of attention, it created a platform to have a sustained dialog on water issues.
In 2016 Adam was awarded a fellowship from the McKnight Foundation to travel to Austria for the Salzburg Global Forum for Young Cultural Innovators. There he met dozens of other young arts leaders, all of whom shared their successes and challenges in using art and culture to move communities forward. He came away from the weeklong event both energized and optimistic about Lanesboro's collaborative, asset-based approach to community building.
"From our ongoing artist residency program to the new community mural on the back of the St. Mane Theatre, the arts contribute greatly to the vitality of this place," says Adam. "I feel really good about the future of this organization and this town, and that's a great feeling to have."