Everybody loves a good story – from tall tales to fairy tales to ghost stories around the campfire to a stage full of actors, performing the scripts of Shakespeare (and others!). Stories transport us, remind us of our history – our joy and our sorrow – and bring us together for a fleeting bit of magic. Add to your summer story by checking out one – or all – of these fun theatres and story-telling events across the Driftless this year.
---
The scene is set: You've got great friends, snacks, and a sense of anticipation along as you head off to the beautiful American Players Theatre (APT) in Spring Green, Wisconsin. Get there early to enjoy your pre-show picnic and the ambiance of the outdoor amphitheater, with sounds of whippoorwills and cicada floating through the air. And then, find your spot – the show is about to begin.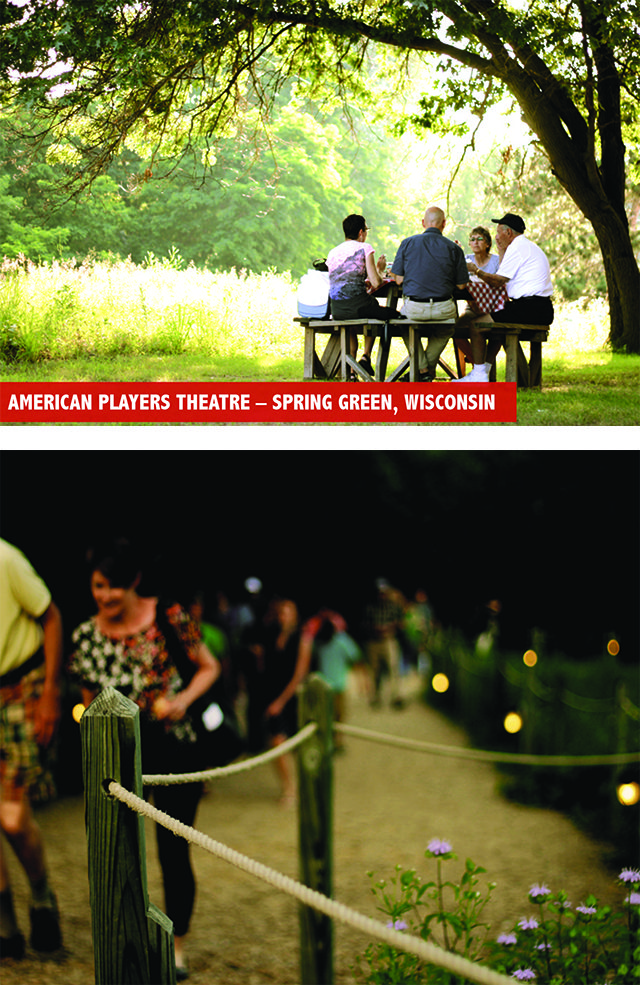 "Nature definitely plays an active role in our outdoor theater," says Jess Amend, APT's Marketing Content Manager, explaining the charm of the Hill Theatre, where the outdoor APT plays are staged. "Most of the performances start around dusk, so you get to watch the world transform as the play goes on. It's really a full sensory experience – the breeze blows, and the stars and moon come out, and they're the same stars and moon that Shakespeare's plays have always been performed under."
With a backdrop like this, it's no wonder playgoers love APT. Not only it is a great excuse for a relaxing night out, but the elements of nature – like the occasional pigeon landing on stage – also ensure each experience will be unique. "It all adds dimension to the plays we produce here, and it's a pretty spectacular way to spend an evening."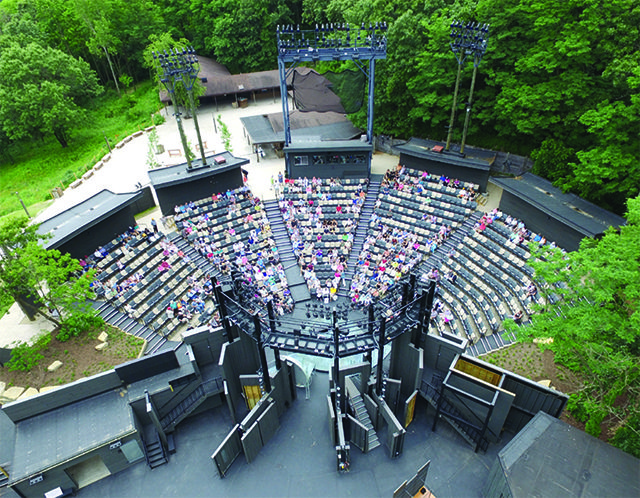 The storytelling in this setting is what truly makes the Theatre a must-see Driftless destination. "APT's mission includes digging into really dense, poetic language. And that can be hard – for the actors and the audience – if you don't do it right," Jess says. This is why APT has a dedicated voice and text department – one of the strongest in the country – that helps bring stories to life in ways many have never seen before. "We often have audience members tell us that they never understood Shakespeare until they saw it at APT," says Jess. That, in combination with the chemistry and ease on stage of the actors, makes once-complicated, hard-to-interpret stories feel more digestible, Jess says. "People tell us these actors feel like family, and that's a powerful thing, and a powerful element to add to any story."
In addition to the newly renovated 1089-seat outdoor amphitheater, Hill Theatre, there's the 201-seat indoor Touchstone Theatre. Mark your calendars to the APT 40th Anniversary party on July 21 featuring a first-ever arts installation.
American Players Theatre's 2019 season's plays (both indoor and out) are:
Twelfth Night and Macbeth, both by William Shakespeare
She Stoops to Conquer by Oliver Goldsmith
August Wilson's Fences by August Wilson
The Book of Will by Lauren Gunderson
The Man of Destiny by George Bernard Shaw (indoors)
A Lovely Sunday for Creve Coeur by Tennesee Williams (indoors)
A Doll's House by Henrik Ibsen (indoors)
A Doll's House, Part 2, by Lucas Hnath (indoors)
See more info and buy tickets at americanplayers.org
---
At the Great River Shakespeare Festival (GRSF) in Winona, Minnesota, they spend a lot of time investigating what is at the core of the story and the characters – translating the works of Shakespeare in new and exciting ways is both challenging and rewarding. "Things like jealousy, love, and ambition are timeless, and there are always new ways to examine how those things affect us," says Eileen Moeller, GRSF Marketing and Sales Director. "Keeping productions relevant is very important to our company."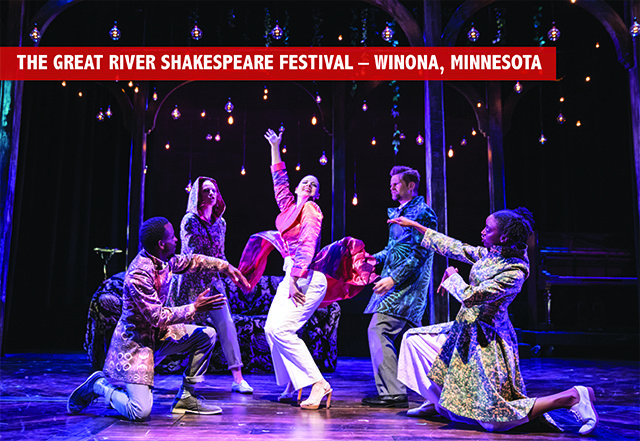 This year's production of Macbeth is a great example of how GRSF stays true to the core story and script, but also dips its toe into something new. Their website even suggests you should bring along a "Game of Thrones fan looking to take their fandom to another level" to enjoy the show. "Macbeth is a popular play because it's dark and broody, but it also deals with ambition and power," says Eileen. "It's one that offers a lot to a lot of different people – famous lines for Shakespeare geeks and lots of swords and (fake) blood for those who like action."
The stories, the costumes, and the set design are all top-notch at GRSF, but, like APT, it's the atmosphere of community that keeps both audience and company coming back year after year. They're expecting about 11,000 attendees for this year's event. "If you're not from town, you feel like you belong, and if you live in Winona, it's like seeing old friends," Eileen says. "For those of us in the company, it's a combination of a family reunion and summer camp."
"It's a community," she adds. "We want to tell stories together and discuss with our friends and neighbors what they mean for us, in this moment."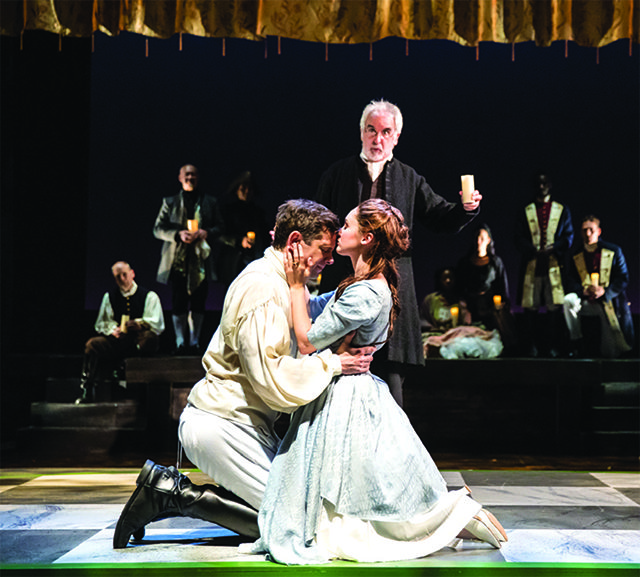 This year's Great River Shakespeare Festival – it's 16th Season! – includes these plays:
Cymbeline
Macbeth
No Child…
The Servant of Two Masters
White Rabbit Red Rabbit
Love's Labors Lost (Apprentice/Intern Production)
Mark your calendars: GRSF runs now through early August. New this year are two off-site performances at Forager Brewery in Rochester (July 11) and Pearl Street Brewery in La Crosse (July 14). Learn more and buy tickets at grsf.org.
Noteworthy: There are many opportunities for kids to get involved in GRSF through classes, like Shakespeare for: Young Actors; Young Designers;  Young Filmmakers and more. Find details at grsf.org.
---
Lanesboro, Minnesota, is a charming little town that packs a punch, with outstanding recreational activities, exquisite art experiences, and beautiful Victorian houses. And one of the big pieces at the heart of Lanesboro is the Commonweal Theatre, an intimate theater with 30 years of experience under its belt. Executive Director Hal Cropp works hard alongside staff and crew to ensure that playgoers have the same, enjoyable experience at their shows that they do in the surrounding community. The ensemble of folks at the Theatre rotate between different jobs – in addition to being actors on stage, they may also be ticket sellers one day, ticket takers the next, or work selling concessions another. This allows theatre-goers to interact with the company on a more personal, face-to-face level. "It works with both the intimacy of the theater itself and the unique style of the public spaces – all of which are a permanent art display," Hal says. "And deepens the audience feeling that we are 'their' theater." Passionate storytelling is at the core of the Commonweal company, and this is what brings attendees back for more.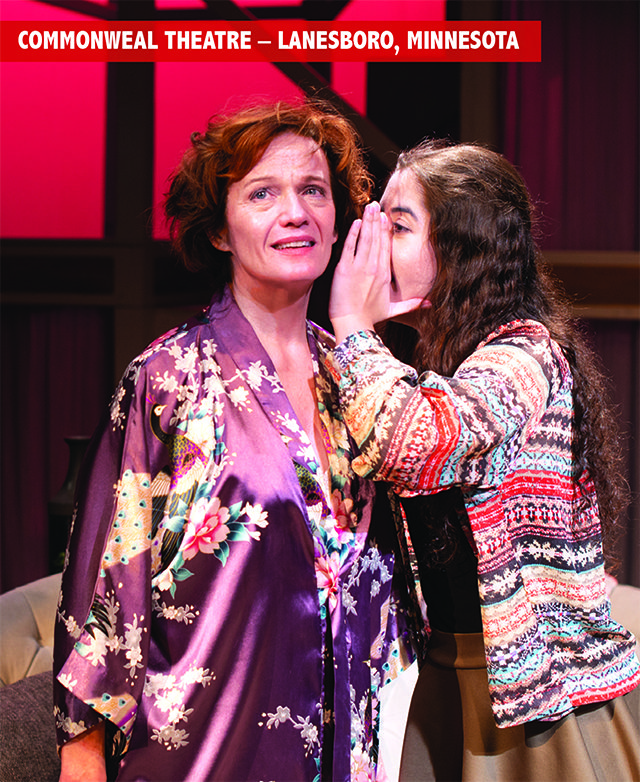 Production selections start with "passion pieces" presented by members of the ensemble. "This generally yields a list of 40 or 50 titles, which then get sorted through for a number of variables: cast size, technical requirements, as well as how it fits against the other titles being offered," Hal explains. "We are deeply cognizant of our mission to enrich the common good." Even after 30 years, each production is a new experience at the Commonweal. The company is dedicated to the philosophy of making each person feel like the theatre is their home, and ultimately, feel connected to each story. "The satisfaction we derive from having people connect on so many levels is spiritually fulfilling, and therefore fun," Hal says. "Passionate storytelling, executed on a highly professional level, touches everyone."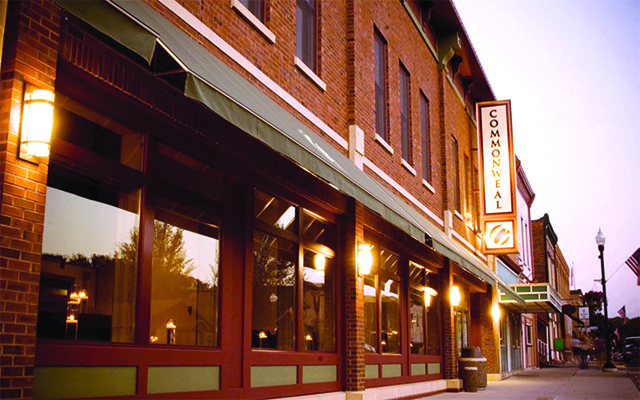 Commonweal's 2019 Season runs from April-December.
Current and upcoming shows include:
Boeing Boeing by Marc Camoletti (May 10-Aug 31)
Peter and the Starcatcher by Rick Elice (July 12-Oct 26)
On the Verge by Eric Overmyer (Sept 6-Nov10)
Sanders Family Christmas by Connie Ray (Nov 15-Dec 22)
Find details and buy tickets at commonwealtheatre.org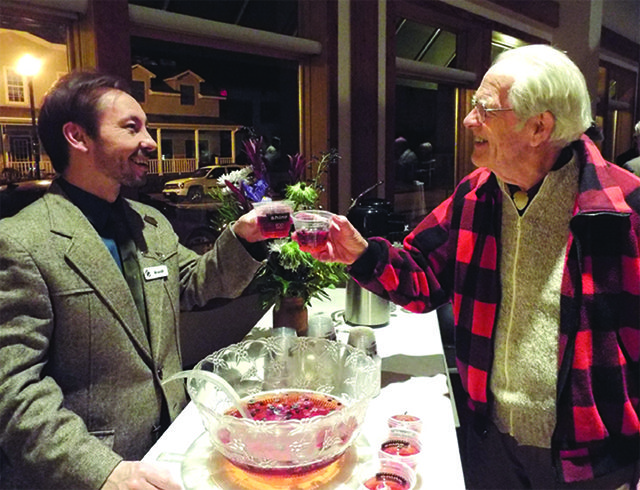 ---
Looking for more storytelling fun?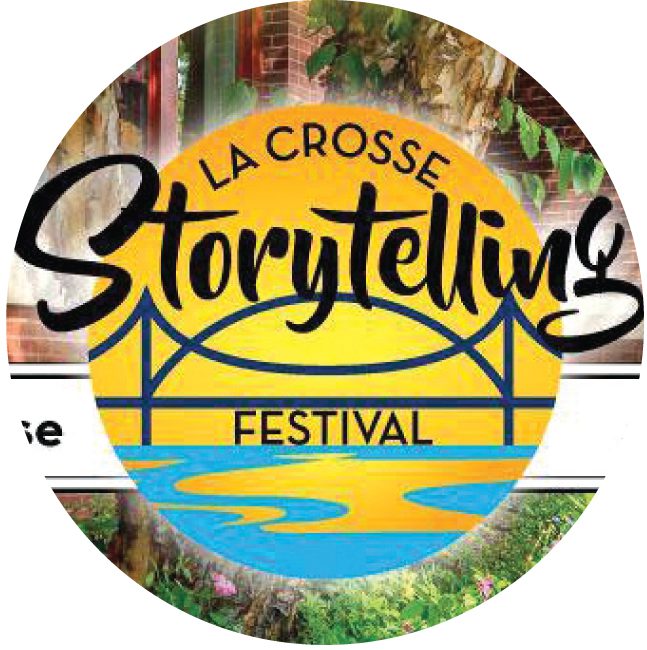 Love a good scary story? Then the La Crosse Storytelling Festival in La Crosse, Wisconsin, is for you! This two-day event kicks off on a Friday night with a gentle first act, perfect for youngsters or the faint-of-heart. Then, the fear gets for real after intermission. "Humans have listened to scary tales for centuries as both cautionary tales and fun experiences. We hope to address the fun, but scary, experience," says Professional Storyteller, Terry Visger. The festival ups the fun by serving witches brew with costume-clad emcees – appealing to young and old. "This has been a very popular event for children of all ages but, in the last two years, we have actually had more adults than children in attendance," Terry says.
Day two brings tales of a tamer variety. Musicians, jugglers, and storytellers unite to provide an exciting family-friendly experience. "Storytelling is magical for children. It engages all of their brain and physical being. We choose musicians who know how to interact with children by making them part of the performance," Terry says.
For adults, the talent and variety of internationally-known storytellers can't be beat. "We strive for variety in style, content, and type of story. We believe our audiences should experience the best-of-the-best and that is why we bring tellers from many areas and backgrounds to La Crosse," she says.
After 16 years of hosting this fun-filled weekend under tents, this year's festival will leave the mosquitoes and unpredictable weather behind for a new location: The Pump House Regional Arts Center. "We will have great food and drink, a silent auction, and bookstore," Terry says. "And, more importantly, wonderful entertainment for the weekend."
Mark Your Calendars: La Crosse Storytelling Festival – July 19-20. Learn more at lacrossestoryfest.com.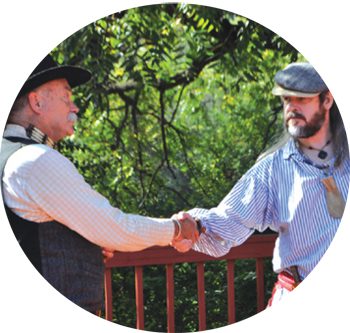 Loving that Lanesboro, Minnesota vibe? Mark your calendars for History Alive Lanesboro, "Pop-up Plays: Founding Lanesboro 1869," coming this fall, September 21, 22, 28, and 29 at 1 and 3 pm each day.
History Alive presents stories of Lanesboro… in the streets of Lanesboro. The one and a half-hour walking tours take you to different play locations around town. Tours begin at Sons of Norway, 200 Parkway Avenue South, Lanesboro. Tickets are for sale at the door.
2019's traveling plays celebrate Lanesboro's 150th anniversary. Meet some of the town's first residents, railroad builders, stonemasons, fresh off-the-boat Irish and Norwegians, Chief Winneshiek, area abolitionists, even snake oil salesmen through this storytelling event!
Mark Your Calendars: History Alive Lanesboro – September 21, 22, 28, and 29. See facebook.com/historyalivelanesboro/ for details.